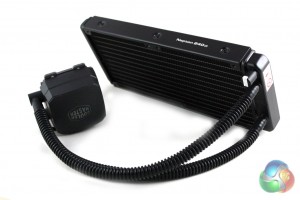 The basic design of the Cooler Master Nepton 240M is very similar to the vast majority of all-in-one liquid coolers on the market, consisting of two main components; the 240mm radiator and the CPU block and pump combination unit.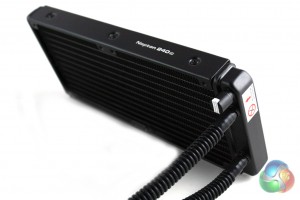 These two components of the unit are connected with hard plastic hoses.  This doesn't feel as good quality as rubber piping and isn't as flexible, however we have never experienced durability issues with either type of tubing.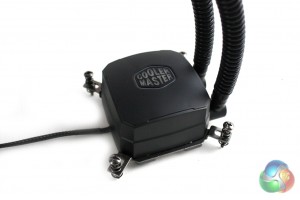 We can immediately identify that this unit isn't derived from an Asetek design, as the CPU block is square in shape and pretty thick when compared side by side.  There is an illuminated Cooler Master logo in the pump cover, featuring white LED backlighting.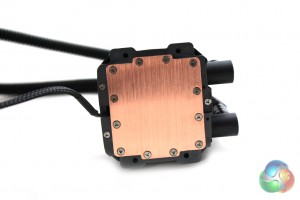 The cold-plate itself is manufactured from copper and is surrounded by screws holding it in place. Unlike most competitors, Cooler Master doesn't pre-apply thermal paste to the block.  This isn't really an issue but it creates an extra step in the installation process which inexperienced users may struggle with.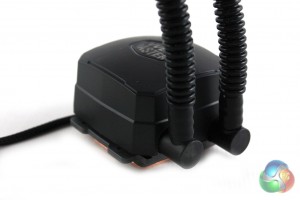 Perhaps the only negative aspect of the CPU block are the points at which the hoses are attached to it.  Unlike most coolers, these don't seem to be able to pivot either way.  Even if they were designed to pivot, we would feel uncomfortable applying any more pressure to these than we did, for fear of damaging them.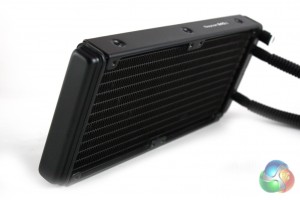 Cooler Master have chosen to use a 25 mm thick radiator for the Nepton 240M, which is the same as the majority of competing products.  It features standard fan spacings, meaning it should be compatible with the vast number of cases that are marketed as being able to support a 240mm radiator.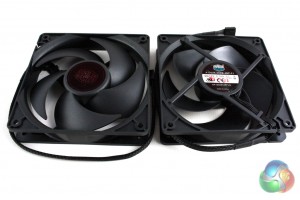 There are two 120mm fans included with the cooler which are both 600 – 2,400 rpm PWM models.