Testing and Performance
Test system
CPU: Intel Core i9-9900K 8 cores/16 threads
Motherboard: SuperO C9Z390-PGW
RAM: 16GB Corsair Dominator Platinum RGB DDR4-3200MHz
CPU Cooler: Fractal Design Celsius S24
Graphics: Nvidia RTX 2080 Founders Edition 8GB GDDR6
SSD: 1TB WD Black M.2 NVMe
Power Supply: Seasonic Prime Platinum 1300W

Performance and Overclocking
Our initial benchmark run of the SuperO C9Z390-PGW was little short of disastrous as the Core i9-9900K engaged Turbo and then after a short time the speed clocked down and then even further down. The base speed of i9-9900K is 3.6GHz however we typically expect all cores to run at 4.7GHz in a non-AVX workload. That is a massive operating window and we consider an operating clock speed below 4.5GHz to be undesirable and anything south of 4.0GHz is an indication of a problem.
After the initial Turbo Boost the Core i9-9900K reduced its speed all the way down to 2.6GHz so something was clearly wrong. After some investigation we realised the JTAG connector on the back of the board was interfering slightly with the mounting bracket of our Fractal Design Celsius S24 cooler and that affected the installation of the cold plate. Once that was sorted we re-ran Cinebench and established that – as with previous SuperO boards – the power was limited to 95W which was sorely limiting performance.
After a great deal of experimentation and a considerable amount of trial and error we tested the SuperO C9Z390-PGW in four distinct configurations.
The first is out of the box with XMP enabled.
The second is with the CPU power limit raised to 150W and Vcore set to 1.35V. As we demonstrate in our video, if you merely raise the power limit and leave Vcore untouched the system will blue screen.
For the third set of test runs we manually overlocked the CPU to 5.0GHz on all cores with 1.25Vcore, LLC set to level 2, AVX offset to -3 and the power limit raised to 160W.
For our fourth and final run we overclocked to 5.1GHz which required 1.35Vcore and a power limit of 225W.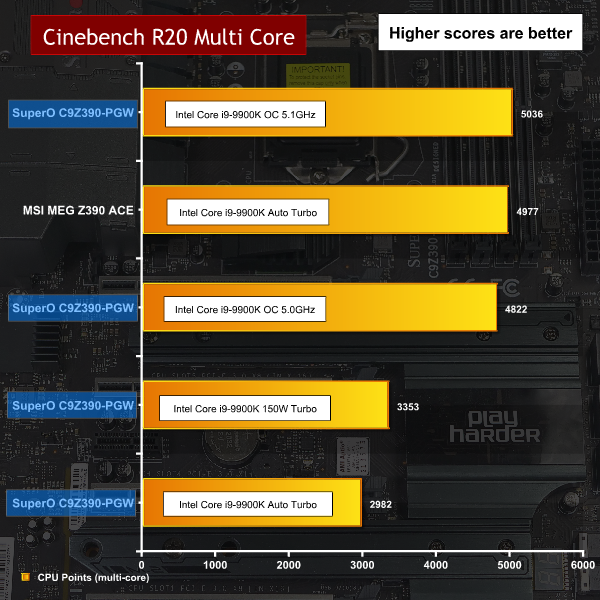 Cinebench R20 is a new release after many years of using the venerable Cinebench R15. R20 takes considerably longer to run than R15 and stresses the CPU with an AVX workload. It is clear from our results the SuperO requires significant levels of overclocking in order that it can compete with MSI MEG Z390 ACE running on Auto settings.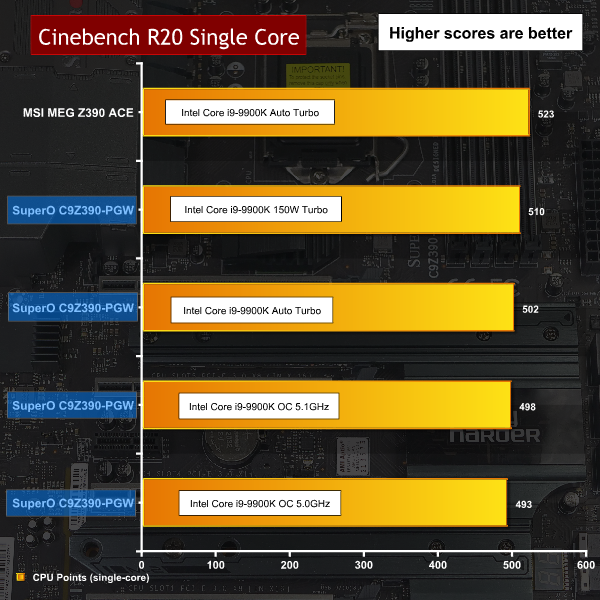 The Single Core Cinebench R20 test highlights the point that manual overclocking forces all the CPU cores to run at the chosen speed while Turbo allows a single core (or two) to run at the maximum available speed.
This is inevitably higher than the all-core overclock and as a result in single core tests the best approach is to rely on Intel's Turbo Boost technology. To get the best results from the SuperO we first had to unlock the power limit in the BIOS and then raise Vcore.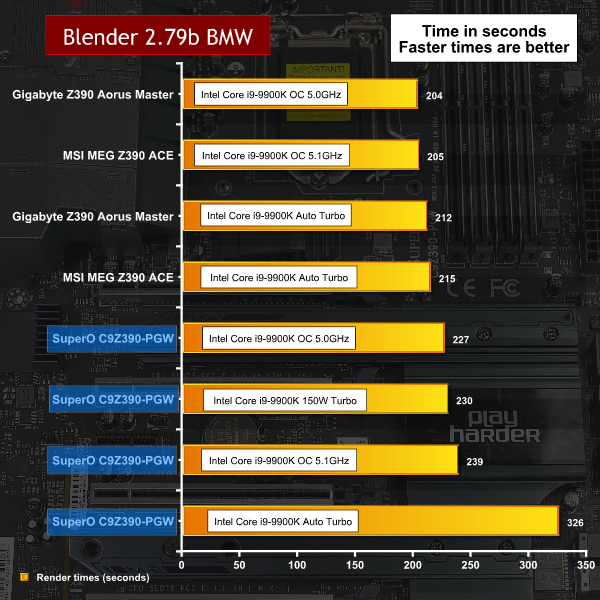 Blender is a relentless test that stresses the CPU in a real-world benchmark. Once the SuperO was manually overclocked it delivered decent performance in Blender however the results did not match those from competing Z390 motherboards.