Closing Thoughts.
The SuperO C9Z390-PGW is a frustrating motherboard because it makes little effort to live up to the 'Pro Gaming' name. We can see no good reason for a gaming motherboard to come equipped with a PLX chip and four graphics slots but without the ability to run SLI.
Please note we are not stating that we especially want to run SLI – one beefy graphics card is fine by us – but SuperO has spent a fair amount of money on the PLX chip and has taken up a good deal of the board with those graphics slots with no effective benefit for the customer.

It is a similar story with the I/O panel. Two DisplayPorts and an HDMI? Why? This makes no sense on a gaming motherboard and we also struggle to see why it might be a good idea in a Workstation.
We acknowledge that SuperO has included basic RGB with this model but we can surely all agree this is a small amount of bling, rather than proof that deep down this is a gaming motherboard.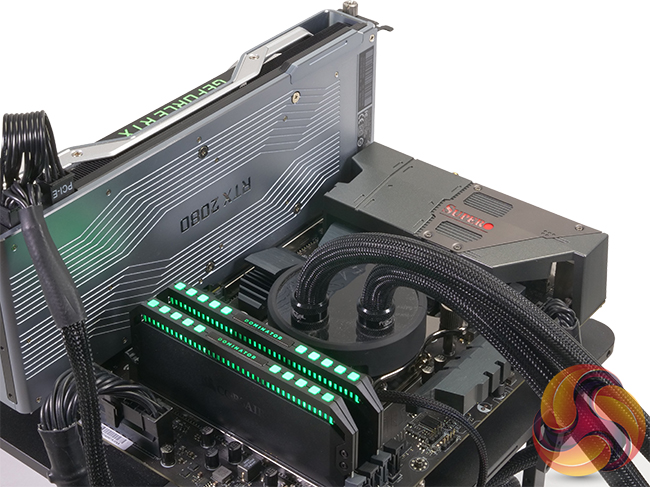 Our single biggest venting of frustration is reserved for the way that SuperO handles power and clock speeds. Our performance charts demonstrate that you can play games and perform other work with the board on Auto – however clock speeds are dire. If you are satisfied with the performance in this state you can truly save yourself a good deal of money and buy a Core i5, rather than Core i7 or Core i9. The way power is delivered to the CPU and the limitations that places on Turbo Boost is strictly a function of the BIOS. SuperO wants the C9Z390-PGW to work this way because that is how Workstation boards function. To which we say cough, Pro Gaming.
The underlying VRM hardware from Infineon is perfectly decent and we had no issue with the way the board works, however we wish to goodness that SuperO would carry out further BIOS development and would also expand the explanatory notes in the BIOS. To the best of our knowledge Workstation customers treat the BIOS like a sealed box and have no need for explanations about settings they will never adjust. We get that, really we do, but we gamers either need assistance with overclocking or could instead use some preset OC profiles that work brilliantly well.
If you take the bull by the horns and manually overclock the SuperO C9Z390-PGW you can use one of the presets as a starting point and then adjust Vcore, Load Line Calibration and the clock multiplier and you will end up with a decent PC. The downside is that the other motherboard manufacturers will supply you with products that are easier to use and that deliver performance with less fuss while saving you money in the process.
The SuperO C9Z390-PGW is an interesting motherboard however we struggle to imagine the gaming enthusiast who will be best served by this particular model.
You can buy the SuperO C9Z390-PGW in Europe for Euros 369 (=£317) HERE or from Amazon in the USA for USD$399 (=£303) HERE
Pros:
High quality VRMs.
When you manually overclock, power draw and temperatures are really low.
Good build quality.
On board micro buttons.
Cons:
The quirky BIOS makes overclocking a long and difficult process.
The BIOS throttles CPU performance on Auto settings.
Quad graphics slots and PLX but no support for SLI.
Triple graphics outputs on the I/O take up space better used for USB ports.
KitGuru says: SuperO would you please ignore Intel's ridiculous TDP figures and let the CPU work the way it is supposed to work.