Sometimes mainboard makers come up with rather interesting solutions that truly leap performance of desktop personal computers forward by overcoming limitations of mainstream PC platforms. Unfortunately, in many cases elimination of one bottleneck just leads to creation of another…
In a bid to boost performance of solid-state drives, Intel Corp. this year added support for SSDs in M.2 form-factor to its Intel Z97 and Intel H97 platforms. While the M.2 slot (based on PCIe 2.0 x2 interconnect) boosts theoretical maximum bandwidth available for an SSD to 1GB/s, some drives can work even faster. In order to take advantage of such SSDs, Asrock has developed its own Ultra M.2 slot that supports up to 4GB/s of bandwidth. But there is a catch.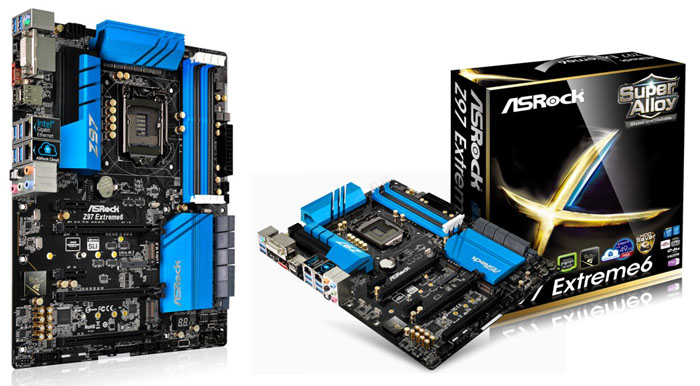 Asrock this week introduced a new family of mainboards based on Intel Z97 core-logic set designed for current and upcoming Intel's processors in LGA1150 form-factor. The flagship member of the new lineup is Z97 Extreme6 motherboard that, in addition to other premium features, sports not only a typical M.2 connector, but also the so-called Ultra M.2 slot for solid-state drives with truly extreme bandwidth.
The industry-standard M.2 slots for SSDs rely on PCI Express 2.0 x1 or x2 interconnections, thus providing up to 500MB/s or up to 1GB/s of bandwidth, respectively. Technically, it is possible to use PCIe 2.0 x4 connection (and get 2GB/s of bandwidth), but that will affect expandability of a mainboard.  PCI Express 2.0 interconnections are controlled by Z97 core-logic.
By contrast, the Ultra M.2 slot relies on PCI Express 3.0 x4 interconnection and thus boasts up to whopping ~4GB/s, two times higher compared to PCIe x4 and four times higher compared to PCIe x2 connection. The Ultra M.2 uses the same connector as the typical slot and thus is compatible with the same solid-state drives. Thanks to increased bandwidth the new Ultra M.2 slot provides, it can realize full potential of modern SSDs, such as Samsung XP941 (which is used by MacBook Pro laptops), unlike the default M.2. According to Asrock, its Ultra M.2 is up to 46 per cent faster than the typical M.2 socket.

But there is a problem. On the Intel Z97 platform PCI Express 3.0 is only supported by the microprocessor itself. The CPU has 16 PCI Express 3.0 lanes that can be used to connect a graphics card in PCIe 3.0 x16 mode or reconfigured as 8+8 lanes (to support a dual-GPU configuration) or 8+4+4 lanes (to support a multi-GPU or multi-PCIe devices configuration). As a result, once an SSD in plugged into the Ultra M.2 slot, the bandwidth between central processing unit and graphics processing unit is cut-down by half. Therefore, while the end-user gets additional SSD performance, he/she may lose some GPU performance because of insufficient bandwidth between it and the CPU.

If one needs maximum storage performance and he or she can sacrifice certain amount of graphics processing performance for that, then Asrock Z97 Extreme/6 with Ultra M.2 slot is a product to watch. Not all GPU workloads require massive amount of PCIe bandwidth, thus, such a compromise may make a lot of sense. But for those, who prefer to have maximum graphics performance Asrock's solution is hardly an option.
Discuss on our Facebook page, HERE.
KitGuru Says: Although the Ultra M.2 solution from Asrock has its drawbacks, it is clearly an interesting solution. It is not a very good option for gaming PCs, but notebooks can use this concept quite well…