The ASRock X570 Taichi motherboard ships in a large box that features branding and product information. M.2 mounting standoffs and screws, SATA cables, the dual-band WiFi antenna, a high-bandwidth SLI bridge, and a T8 Torx tool make up the supplied bundle.

ASRock uses a dark black and grey colour scheme with touches of gold dotted via the heatsink and audio capacitors. I personally like the balance of ASRock's styling as the board's look is consistent.
Noteworthy is the large shroud that ASRock uses to cover most of the lower portion of the motherboard. This shroud integrates with the chipset heatsink cover and is also used to cool M.2 SSDs.
The way that ASRock hides some of the T8 mounting screws for the shroud is smart – they're integrated into the centre of the cog and gear styling printed throughout the motherboard.
ASRock includes RGB lighting in three discrete zones – the rear IO shroud, the chipset heatsink, and the right edge. I particularly like the right edge under glow as this area features top-to-bottom lighting and will look good in a chassis.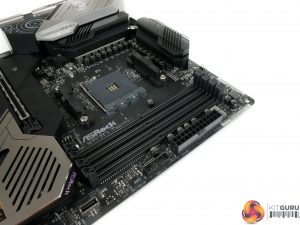 Four single-latch DIMMs support up to 128GB of DDR4 memory. I like that ASRock ensures all DIMM slots are the same colour; users buying this calibre of board will know how to install memory to operate correctly in dual channel mode.
ASRock quotes DDR4 memory support of more than 4666MHz via overclocking, though this is heavily dependent upon CPU IMC strength. The fastest frequency shown on the QVL is 4600MHz via overclocking a G.SKILL 3600MHz kit. And then there's the 4400MHz Patriot kit that's supported at 4000MHz. ASRock's memory QVL makes little sense.
Close to the DIMM slots is the board's only 5Gbps internal USB 3.0 header. This is mounted in a vertical orientation and the positioning close to the motherboard's edge should help with cable management duties.
8-pin plus 4-pin CPU power connectors are found in their usual location along the motherboard's top edge. Nearby you'll also find three 4-pin fan headers that are ideally situated for CPU cooler and rear chassis fan duties.
It's slightly disappointing to see no onboard voltage monitoring points being provided. However, that's perhaps more understandable on a £300 X570 motherboard than on some of the more expensive offerings.
No RGB headers up on this top edge, either, so you'll have to trail cables across the motherboard or buy an extension if you have roof-mounted LED strips. Not ideal.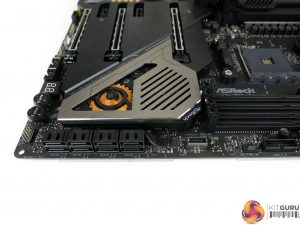 ASRock deploys eight SATA 6Gbps ports on the X570 Taichi. None of these ports share bandwidth with any other connectors, so all eight can be used at any time.
Next to the SATA ports is the single, vertically facing internal front panel 10Gbps USB 3.2 Gen 2 Type-C header. The positioning of this header is dreadful and a complete oversight on ASRock's part.
Installing a graphics card in the primary slot, as you should to get full x16 bandwidth, will completely cover the header and render it unusable. That's unless you have a graphics card shorter than around 9 inches, which is unlikely if you're building an X570 system with a motherboard of this calibre.
We wouldn't expect to see this level of oversight on an entry-level, bargain-basement motherboard, never mind a premium X570 offering. How this placement decision passed engineer/designer sign-off, I do not know.
There have been suggestions on Reddit of people contacting ASRock support for a right-angled cable and receiving one depending on stock levels. We checked with ASRock and the company is aware of the issue and later manufactured batches of the motherboard will have the connector rotated by 90 degrees.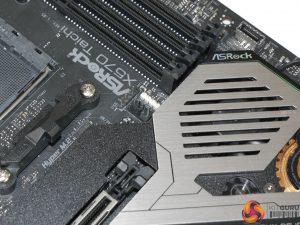 One of ASRock's smartest design moves is the inclusion of headers located near to the CPU socket. ASRock breaks the norm by mounting 4-pin fan, RGB, and half-height USB 2.0 headers close to the CPU socket and DIMM slots. This positioning makes them ideally located for usage with AMD's Wraith Prism RGB cooler that is provided with the Ryzen 7 and Ryzen 9 processors. Smart move, ASRock.
There is no dual BIOS switch on the motherboard as ASRock only includes a single chip. Thankfully, the chip's 256Mb capacity should make it capable for future AM4 CPUs but the lack of dual-BIOS resiliency and redundancy is a little disappointing.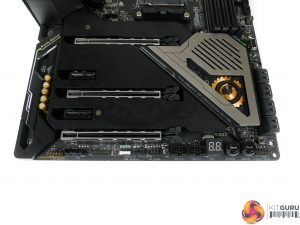 Along the bottom edge, ASRock provides a further two USB 2.0 headers, this time in full-height form. These are ideal for use with an AIO CPU cooler and the likes. Also found along the bottom edge are a further two LED headers, one of which uses the 3-pin addressable format.
Power, reset, and clear CMOS buttons are included on the X570 Taichi. I like to see these features as they're always useful for troubleshooting. Next to the buttons is a 2-digit debug LED that's equally useful.
ASRock's positioning of these buttons and the Dr. Debug LED display is good. The display should be visible even when a graphics card is installed, and most users shouldn't have issues accessing the buttons when the system is fully built.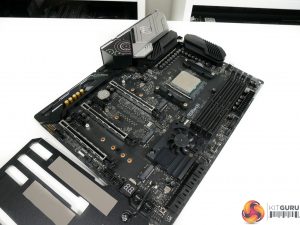 Beneath the dark shroud (which feels like aluminium), ASRock hides three M.2 connectors with one of them supporting drives up to 110mm in length. The top and bottom connectors support PCIe 4.0 x4 and SATA 6Gbps drives. However, the middle connector (M2_2) only supports PCIe devices with up to Gen 4 x4 bandwidth.
X570 chipset lanes are used to drive the lower two slots, while the uppermost is linked to a Ryzen CPU. Bandwidth sharing is minimal, with only the bottom M.2 connector sharing its link with lowermost PCIe expansion slot. Three M.2 devices can be used simultaneously, provided you're happy to forgo the lowest full-length PCIe slot.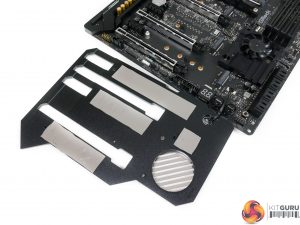 The large shroud features thermal pads positioned to cool M.2 SSDs. This is good to see, as each SSD is given far greater surface area to dissipate its thermal energy onto than competing M.2 heatsinks from the likes of MSI and Gigabyte.
There is a major drawback, however. Fancy new SSDs with their own well-built heatsinks, such as the Corsair MP600 and Aorus PCIe Gen 4 SSD, cannot be installed on the ASRock X570 Taichi with their heatsinks equipped. Thankfully, M.2 devices can generally have their heatsink removed so that just the thin PCB is exposed.
Another annoyance of the shroud is the needless difficulty, or perhaps consumption of time, required for a simple M.2 SSD install or upgrade. On competing solutions, you simply unscrew the M.2 heatsink, screw down the drive, replace the heatsink, and you're good to go. No system disassembly is required and the whole task takes maybe five minutes.
With ASRock's X570 Taichi shroud, though, you'd have to remove a graphics card and any other expansion devices, remove the shroud's three T8 Torx screws using ASRock's included tool, hope that there's wiggle-room in your chassis so that the entire motherboard doesn't need to come out, slot the new M.2 SSD in, remount the cover, and reinstall expansion devices.
So, your five-minute task just became a twenty-minute one. What if that graphics card you're forced to remove is water-cooled in a custom loop? You're going to have a *cough* fun *cough* few hours doing your supposed five-minute M.2 SSD install.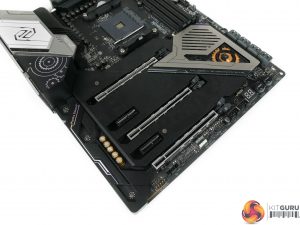 The X570 Taichi comes with the expected set of expansion slots for a premium X570 offering. All three of the full-length slots feature steel reinforcement which helps to minimise GPU sag. I like ASRock's decision to make the two x1 connectors open-ended so that cards with physically larger PCIe connectors can be installed if desired. Oh wait, that would cause interference with the shroud so it's not possible unless you get your Dremel out. The shroud is clearly starting to look like more of a hindrance than a benefit.
Ryzen CPU lanes are used to feed the top two full-length expansion slots in the usual x16/x0 or x8/x8 format. As such, Crossfire and SLI is supported. The bottom full-length connector gets its PCIe 4.0 x4 connection from the X570 chipset and shares that link with the lowest M.2 connector. Both PCIe 4.0 x1 slots are also fed by the X570 chipset.
Expansion slot spacing is ideal for X570. The main graphics card slot is far enough away from the CPU socket to avoid interference with large air coolers. And there's a three-slot gap to allow for cooling space in multi-GPU setups.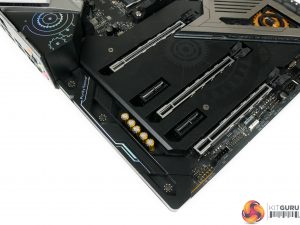 ASRock's Purity Sound audio system is built around the Realtek ALC1220 audio codec. A Texas Instruments NE5532 op-amp is provided in addition to Nichicon Fine Gold audio capacitors.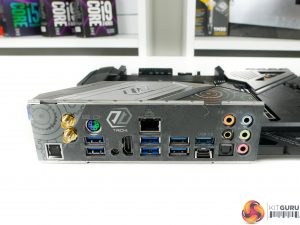 It is good to see ASRock using an integrated IO shield that has a far more premium feel than the fiddly, cheap metal alternative. It is worth noting that the included HDMI 2.0 port with HDCP 2.2 makes the X570 Taichi properly compatible with AM4-based APUs.
Six 5Gbps USB 3.0 (or 3.2 Gen 1 if you prefer) ports are provided on the rear IO. The two lighter-blue coloured ports feature support for ASRock's Ultra USB Power. PS/2 is also provided, though I feel that it is pointless these days. Two 10Gbps USB 3.2 Gen 2 ports are available, with one in Type-A form and one as Type-C.
Intel's I211AT chipset is used to provide the single Gigabit Ethernet port. 2.4Gbps-capable 802.11ax WiFi 6 is also provided by an Intel chipset. ASUS' similarly-priced ROG STRIX X570-E Gaming adds a 2.5Gb Ethernet port at this price point, so it's a little disappointing to see ASRock out-gunned on the networking front.
Audio connectors are the usual affair and the highly useful clear CMOS button is unlikely to be accidentally pressed. It is good to see ASRock supporting BIOS flash without a CPU installed.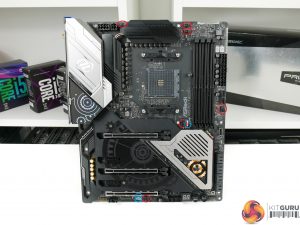 Six 4-pin fan headers are provided, five of which are reachable from the AM4 CPU socket. The middle-of-the-board 4-pin header allocated for a Wraith CPU cooler is smartly positioned.
Three LED headers are provided, with the one addressable version sitting along the board's bottom edge.
ASRock's 12+2-phase VRM is deployed in a (6×2) + (1×2) configuration due to the seven-phase capacity of the PWM controller. The chip controlling all of this is the Intersil ISL69147, aided by seven ISL6617A phase doublers mounted on the rear.
Vishay SiC634 50A power stages are used for each of the VRM phases. A dozen of these driving the CPU alone gives a theoretical current capacity of 600A for a Ryzen processor. However, that raw current number does not factor in response times, efficiency, and accuracy factors when using the PWM phase doubling.
While the Vishay components aren't typically regarded as highly as the (more expensive) International Rectifiers alternatives, the overall current capacity looks to be more than adequate for the upcoming 16-core Ryzen 9 3950X. Additionally, the 50A power stage rating is for continuous current delivery and the power stages are able to deliver 10% more load for 10ms periods, not accounting for thermal limitations.
A quick look at the data sheet highlights Vishay's claims of safe operation and 50A continuous output at up to 120°C operating temperature when using a 12.6V input voltage. One could perceive that result as putting less emphasis on all-out cooling performance from the MOSFET heatsink.
The sturdy VRM heatsink is well-built and both metal blocks are connected via heatpipe. Design wise, the heatsink is clearly focussed on aesthetics more than performance, and that's disappointing to see. There is no fin stack and no real effort to optimise surface area. With that said, the bulk of metal in the heatsink combined with the high phase count VRM, should provide adequate cooling performance.
ASRock adds a thermal strip to contact both sets of inductors. That's unique, even on premium motherboards, and is good to see even if the inductors don't necessitate additional cooling.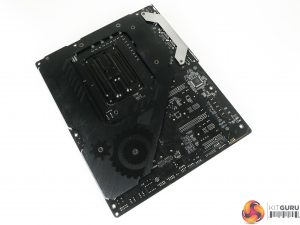 No thermal contact is made between the metal backplate and the motherboard PCB. So, there are no cooling benefits from the backplate. Structural rigidity, however, is improved by the metal piece and that's especially useful when mounting heavy CPU coolers or graphics cards.
The backplate is also used to cover the edge lighting zone that is provided by a thick strip of plastic.
The chipset heatsink and its small 40mm, 6000 RPM-rated fan are both undeniably basic. ASRock makes an effort to uses blades with a decent airflow design but the sheer proportion of fan area taken up by the hub is very limiting. As such, higher operating speed is necessitated to achieve adequate cooling performance. And ASRock certainly doesn't shy away from running this fan at high speeds.
There is speed control capability within the UEFI for the chipset fan. However, each of the preset profiles sees the unit staying above 3000 RPM just when messing around with UEFI settings. With our H100X fans operating below 1000 RPM, we could clearly hear the X570 Taichi's chipset fan on our test bench. We could also notice the blower ramping its speed level up and down as the temperature changed. With the AIO CPU cooler running at 1700 RPM, however, the chipset fan could not be heard above Corsair's loud fans.
The cooling performance isn't great, either, with temperatures over 60°C seen almost constantly. It looks as if ASRock's heatsink design for the chipset is less than ideal. The block of metal used to house the fan and conduct heat away from the X570 silicon is small. And the fan itself is not positioned directly above the point of contact with the heat producing X570 chipset, thus limiting the effectiveness of its coolant air.
Making matters worse, the positioning of the fan and the intake grille in ASRock's shroud is directly beneath the heatsink of a graphics card. Stick a card in there that has a cooler designed to vent air out to the side (as most non-blower coolers do in today's market) and you have an extra serving of thermal energy pumped directly into the 'coolant' air that's then pushed onto the chipset heatsink.
We'll have to keep an eye on chipset temperatures throughout testing.