The ASRock X570 Taichi is a premium motherboard that will keep many buyers happy without needing to spend £50 extra for the next tier of products. Priced at around £300, the X570 Taichi certainly isn't cheap. However, the strong RGB system, triple M.2 connectors, and well-built power delivery system are all key benefits.
Performance from ASRock's board was strong. This is primarily due to the highly aggressive voltage and power allocation settings that ASRock applies by default. These PBO-style allowances result in higher all-core frequency from our Ryzen 9 3900X CPU at the expense of higher thermals and power consumption.
Some users may prefer the 'free' performance offered by ASRock, while others will see the aggressive voltages as a negative. Personally, I would prefer Ryzen 9 3900X performance levels that fall more in line with what we expect and reduced power and thermal readings. Of course, overclocking allows adjustments to be applied to a user's preference. And the 12+2-phase power delivery system held up well throughout testing.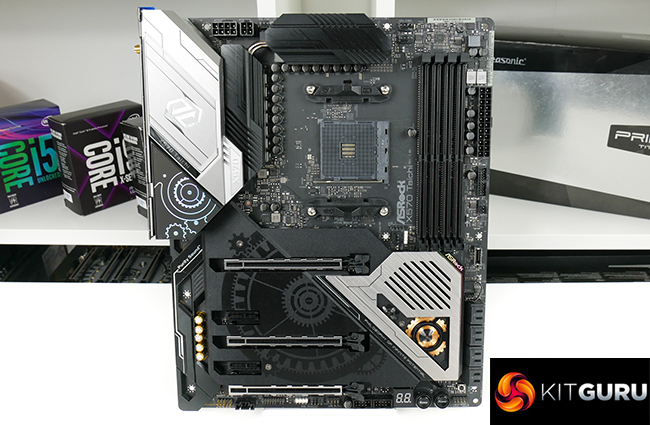 ASRock has you covered in terms of core features with inclusions such as triple M.2 slots, 802.11ax WiFi 6, and a healthy serving of eight SATA ports. It is slightly disappointing to see 2.5Gb ethernet omitted when ASUS' price competitor offers it. And the positioning error for the internal USB Type-C is a frustrating oversight, even if ASRock is providing support.
ASRock's aluminium shroud that covers the M.2 slots and chipset heatsink is both good and bad. The sheer size of cooling mass presented to M.2 devices is the biggest strength of the metal shroud. However, the increased inconvenience of simply adding another M.2 SSD to your system is unwelcome. The same displeasure will be present for users who are forced to remove their M.2 SSD's heatsink to make it fit in place.
Performance of the chipset cooling system is sub-par. Despite the small 40mm fan running at well over 4000 RPM for most of our testing, we still saw the chipset temperature climbing above 70°C even without heavy PCIe Gen 4 loading. In itself, 70°C is not a problem, even if we are using an open-air test bench. But when that temperature comes with the irritation of an audible fan that clearly isn't performing very well, it does highlight disappointment. Thankfully, the VRM cooling solution performed well.
Despite its overall solid selection of core features, you may find that the ASRock X570 Taichi misses out with some premium items that competitors offer. Combined with the less-than-ideal chipset cooling performance and the silly internal Type-C header positioning, ASRock's X570 Taichi loses some elements of its premium feel. With that said, out-of-the-box performance is strong due to aggressive voltages and the power delivery system and UEFI held up well in our overclocking tests.

The ASRock X570 Taichi is priced at £308.99 at Overclockers UK.
Pros:
Strong out-of-the-box performance, thanks to high voltages and frequencies.
Solid VRM solution with adequate cooling.
Overclocked the Ryzen 9 3900X well.
Easy-to-use UEFI.
Good fan speed control in the UEFI and software.
Plenty of RGB lighting in different zones.
Fan, USB, and RGB headers near CPU socket is smart.
RGB control within the UEFI.
Cons:
High out-of-the-box power consumption and temperatures due to aggressive stock voltage.
Internal USB Type-C header positioning is an unmissable error.
Metal shroud adds inconvenience when adding/removing M.2 SSDs.
Chipset cooling performance is not ideal.
Misses some useful features from competitors – dual BIOS or 2.5GbE.
KitGuru says: If its feature set, RGB lighting zones, and strong stock performance tick your boxes, ASRock's X570 Taichi is a good choice. Just make sure you're happy to deal with the chipset fan noise and an internal Type-C header adapter.