The Asus Maximus VIII Impact is a high-performance mini-ITX motherboard that will grab the attention of SFF enthusiasts interested in crunching through pixels in the latest games.
General performance from the motherboard is superb. The same can be said for overclocking; we had no problem taking our 6700K CPU to its 4.8GHz limit while also using 3200MHz DDR4. Voltage accuracy was decent and could be tweaked depending on one's preference thanks to eight LLC profiles. And the small touch of instability we experienced was resolved by reseating the CPU cooler and memory modules.
Asus' UEFI layout is superb, as are its included features. The interface is easy to navigate which makes achieving a stable overclock a simple and fast process. Despite the solid interface, Asus' UEFI-based automated overclocking options were not good. The voltage levels for the preset and EZ Tuning wizard were far too high for daily usage. Thankfully, the OS-based 5-Way Optimization tuning was truly excellent and incredibly successful.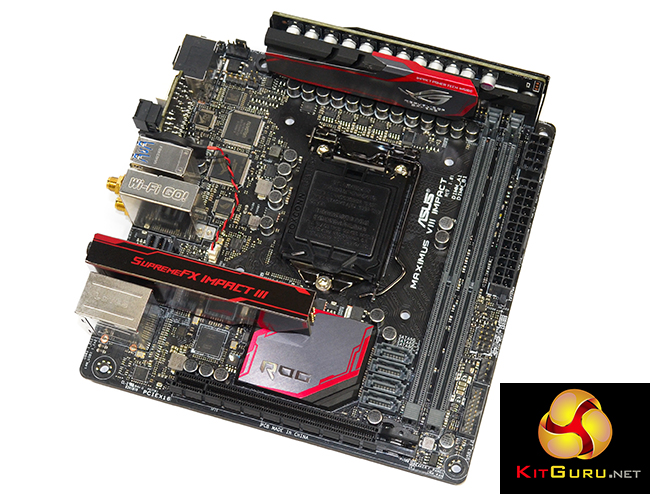 Features are both a strength and an area for debate with the Maximus VIII Impact. The inclusion of a PCIe 3.0 x4-fed Intel DSL6540 USB 3.1 chipset to provide the 10Gbps Type-A and Type-C ports is welcomed. Performance from the SupremeFX Impact III audio solution is excellent. Many gaming HTPC buyers will be glad to see 802.11ac WiFi included, although some of those may miss the lack of DisplayPort for 4K60P connectivity through the iGPU.
Another of the board's strengths is its included 32Gbps PCIe 3.0 x4 U.2 connector. With that said, the U.2 connector seems to have replaced the far more versatile and valuable (at this point in time) M.2 slot. Asus' decision to ship a flagship mini-ITX motherboard without an M.2 connector to house NVMe SSDs such as Samsung's extremely popular 950 Pro is one that could alienate a vast number of potential buyers.
Continuing with the storage theme, four SATA 6Gbps ports on an enthusiast motherboard also seems to be cutting it fine. And I do not like to see the complete omission of USB 2.0 ports, with not even an internal header deployed. Two more SATA 6Gbps ports (or a single SATA-Express connector for front panel USB 3.1 bay functionality) and a USB 2.0 header could have easily been provided out of the Z170 chipset's spare lanes that currently go unused on this motherboard.
Asus' diverse set of included software is very good for gaming and general usage scenarios. GameFirst IV provides network optimisation, KeyBot can be used to assign macros and perform system functions in S5 state, and the number of audio-related tools are useful for gamers. AI Suite 3 provides many worthwhile functions, including good system monitoring abilities, USB 3.1 Boost, and further options for WiFi functionality.
Support for up to five 4-pin fan headers, and additional temperature sensors, thanks to the included fan extension board is superb. Asus' UEFI- and OS-based fan control methods are also very good for giving users plenty of flexibility for operating speeds.
Available for £187.99 at OverclockersUK, Asus' Maximus VIII Impact is the highest priced mini-ITX board on the market. Asus delivers innovation in the form of the company's Impact Power III board and SupremeFX Impact III audio to help justify the price tag. And in other areas, features such as Intel-based USB 3.1, a 32Gbps U.2 connector, and superb software implementations are points which will tempt potential buyers.
With that said, there is compromise to be made if you plan to use the Maximus VIII Impact. The biggest compromise comes from the lack of an M.2 connector, however four SATA 6Gbps and no USB 2.0 connections may also limit connectivity and expansion options. If these points are compromises that you can happily accept, Asus' Maximus VIII Impact is a superb choice for your high-performance mini-ITX system.
Discuss on our Facebook page, over HERE.
Pros:
SupremeFX Impact III is an excellent audio solution (provided you don't need 7.1 support).
Intel DSL6540 10Gbps USB 3.1 Type-A and Type-C ports.
High-performance power delivery system thanks to the smart design of the Impact Power III board.
32Gbps PCIe 3.0 x4 U.2 connector is good to have.
Good networking capability via Intel NIC and 2×2 MU-MIMO 802.11ac WiFi.
Excellent UEFI implementation and a very good array of gamer-orientated and general usage software.
Motherboard layout is generally good for mini-ITX builders and overclocking users.
Support and control for up to five 4-pin fan headers is great.
Cons:
No M.2 connector (!).
No USB 2.0 connectivity at all.
More than 4 SATA 6Gbps connectors should be included, especially with the lack of M.2.
PS/2 port may be missed by extreme overclockers and troubleshooting (or Windows 7) users, albeit a minor point.
KitGuru says: Intel USB 3.1, a 32Gbps U.2 connector, and superb audio performance are just some of the features that make the Asus Maximus VIII Impact a tempting motherboard for a high-performance mini-ITX build.