SATA
For SATA 6Gb/s testing we use a Kingston HyperX 3K (SandForce SF-2281) SSD.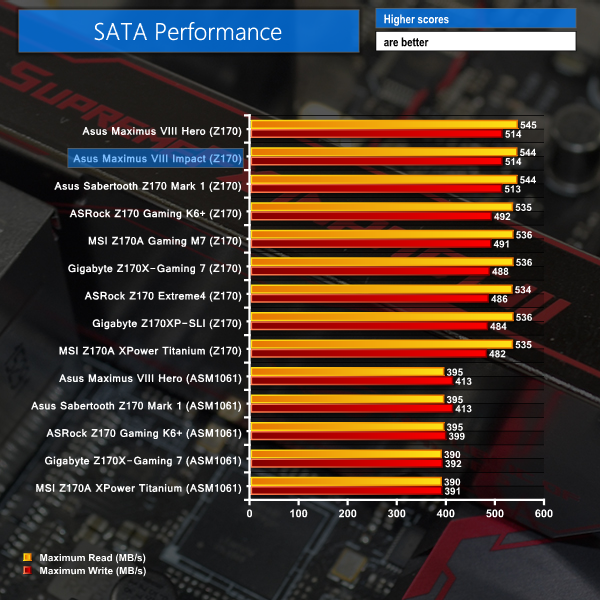 SATA 6Gbps performance from Asus' board is slightly faster than competing vendors' offerings. In the real world, this small transfer rate differential is unlikely to be noticeable, however it is undeniably present.
USB 3.0
We tested USB 3.0 performance using the Kingston HyperX 3K SSD connected to a SATA 6Gb/s to USB 3.0 adapter powered by an ASMedia ASM1053 controller. The test system uses Windows 7 with SP1 as the OS.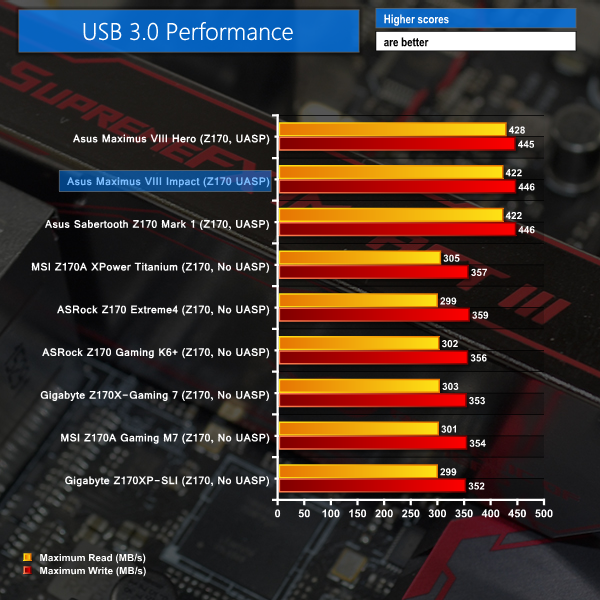 Thanks to the USB 3.1 Boost software provided by Asus, users of the Windows 7 test system can benefit from activation of UASP and enhanced USB 3.0/3.1 transfer rates.
Asus delivers USB 3.0 transfer rates that are significantly faster than all of its competitors thanks to the included software. This is important if you regularly transfer large files or perform backups to USB 3.0 drives.
The performance discrepancies will likely be smaller using the Windows 8.1 and 10 operating systems thanks to updated UASP driver support native to the OS.
Audio

We use RightMark Audio Analyzer (RMAA) to analyse the performance of the motherboard's onboard audio solution. A sampling mode of 24-bit, 192 kHz was tested.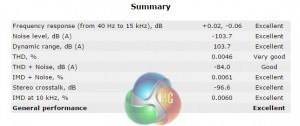 According to RMAA, general performance of the Maximus VIII Impact's audio system is Excellent. There are very few weaknesses to the SupremeFX Impact III audio system, with frequency responses and the dynamic range being particularly strong.
WiFi Performance

We use Totusoft's LAN Speed Test software to measure the real-world throughput offered by the Asus Maximus VIII Impact motherboard's WiFi solution. The test motherboard was located in close proximity to our Linksys EA6900 AC1900 802.11ac wireless router.
Unfortunately we were only able to test the 2.4GHz frequency band performance. Our 5GHz connectivity gave issues and the problem seems to be related to a driver issue with our Windows 7 SP1 test OS. Asus are currently looking into this issue.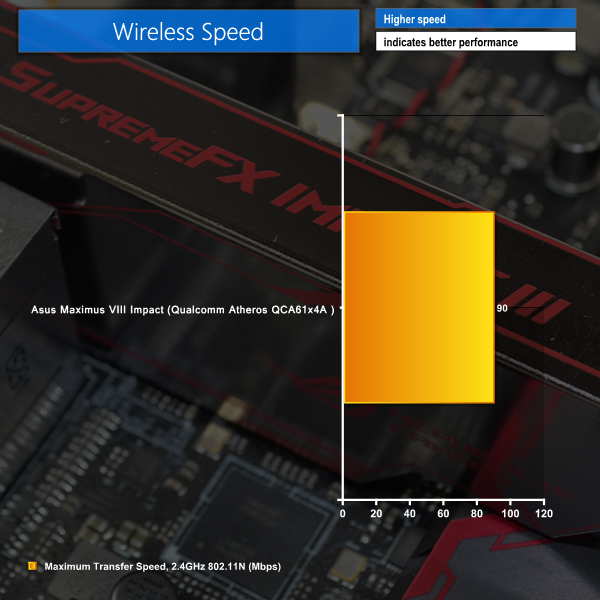 2.4GHz 802.11N networking results do not really show what performance the Qualcomm Atheros QCA61x4A 802.11ac wireless adapter is capable of. However, reduced wireless performance is the price that we have to pay due to a 5GHz networking issue with our Windows 7 SP1 test system.
There was a large amount of wireless clutter in our test environment, so expect different results with your system. We would also expect 5GHz 802.11ac networking speeds to be in the region of 300Mbps and above for real-world testing.
Power
We measured the power consumption with the system resting at the Windows 7 desktop, representing idle values.
The power consumption of our entire test system (at the wall) is measured while loading only the CPU using Prime95′s in-place large FFTs setting. The rest of the system's components were operating in their idle states, hence the increased power consumption values (in comparison to the idle figures) are largely related to the load on the CPU and motherboard power delivery components.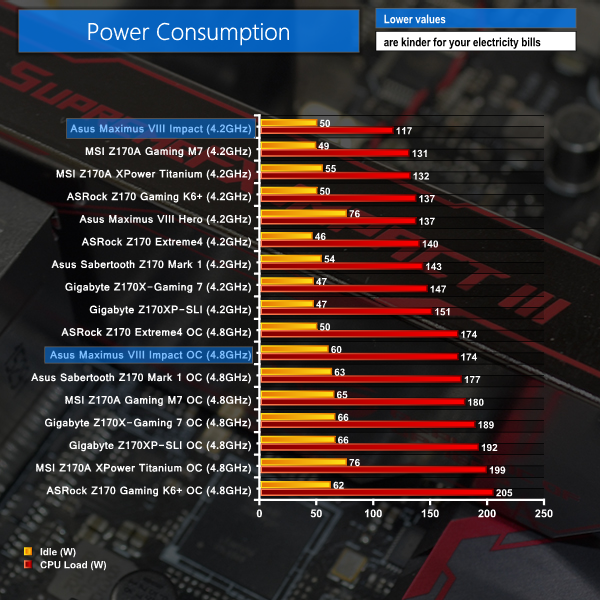 Asus' low voltage levels at stock (MCT) speeds deliver chart-leading power consumption numbers. Manual overclocking to a similar voltage level used by competing boards sees similar power being drawn from the socket.
There is little information in the power consumption results to speak for the efficiency of Asus' customised power delivery system, however there's nothing to show it struggling either.