Intel's Skylake processors are just the latest Intel CPU architecture to see many of the critical system operations handled by the processor. As such, benchmarking a motherboard becomes more of a test to certify that the part operates correctly and meets the anticipated performance levels.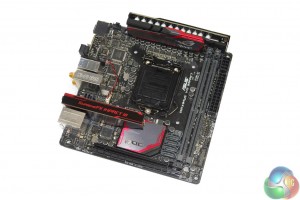 We will be outlining the Asus Maximus VIII Impact motherboard's performance with the Core i7-6700K CPU at its stock frequency (4.2GHz due to forced turbo). Overclocked performance will be outlined later in the review.
The Asus Maximus VIII Impact motherboard allows users to apply multi-core turbo (MCT) and force the 6700K to a constant 4.2GHz when XMP is enabled. This will be displayed as the 'stock' setting.
CPU-Z reports erroneous voltage readings for the CPU, so they can be ignored. Asus' AI Suite software delivers accurate readings that we validated using a multimeter and the onboard Probelt voltage readings points.
A CPU voltage of around 1.17V is applied during heavy CPU load with MCT enabled. This level is a smart choice by Asus that results in solid stability and easy-to-cool temperatures. Competing motherboards typically opt for around 50mV higher when the 6700K's MCT settings are enabled, so this may be an indication of the efficiency of the Maximus VIII Impact's power delivery system.
We had to switch our test system's usual four-stick memory installation, as necessitated by the board's two DIMM slots. Instead of opting for a pair of 8GB DIMMs to keep the 16GB capacity constant, we used two of Corsair's 4GB Vengeance LPX 3200MHz DDR4 sticks. This gave us 8GB of system memory and kept the DRAM frequency consistent with our competitors' test data.
We actually had to mix up the two Corsair DRAM modules and reseat the CPU as the board was unstable when using XMP. The LED display threw up a 55 error code on POST, which seems to be a common issue for some Asus Z170 ROG boards when using XMP or high-speed memory. Reseating the CPU and using two different DDR4 sticks of the same memory removed the instability.
Z170 Motherboard Test System:
Processor: Intel Core i7-6700K (

4.2GHz forced turbo

).
Memory: 8GB (2x4GB) Corsair Vengeance LPX 3200MHz 16-18-18-36 DDR4 @ 1.35V.
Graphics Card: Nvidia GTX 980 Ti.
System Drive: 250GB Crucial BX100 SSD.
CPU Cooler: Noctua NH-D14.
Power Supply: Seasonic Platinum 760W.
Operating System: Windows 7 Professional with SP1 64-bit.
Compared Z170 Motherboards:
Software:
Asus Maximus VIII Impact BIOS v1302.
GeForce 353.30 VGA drivers.
Tests:

Cinebench R15 – All-core CPU benchmark (System)
HandBrake 0.10.2 – Convert 1.23GB 1080P game recording using the High Profile setting and MP4 container (System)
7-Zip 15.05 beta – Manual video archival (System)
3DMark 1.5.915 – Fire Strike Ultra (Gaming)
Grand Theft Auto V – 1920 x 1080, near-maximum quality (Gaming)
Middle Earth: Shadow of Mordor – 1920 x 1080, ultra quality (Gaming)
ATTO – SATA 6Gbps and USB 3.0 transfer rates (Motherboard)
Totusoft LAN Speed Test – Wireless networking performance (Motherboard)
RightMark Audio Analyzer – General audio performance test (Motherboard)