The Asus Maximus VIII Impact ships in a box with typical ROG styling. A basic handful of features is found on the front of the box, with the more in-depth specifications residing on the rear.

Opening the front flap reveals more information about the board's key features and how they work.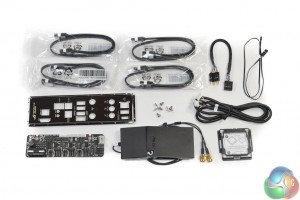 The very healthy accessory bundle consists of:
4x SATA cables.
Front panel headers break-out cable.
Temperature sensor cable.
Labelled rear IO shield.
Miscellaneous screws (seemingly for mounting the fan board to a chassis).
5-pin to 5-pin cable for the fan extension board.
Fan extension board.
Two-stream magnetic WiFi antenna box.
CPU installation tool.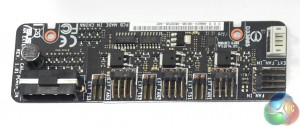 The included fan extension card can be used to connect three additional 4-pin fans to the system, as well as three more temperature sensors. Power is delivered via a 4-pin molex connector, which I wish was a more-convenient SATA power connector instead. Signals are transferred through the included 5-pin cable which connects to a dedicated header on the motherboard.
A number of operating modes can be selected for the connected fans, thanks in large to the Nuvoton NCT7802Y monitoring IC. Their speeds can be managed manually through the UEFI. Alternatively, a direct connection can be made to one of the motherboard's onboard headers, allowing its operating mode to control the three extension card fans as a single set.
There is also the option to operate the fans based on readings from the three temperature sensors. This approach, however, will require the additional temperature sensor cables to be acquired as only one is included. Credit to Asus for colouring the fan header board in black, preventing it from being an eye-sore inside a mini-ITX build.
Documentation comes in the form of a motherboard layout leaflet and user guide. Asus also includes a drivers CD and two different types of case stickers.
The inclusion of stickers for outlining KeyBot keys, storage drives, and general cables is excellent. The KeyBot stickers will be especially useful for day-to-day scenarios.