Automatic CPU Overclocking:
Gigabyte does not provide any automated or built-in overclocking profiles in the UEFI for the 990FX-Gaming motherboard. Overclocking presets are available using Gigabyte's EasyTune software, but these didn't work very well during our testing, and they rely upon the software being installed (which many users will hate). The Auto Tuning option was completely blanked out in the EasyTune software on our test system.
Given the target audience consisting of gamers who are likely to have a solid understanding of the hardware, this doesn't strike me as a major concern.

Manual CPU Overclocking:
Overclocking with AMD's unlocked FX 8370 processor using the Gigabyte 990FX-Gaming motherboard was generally straightforward. We spent a significant amount of time testing various primary and secondary frequencies, multiplier ratios, voltages, LLC settings, and power states. All of those features were in sensible sections of the UEFI.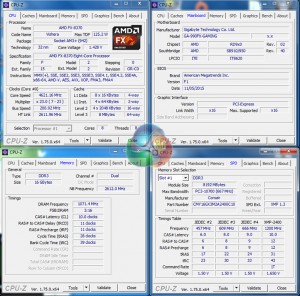 The best balance for our CPU overclock was a 4.6GHz CPU frequency (23x200MHz) and 1.425V core voltage with Medium LLC. We also applied a 2.6GHz NB frequency with 1.30V NB voltage. Power features such as C1E, C6, and Cool & Quiet were disabled. Memory speed was maintained at 2133MHz.
Medium LLC applied a voltage drop of around 9-21mV when the CPU was under heavy load. We accounted for this in the voltage level that we keyed into the UEFI. The accuracy on Gigabyte's Bus Speed is not very good; the board applies 200.92MHz, instead of a flat 200.00MHz, which results in a CPU speed overshoot of 21MHz and also changes the RAM clock.
We were able to push to 4.7GHz using 1.45V, however this was too much of a thermal load for the AMD Wraith CPU cooler that we tested with. We are, however, confident that higher voltages levels will be stable on the Gigabyte motherboard if your cooling solution can provide adequate performance.