The Gigabyte 990FX-Gaming is a capable AM3+ motherboard that gives users a taste of modern features on the aging 990FX chipset. It's the blend of modern features and support for older CPUs that could entice some users who are happy with their AMD chip's performance but are looking for faster storage connections and a better audio experience.
Stability from the motherboard is good, thanks in large to a solid power delivery system that allowed for overclocking of the 125W TDP FX 8370 CPU. We managed to push the chip to 4.6GHz, with stability, using AMD's Wraith air cooler. With enhanced cooling, the board was clearly capable of more than 4.6GHz (we actually hit 4.7GHz, but temperatures were high).
Speaking of overclocking stability, Gigabyte's cooling solution for the motherboard is smart. The MOSFETs and 990FX chipset can output a significant amount of heat power when loaded, so the decision to use a trio of beefy heatsinks connected via two heatpipes is entirely justified and sensible.

Layout decisions are logical and well-thought for gaming users. There's room for a pair of graphics cards alongside a high-bandwidth PCIe device, an x1 card, and a 20Gbps-linked M.2 PCIe NVMe SSD. The expansion options should suffice for all but the most deep-pocketed of gamers or those old-school guys who miss a legacy PCI slot.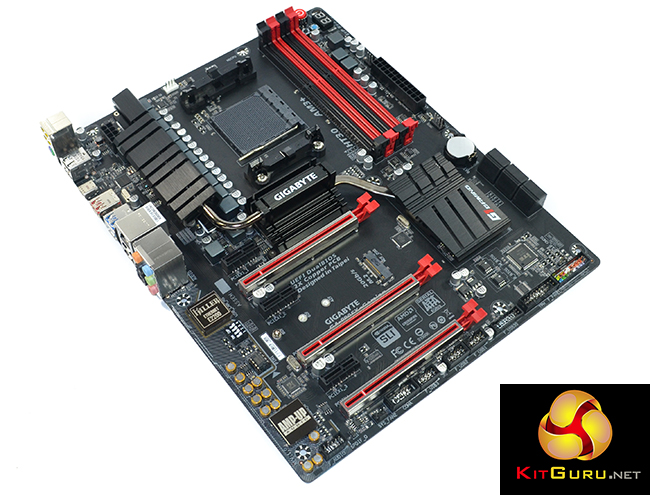 Modern features are where Gigabyte has chosen smartly. Adding support for 10Gbps USB 3.1 in its Type-C and Type-A form is smart, and brings the board's feature set into 2016. The Killer E2200 series NIC will also be welcomed by some gamers, as will the enhanced audio solution.
One of the negatives is the number of fan headers that Gigabyte deploys. Four fan headers, only two of which can be controlled, is insufficient for a high-powered motherboard intended for energy-intensive CPUs and gaming-grade graphics cards.
And then there's the old layout style of the UEFI BIOS which feels dated, despite being perfectly functional. The UEFI-adjustable fan control method is about as bad as it gets for ease-of-use, but thankfully the OS-based approach is far more user-friendly.

Available around the £120 level, the Gigabyte 990FX-Gaming could be a good option for gamers looking to invest in the AM3+ platform. The board offers support for AMD's aging hardware, but it does so whilst also deploying modern features such as USB 3.1 Type-C, PCIe NVMe M.2, and an upgradeable audio solution.
Buy from Overclockers UK for £124.99 inc vat HERE.
Discuss on our Facebook page, over HERE.
Pros:
PCIe 2.0 x4 & SATA-compatible M.2 connector.
Support for PCIe NVMe SSDs.
10Gbps USB 3.1 Type-C & Type -A.
Strong, upgradable audio solution.
Killer's network management software may be useful to some gamers.
Smart layout and design choices with an aesthetically pleasing appearance.
Onboard buttons and dual BIOS chips can be useful.
Cons:
UEFI looks old, navigation is unappealing, and the manual fan control method is not intuitive.
Only four fan headers, with just two being user-controllable.
USB 3.0 ports are very slow.
KitGuru says: A solid choice if you're after a feature-rich AM3+ motherboard to prolong the life of your AMD system.