We will be outlining the Gigabyte 990FX-Gaming motherboard's performance with an AMD FX 8370 CPU, 16GB of DDR3 memory, and a GTX 980 Ti graphics card.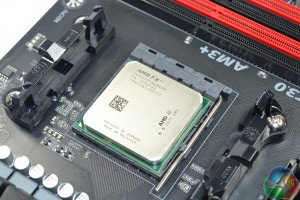 Unfortunately we do not have access to comparison data from other AM3+ motherboards. As such, we will highlight the performance gains available by using the Gigabyte 990FX-Gaming motherboard to overclock the FX 8370 CPU.
Despite the FX 8370 supporting a maximum Turbo Clock speed of 4.3GHz, Gigabyte's motherboard kept the chip at 4.1GHz using a 20.5x multiplier. This is likely to be a bug related to the motherboard's early BIOS revision, and will have an impact on performance.
The 2400MHz memory profile was loaded from our Corsair Vengeance Pro DDR3, however the board automatically set the kit to 2133MHz instead due to its 10.67x maximum memory multiplier.
AM3+ Motherboard Test System:
CPU

AMD FX 8370 'Vishera'
(Retail)
8 cores, 8 threads

Base Speed

4.0GHz

Max Turbo Speed

4.3GHz (limited to 4.1GHz)


Motherboard

Gigabyte 990FX-Gaming
BIOS: F1
(AM3+, 990FX)

Memory

Corsair Vengeance Pro
16GB (2x8GB)
@ 2133MHz 10-11-11 DDR3 @ 1.65V

Overclock

4.62GHz CPU @ 1.425V (Medium LLC)
2.6GHz NB @ 1.30V
2133MHz CL10 DDR3

Graphics Card

Nvidia GTX 980 Ti 6GB
(GeForce 361.75 drivers)

System Drive

SanDisk Ultra Plus 256GB SATA SSD

Games Drive
Samsung 850 EVO 500GB SATA 6Gbps SSD
CPU Cooler

AMD Wraith

Power Supply

Seasonic SS-760XP 760W Platinum

Operating System

Windows 7 Professional with SP1 (64-bit)
Tests:

Cinebench R15 – All-core CPU benchmark (System)
HandBrake 0.10.2 – Convert 1.23GB 1080P game recording using the High Profile setting and MP4 container (System)
7-Zip 15.05 beta – Manual video archival (System)
3DMark 1.5.915 – Fire Strike Ultra (Gaming)
Grand Theft Auto V – 1920 x 1080, near-maximum quality (Gaming)
Middle Earth: Shadow of Mordor – 1920 x 1080, ultra quality (Gaming)
ATTO – SATA 6Gbps, M.2, and USB 3.0 transfer rates (Motherboard)
RightMark Audio Analyzer – General audio performance test (Motherboard)