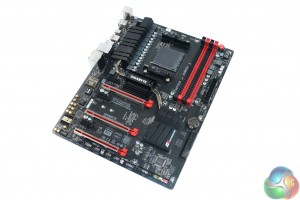 With its sights set firmly on a gaming audience, the Gigabyte 990FX-Gaming motherboard sports a good-looking red and black colour scheme. Gigabyte specifically uses a matte black PCB, rather than an ugly shade of washed-out brown, helping the board to remain attractive inside a well-lit chassis.

Gigabyte uses steel-reinforced PCIe x16 slots in order to minimise graphics card sag. As well as providing increased stiffness over plastic alternatives, the steel casing can also help to minimise EMI.
A sizeable trio of heatsinks, which are connected via two heatpipes, engulf a large proportion of the ATX motherboard. The design choices made by Gigabyte ensure that the heatsinks do not cause interference with the likes of graphics cards.
Switching focus to the board's rear side allows the physical PCIe lane distribution to be viewed, in addition to the segregated audio signal path.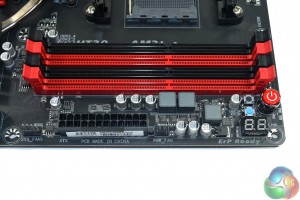 Up to 32GB of dual-channel DDR3 memory can be installed in the four DIMM slots. Gigabyte quotes frequency support for more than 2000MHz via overclocking. XMP memory configurations are also supported. We actually managed to use a 2133MHz, XMP-based memory speed without issues.
Onboard power, reset, and clear CMOS buttons are convenient for overclocking and troubleshooting measures. The same holds true for the two-digit LED display. A pair of fan headers is found close to the 24-pin power connector.
The black AM3+ socket is nestled between a pair of brackets for the pre-applied CPU cooler mounting system. Unlike Intel's motherboards, the socket does not feature any contact pins but instead uses holes for an AM3/AM3+ CPU to be installed in.
Utilisation of the AM3+ socket means that older DDR3-supporting AM3 processors from the Phenom II and Athlon II families are also compatible alongside the newer FX series chips.
A 10-phase power delivery system drives the CPU, with supplementary electronics feeding the memory and system voltages. Gigabyte opts for Renesas K03B7 and K0393 units as the high- and low-side MOSFETs. The power delivery system is managed by an International Rectifiers IR35648 PWM which also calls upon five IR3598 dual MOSFET drivers.
The importance of a strong power delivery system built around reputable components should not be underestimated for an AM3+ motherboard. With support for chips featuring TDPs as high as 220W out-of-the-box, there will be a significant amount of stress on the voltage-switching hardware, especially when overclocking is included.
Six SATA 6Gbps ports are delivered directly from the AMD SB950 Southbridge. The common RAID versions are supported – 0, 1, 5, and 10.
Gigabyte uses a four-lane connection from the 990FX Northbridge to provide 20Gbps PCIe connectivity for M.2 NVMe SSDs. Take off the overhead and that leaves a theoretical connection speed of ~2GBps to an M.2 SSD. Samsung's popular 950 Pro SSD is rated for read speeds of up to 2.5GBps and will be bottlenecked in this motherboard's M.2 slot.
This is where AMD's aging chipset and its application of ~500MBps PCIe 2.0 lanes, rather than the ~985MBps PCIe 3.0 lanes used on competing Intel chipsets, starts to show its age. With that said, it is good to see Gigabyte compensating for the ageing chipset by providing a four-lane connection rather than an even more restricted two-lane interface. NVMe support is also a positive.
The installation of an M.2 SATA SSD steals the lane from SATA port 5. M.2 PCIe SSDs do not share their bandwidth with the SATA 6Gbps ports, meaning that all six connections retain their function.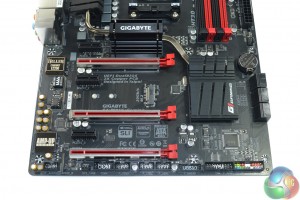 PCIe connectivity is a positive for the 990FX chipset. Gigabyte gives users support for 2-way SLI and CrossFire with both cards receiving a full 16 PCIe lanes, albeit at Gen 2 bandwidth (which is still generally fine for even the highest end GPUs).
That lowest full-length slot is wired for a 4-lane connection, and shouldn't be used for a third graphics card given its PCIe 2.0 bandwidth (unless you don't care for its performance). Bandwidth for the lowest slot is shared with the PCIe 2.0 x1 connector above it. With something installed in the x1 slot, the full-length connector will be limited to PCIe 2.0 x2 bandwidth. There are two further PCIe 2.0 x1 connectors that run without stealing lanes from elsewhere.
I have no complaints with Gigabyte's decision of only giving support for two high-bandwidth graphics cards, even when lane-splitting could have made four x8 PCIe links possible. If you're ever likely to be using 3-way CrossFire or SLI for gaming, you should really be investing in a higher performance CPU, such as those compatible with Intel's X99 platform.
Layout of the expansion slots is excellent. A user can install two dual-slot graphics card with a cooling gap between them. And there's still enough space and connectivity for a high-bandwidth expansion card in the bottom slot and something like a PCIe x1 WiFi card above the top GPU.
Swapping the (practically inaccessible) second PCIe x1 slot position with that of the M.2 connector would have made more sense. However, this may have also presented cooling concerns with an M.2 SSD for those using a blower exhaust graphics card.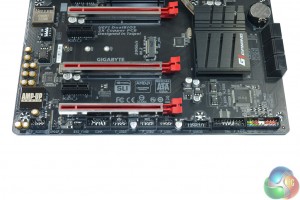 The lower IO ports are a standard affair – HD audio to the left and front panel headers to the right. Three USB 2.0 headers provide plenty of options for users with a host of peripherals.
The 2-port USB 3.0 header is powered by two of the four lanes provided by a VIA VL805 USB 3.0 add-on chipset. An add-on chipset is used because AMD's SB950 Southbridge does not provide native USB 3.0 support.
Gigabyte also adds COM and TPM headers for legacy operations. Dual BIOS chips provide redundancy in the event of a BIOS crash – this is one of Gigabyte's features that I love seeing.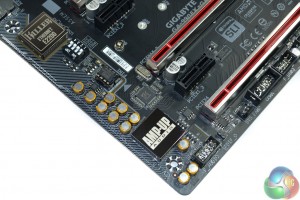 Gigabyte's AMP-UP audio system is based around the popular Realtek ALC1150 codec. The codec is shielded and signals travel along a dedicated path to reduce EMI. Nichicon audio capacitors form part of the system alongside Texas Instruments LM358 and LM393 components.
A socketed Texas Instruments Burr Brown OPA2134 operational-amplifier is supplied with the motherboard. This op-amp sells for around $30 on a popular auction site, so its inclusion is not to be overlooked. Gigabyte's socketed design means that audio aficionados can switch out the op-amp to suit their setup and listening preferences. Four dip-switches manage the op-amp's gain.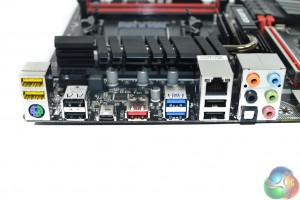 Peripherals can be connected via the rear IO's six USB 2.0 ports and single PS/2 connector. The yellow USB 2.0 ports indicate Gigabyte's USB DAC-UP functionality, which means that they receive a cleaner voltage signal in order to minimise interference with USB DACs and headsets.
Two blue-coloured USB 3.0 ports are provided by the remaining two lanes on the VIA VL805 add-on chipset. ASMedia's ASM1143 PCIe x2 controller is used to provide 10Gbps USB 3.1 Type-C and Type-A connectivity. Kudos to Gigabyte for including the new Type-C connector. Just don't expect full speed from both ports simultaneously; the ASMedia chipset's PCIe 2.0 x2 connection is limited to 8Gbps once the decoding overhead is accounted for.
Gigabit Ethernet is provided by a Killer E2200 series NIC. Despite the hate-it-or-love-it appeal to Killer's NICs, the network management software can be useful to gamers who don't have a high-end router with prioritisation support. Audio is delivered in the form of five 3.5mm jacks and optical SPDIF.
I would have liked to see a clear CMOS button on the rear IO, as this would have been especially convenient for overclocking users. Neither the AM3/AM3+ CPUs nor the 990FX chipset have graphics capabilities, hence the omission of any video connectors.
Four fan headers are distributed around the board, only two of which are 4-pin. Gigabyte allocates a single 4-pin fan header for the CPU, which is not good enough considering the cooling requirements for AMD's FX series CPUs. There are two more fan headers within reach of the CPU socket, but somebody with a dual-fan AIO water-cooling unit will have used all of the headers in the upper half of the motherboard before even moving onto case fans.
A total of four fan headers is not enough, especially when this board could happily house a 220W TDP CPU and two high-powered graphics cards, at which point case airflow becomes increasingly important.
Management of the fans and monitoring of system parameters is the task of an ITE IT8620E chipset. An ICS 9LPRS477DKL clock generator is also deployed on the motherboard.
A sturdy heatsink set is used to cool the MOSFETs, 990FX Northbridge, and SB950 Southbridge. With the 990FX chipset alone being rated for a TDP of almost 20W, it comes as no surprise that Gigabyte has taken cooling so seriously. The metal heatsinks were hot to touch when the board was loaded, which indicates that they are indeed effectively removing heat.