M.2 PCIe Performance
We test M.2 PCIe performance using an Aorus PCIe Gen 4 2TB SSD. This SSD uses a Phison-based PCIe Gen 4 controller.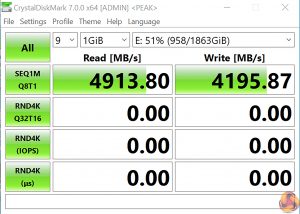 M.2 performance is at the level we expect, with the read result coming in at just below 5GBps. Of course, any M.2 SSD installed in the chipset-connected slot will be limited to PCIe Gen 3 x4 bandwidth and any CPU-to-chipset link speed restrictions.

Thermal performance from the metal M.2 heatsink was good enough to keep our drive adequately cooled. MSI's offering was not quite as thermally efficient as the ASUS competitors' version though.
SATA 6Gbps Performance
For SATA 6Gbps testing we use a Crucial MX300 750GB SSD.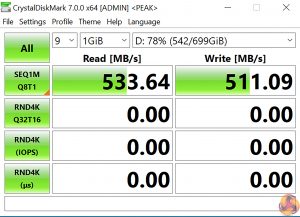 SATA 6Gbps performance from the B550 chipset ports is as expected.
Audio

Rightmark Audio Analyser is a freeware benchmarking utility designed to objectively test the performance characteristics of audio solutions. We setup a line-in line-out loop and execute the record/playback test before generating the results report you see below. A sampling mode of 24-bit, 192 kHz was tested.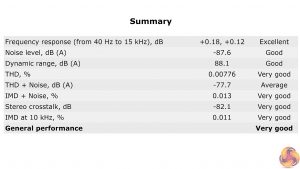 Despite using the lower-end Realtek ALC1200 audio codec, compared to the common ALC1220, MSI's B550 MAG Tomahawk delivers 'Very Good' overall audio performance. This is according to the Rightmark Audio Analyzer test procedure.