For more details on MSI's UEFI and OS software offering, check out our previous MSI AM4 motherboard review HERE.
We will be outlining the MSI MAG B550 Tomahawk motherboard's performance with the AMD Ryzen 9 3950X CPU, 16GB of 3200MHz DDR4 memory, and an Aorus RTX 2080 Ti graphics card.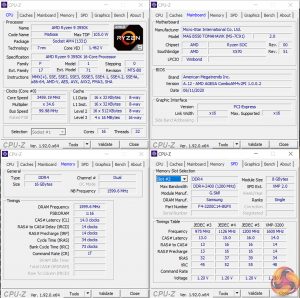 AM4 Motherboard Test System:
Processor: AMD Ryzen 9 3950X.
Memory: 16GB (2x8GB) G.SKILL 3200MHz CL14 DDR4 @ 1.35V.
Graphics Card: Gigabyte Aorus RTX 2080 Ti XTREME (custom fan curve to minimise thermal throttling).
System Drive: WD_Black SN750 PCIe 3.0 x4 NVMe M.2 SSD.
Games and Test SSD: Crucial MX300 750GB & Aorus 2TB PCIe Gen 4 M.2 SSD.
CPU Cooler: Fractal Celsius+ S28 Prisma 280mm AIO (full speed fans and pump to eliminate thermal throttling).
Power Supply: Seasonic Prime TX-1000 1000W.
Case: Lian Li Open-air Test Bench.
Operating System: Windows 10 Pro 64-bit.
BIOS Version:
MSI MAG B550 Tomahawk (AGESA ComboAM4v2PI 1.0.0.2) [Latest at the time of testing]
Comparison Motherboards:
Tests:

Cinebench R20 – All-core & single-core CPU benchmark (CPU)
Blender 2.82a – All-core rendering of the BMW and Classroom benchmarks (CPU)
SiSoft Sandra – Memory bandwidth (Memory)
AIDA64 – Memory bandwidth, memory latency (Memory)
3DMark TimeSpy – Time Spy (1440p) test (Gaming)
Shadow of the Tomb Raider – 1920 x 1080, Highest quality preset, no AA, DX12 version (Gaming)
Tom Clancy's The Division 2 – 1920 x 1080, Ultra quality preset, no AA, DX12 version (Gaming)
CrystalDiskMark– Storage transfer rates (Motherboard)
Rightmark Audio Analyzer 6.4.5 – Record and playback test using a line-in to line-out loopback with a 3.5mm audio cable (Motherboard)
AIDA64 – Stress test (Temperatures & Power Consumption)
HWiNFO – System sensor monitoring during stress test (Temperatures & Power Consumption)