Manual CPU Overclocking:
To test the MSI MAG B550 Tomahawk motherboard's CPU overclocking potential, we set the CPU Core Voltage to 1.275V and applied the Mode 3 LLC setting.

Manual overclocking is quick and easy thanks to the straightforward MSI UEFI and clear loadline calibration settings.
The usual 4.25GHz overclock of our Ryzen 9 3950X 16-core CPU was achieved. Typically, we opt for 1.3V but the MSI motherboard was better set with 1.275V and Mode 3 LLC. This delivered around 1.26V under heavy load – a similar level to the competing B550 offerings.
Motherboard Sensors
Temperature sensors including a MOSFET reading are fed through to monitoring tools such as HWiNFO64. The VRM MOSFET temperature reading is particularly good to see and we found its accuracy to be good when compared against manual readings.
Overclocked Performance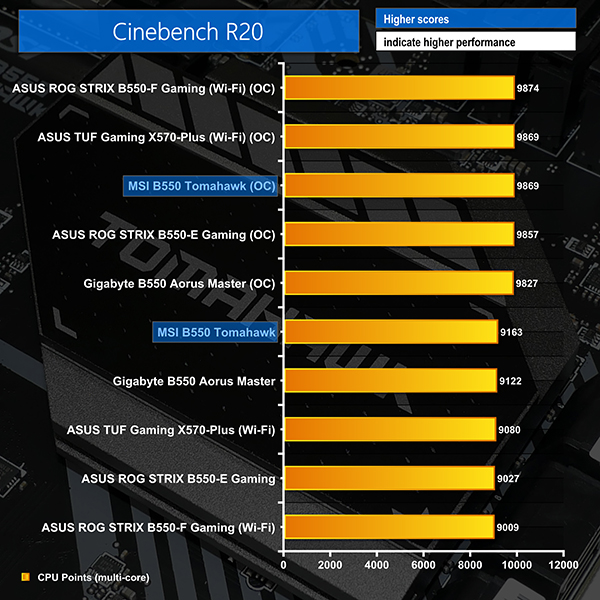 Pushing the CPU to 4.25GHz delivers a strong performance improvement for the Tomahawk when stressed with an all-core load.
System Power Consumption
We leave the system to idle on the Windows 10 desktop for 10 minutes before taking a reading. For CPU load results we run AIDA64 CPU, FPU, and Cache stress tests and take a reading. The power consumption of our entire test system (at the wall) is shown in the chart.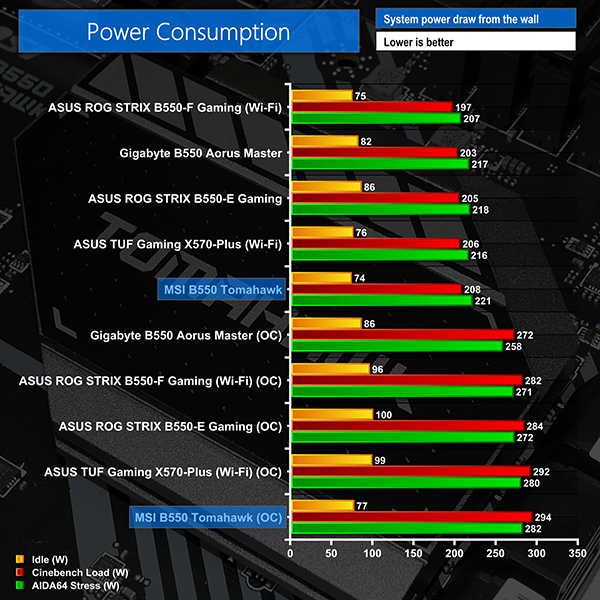 MSI's B550 MAG Tomahawk could certainly use a small improvement to voltage tweaking at stock conditions, as indicated by the higher power consumption levels.
Overclocked power draw numbers were also higher than on competing motherboards, but this is primarily tied to differing voltage and LLC settings rather than specific VRM inefficiencies.
MSI's powerful VRM solution is more than capable of handling our overclocked 16-core chip with relative ease.
System Temperatures
We run the AIDA64 CPU stress test for 1 hour while recording the system data using HWInfo. This data is then analysed to show the CPU temperatures and also the VRM temperatures. Ambient was around 25-27°C.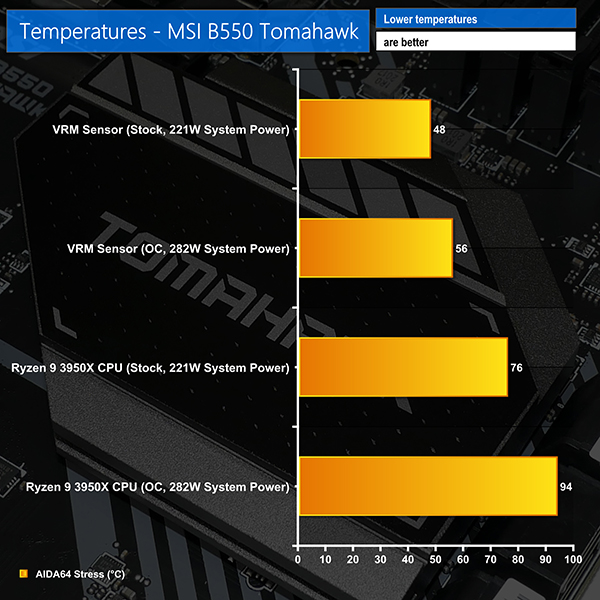 Stock-clocked temperatures were fine for the CPU, despite MSI pushing a little more power through the system than competitors. The VRM heatsink clearly performs well with hefty cooling loads – we did not see the MOSFET sensor rise above 48C even with an hour of stress testing in a hot ambient environment.
Turning up the heat by applying a CPU overclock leads to increased VRM temperatures, but MSI's sizable heatsink still manages to tame the thermal load with relative ease. I am very impressed by the MSI B550 MAG Tomahawk motherboard's ability to cool its power delivery system.