The MSI MAG B550 Tomahawk does well to offer a solid balance of features, good cooling capability, and strong overall performance. This blend of positives is likely to appeal to many prospective buyers, particularly as the notable shortcomings are of minor importance.
Performance was excellent at stock conditions. Overclocking numbers were also positive, and it was easy to push our 16-core chip to 4.25GHz thanks to MSI's simple UEFI and clear LLC settings.
MSI's deployed 10-stage CPU power delivery solution worked without hiccup throughout our testing. And the oversized VRM heatsinks, while not particularly efficient in their design, did a superb job at cooling the high-quality power stages beneath.
It was also pleasing to report that both M.2 slot were allocated metal heatsinks with thermal pads. The internal USB Type-C front panel header was another pleasing point. And MSI's focus on ample fan headers and excellent UEFI-based control is a major positive.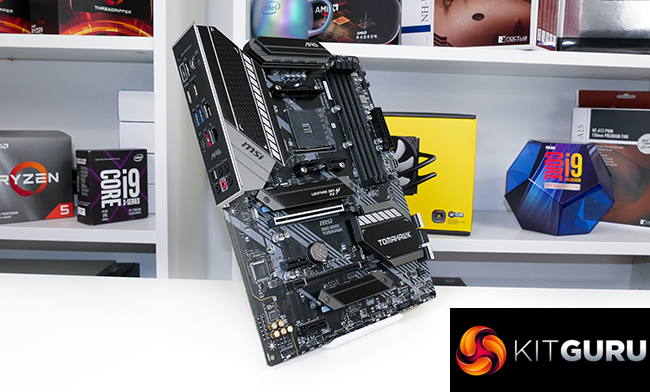 There are some clear downsides for the B550 Tomahawk, though. MSI's chosen PCIe/M.2 lane allocation is poor and is clearly inferior to competing solutions even at this price point. In fact, if you want to run dual M.2 SSDs plus a high-bandwidth add-in-card, or triple M.2 SSDs, you cannot. A more minor negative is the inclusion of 'only' five Type-A USB ports on the rear. We think it would have been better to include a couple more rather than the (useless?) PS/2 combo port.
And the other major negative is the HDMI connection. All of MSI's documentation points to the HDMI port being version 1.4b rather than version 2.0 or 2.1 that we see on motherboards from competing vendors. This is highly disappointing as it means that APUs users with this motherboard cannot do 4K60 output to their TV or HDMI monitor. I really do have absolutely no clue why MSI would think that this is an appropriate design move. It shows a lack of attention to detail that is not commonly associated with the company's Tomahawk SKUs.
In terms of market positioning and competition, the £179.99 MSI B550 Tomahawk goes up against the ASRock B550 Steel Legend and ASUS TUF-Gaming B550-Plus. The ASRock alternative is a particularly tough competitor as it offers a similar feature set but does not include some of the silly design moves taken by MSI on the B550 Tomahawk.
With that said, the MSI B550 Tomahawk is undeniably strong from a power delivery and VRM cooling perspective. Plus, the inclusion of dual NICs, one of which is 2.5Gb, will appeal to many prospective buyers. And the deployment of eight 4-pin fan headers with superb control capabilities are further points that make the MSI B550 Tomahawk an appealing solution.

The MSI MAG B550 Tomahawk is priced at £179.99 at Overclockers UK.
Discuss on our Facebook page HERE.
Pros:
Strong power delivery solution.
Good VRM cooling and MOSFET temperature sensor.
2.5 Gigabit Ethernet plus 1 Gigabit Ethernet.
USB Type-C front panel header.
Dual cooled M.2 slots.
Eight 4-pin fan headers with good speed control.
Easy-to-use UEFI with clear overclocking and LLC settings.
Cons:
PCIe and M.2 lane allocation is not as good as competitors.
HDMI port does not do 4K60.
Onboard 2-digit debug LED and Clear CMOS button would have been welcomed.
KitGuru says: Good power delivery capabilities, an excellent fan header and control subsystem, and strong performance make the MSI MAG B550 Tomahawk a promising choice, provided you are happy with the HDMI and PCIe/M.2 limitations.

Be sure to check out our sponsors store EKWB here