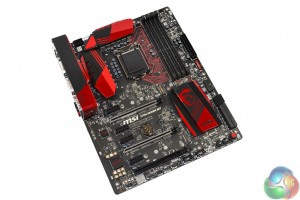 MSI gives the Z170A Gaming M7 an eye-catching red and black styling that is typical for the company's gaming series products. The shiny shade of red compliments the dark blacks in an appealing manner.

The design team at MSI deserves credit for consistently producing eye-catching motherboards that aren't gawky or too in-your-face.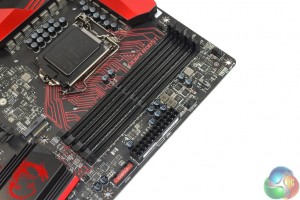 Up to 64GB of DDR4 memory can be installed in the four double-latch DIMM slots. MSI states frequency support for 3600MHz DDR4 via overclocking, however such speeds will also rely on the BIOS stability and CPU IMC strength.
Close to the 24-pin power connector is one of the two internal USB 3.0 headers. The outwards-facing header obtains its 5Gbps links from the Z170 chipset and is convenient for users with a narrow chassis. MSI deploys multiple ASM1464 USB re-drivers across the motherboard in order to enhance signal delivery.
Voltage check points in the board's top-right corner are convenient for testing purposes outside of the chassis.
MSI cools the fourteen sets of power delivery phases with two solid heatsinks that are connected via a heatpipe. The heatsinks are large and seem to do a good job at cooling the MOSFETs, however their physical dimensions could present interference issues with sizeable CPU coolers. Our Noctua NH-D14 CPU cooler operated without interference.
The power delivery hardware consists of fourteen Nikos PK616BA MOSFETs and a further fourteen PK632BA units from the same vendor in a high and low side configuration. Not all of the power delivery phases are dedicated directly to the CPU – some are also allocated for operation of the integrated GPU.
Intersil's ISL95856 PWM controller manages the power delivery system alongside a number of the same vendor's ISL6625 MOSFET drivers. Management of the two-phase memory subsystem is handled by a Powervation PV3205 controller. A separate IDT clock generator is used for managing the BCLK adjustments that Skylake CPUs allow for.
MSI uses Military Class 5 components, including Titanium-core chokes which are proclaimed to have a superior temperature threshold and greater current capacity. There does, however, seem to be a slight coil whine coming from the board when the system is shut down. This is similar to what we heard from MSI's Z170A XPower Gaming Titanium Edition, which also utilised Titanium chokes.
All six of the SATA 6Gbps ports are delivered from the Z170 chipset. Four of those ports, alongside a dedicated PCIe link, can be switched to provide a pair of two-lane SATA-Express ports. Front panel USB 3.1 bay adapters are a new accessory that have revived the SATA-Express interface.
The board's second internal USB 3.0 header is positioned in a right-angled orientation which allows for easier cable management. Two 80mm-capable, 32Gbps (PCIe 3.0 x4) M.2 connectors are used on the board, both of which also support SATA 6Gbps functionality at the expense of two SATA 6Gbps ports.
Positioning of the first M.2 connector allows it to stay away from a graphics card's hot zone, however an ugly green PCB will be visible. This location also makes the application of a U.2 adapter feasible as there is no graphics card interference. The second M.2 connector is found beneath the secondary full-length PCIe slot and may suffer from interference or thermal issues.
The M.2 ports can be used to RAID a pair of PCIe (and NVMe) SSDs thanks to the updates included with Intel's latest RST revision for the Z170 platform.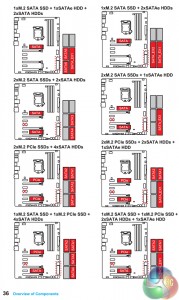 MSI's distribution of PCIe lanes throughout the motherboard is superb. The choices for lane routing are sensible and accurately resemble the plausible system configurations for enthusiast gamers (who are highly unlikely to be happy putting a third GPU in a PCIe 3.0 x4 slot on Z170).
Advanced interpretation of the design specifications implies that a total of up to twelve lanes can be delivered through the SATA and M.2 connectors. SATA links, however, are limited to a maximum of six, with the M.2 SATA connector taking up two links. PCIe M.2 devices can take up to four links each, simultaneously.
A pair of dedicated pages in the motherboard manual highlight the possible storage configurations. For example, two PCIe M.2 SSDs can be used alongside four of the SATA 6Gbps ports and a pair of CPU-fed graphics cards. PCIe and SATA M.2 devices can also be used simultaneously.
While something as simple to a board vendor as including a page in the manual may be seen as a small point, it isn't. Small, yet extremely helpful, inclusions such as these storage pages and the board's block diagram highlight the time and effort that MSI's team puts into the entire user experience.
Trying to figure out if two PCIe M.2 SSDs can be used alongside a number of SATA drives is a procedure that could have even the most advanced users scratching their heads for a significant period of time. The usage flexibility provided by the Z170 chipset's lanes is superb.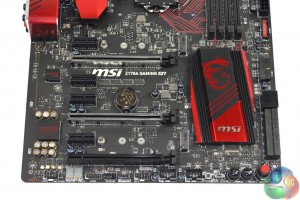 Up to 3-card CrossFire is supported and two-card SLI due to the latter's requirement for an eight-lane PCIe link. MSI splits the LGA 1151 CPU's sixteen PCIe lanes between the two uppermost full-length slots, both of which are reinforced by steel brackets. A single card in the uppermost slot gets a full sixteen PCIe 3.0 lanes, while two cards receive eight each.
The lowermost full-length PCIe slot can receive up to four Gen 3 lanes from the chipset, making it ideal to serve an Intel SSD 750 PCIe drive. With that said, those four lanes are shared with the second and fourth PCIe x1 slots. Installing cards in the aforementioned PCIe x1 slots will reduce the lowest full-length PCIe connector's bandwidth to PCIe 3.0 x2 derived from the Z170 chipset.
All four of the PCIe 3.0 x1 slots are open-ended. This allows them to provide support for physically larger PCIe expansion cards which do not have bandwidth-critical operations.
MSI's layout of the expansion slots is as ideal as it gets for this calibre of motherboard; a one-slot cooling gap is maintained between a pair of dual-slot graphics cards. Alternatively, a pair of triple-slot cards is also supported. And both of these configurations can run alongside a PCIe x1 device, such as a video capture card, in the uppermost slot.

The standard USB 2.0 and audio headers are found along the board's bottom edge. MSI includes a two-digit debug LED which is convenient for troubleshooting purposes. Once the system has booted, the LEDs are used to display the current CPU temperature.
Onboard power and reset buttons are convenient for users who are testing their system outside of a chassis. And the Game Boost dial is useful for those who would rather a physical application of the overclocking preset rather than the UEFI-set alternative.
MSI also allocates an onboard flashback button that can be used with the dedicated BIOS Flashback+ USB port in order to update the BIOS without components (such as a CPU) installed.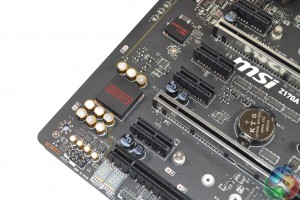 MSI's Audio Boost 3 system is based around the Realtek ALC 1150 codec. Two Texas Instruments OP1652 operational amplifiers are used to drive high-impedance headphones. Nippon Chemi-Con audio capacitors are also utilised.
EMI reduction is conducted by carrying the audio signals along segregated PCB paths, covering the Realtek codec, and using gold-plated audio jacks.
Nahimic audio software is provided for use inside the operating system.
A healthy variety of ports is deployed on the rear IO section. Old-school users and those familiar with troubleshooting will welcome the PS/2 connector. I love seeing the pair of USB 2.0 ports for keyboard and mouse duty; why waste a pair of USB 3.0 links for serving low-bandwidth peripherals?
The blue LED-lit clear CMOS button is extremely useful for users overclocking their board inside a chassis (Asus, take note!). That right-angled USB 2.0 port doubles up as the BIOS Flashback port that allows a BIOS update to be performed without a CPU installed. A pair of Z170-fed 5Gbps USB 3.0 ports is found beneath the Killer E2400-powered Gigabit Ethernet jack.
ASMedia's ASM1142 controller provides the two 10Gbps USB 3.1 ports. One of those ports is delivered in the standard Type-A form, while the other is deployed as the reversible Type-C connector. Gold-plated audio jacks help to reduce interference through MSI's Audio Boost 3 system.
Video outputs consisting of two HDMI 1.4 ports and a single DisplayPort 1.2 output are fine for this type of motherboard. While the DisplayPort connector is capable of a 4K UHD resolution at 60Hz, the HDMI ports are limited to a maximum 60Hz output of 2560×1600. Nevertheless, most gamers buying this motherboard will use a dedicated graphics card rather than Skylake's iGPU. Two NXP PTN3360DBS shifters handle video output switching.
MSI uses a thin metal rear IO shield which features the Gaming M7 product name. This red and black piece of metal is far more attractive than bare silver IO ports.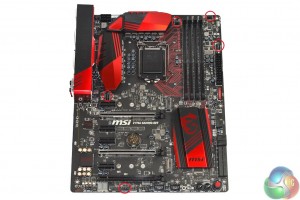 Five 4-pin fan headers are distributed around the motherboard. Two of those headers are specifically allocated CPU fan duties. An additional connector close to the CPU socket is ideal for powering an AIO liquid cooler's pump. The remaining headers are well-placed for serving the rear chassis and front or side panel fans.
Management of the fan headers, as well as system monitoring duties, is handled by a Nuvoton NCT6793D. Additional Nuvoton NCT5605Y devices are used for supplementary system functions.