The MSI Z170A Gaming M7 is a well-designed motherboard that is very effectively tweaked to deliver what typical enthusiast gamers desire most. From the motherboard layout and PCIe lane distribution to the UEFI options and bundled software, MSI's focus on the board's gaming audience is superb.
Performance from the Z170A Gaming M7 is as good as you would expect from this calibre of Z170 motherboard. High-speed DDR4 support is good, as are the options for applying an overclocking preset to suit your needs (even if MSI's OC preset approach is a little less fancy than Asus' and Gigabyte's tuning alternatives).
Overclocking performance is solid thanks to a number of factors. The UEFI layout is easy for an overclocker to navigate, even if it is a little messy in certain areas. And the board's stability was very good throughout testing, thanks in large to a solid BIOS implementation and good power delivery system.
Voltage accuracy, however, was disappointing. We recorded a voltage drop in the region of 32mV when overclocking, which is a significant level that has the potential to cause system instability. The two load-line calibration settings didn't seem to do much, either. It should be simple; if one asks for 1.40V in the BIOS, the board should deliver close to 1.40V, not 1.368V.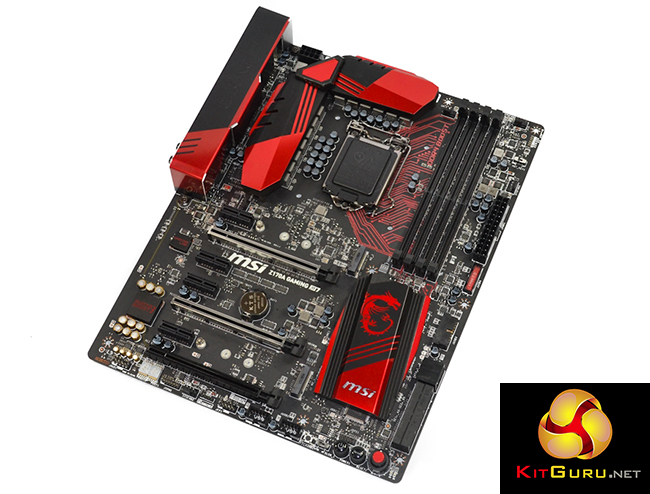 MSI deploys a strong array of features on the Z170A Gaming M7. There is USB 3.1 Type-A and Type-C connectivity, a strong audio solution, and network optimisation abilities via Killer's E2400 NIC. Overclocking and usability features in the form of onboard buttons, display LEDs, and dedicated BIOS flashback functionality add to the formula.
The flexibility and potential for MSI's deployed storage subsystem is superb. There's support for a pair of M.2 PCIe SSDs alongside a SATA-Express device and further SATA 6Gbps drives. And that's just one of the number of potential configurations. Let's not forget that the aforementioned storage configuration is in addition to a pair of graphics cards and a supplementary high-bandwidth PCIe device.
If you're a fan of red and black, MSI's design team has once again delivered an attractive solution. The decisions made for general motherboard layout are also smart and ensure that interference and thermal problems are minimised.
Available for £176.99 from OverclockersUK, MSI's Z170A Gaming M7 faces stiff competition at this price point from Asus' Maximus VIII Hero, Gigabyte's Z170X-Gaming 7, and ASRock's Z170 Gaming K6+. Each of those boards has notable features, such as Asus' superb software, Gigabyte's Intel USB 3.1, and ASRock's USB 3.1 front bay, however MSI's offering does well to balance many features from each competitor into a single gaming-orientated motherboard.
Discuss on our Facebook page, over HERE.
Pros:
Smart design decisions for motherboard layout.
Superb PCIe lane distribution allowing for flexible storage configurations alongside high-end gaming hardware (GPUs).
Onboard buttons and debug LEDs are nice additions.
Good variety of included software which generally functions well.
MSI's UEFI is very stable and easy to use, even if some pages are a little untidy.
A good set of included overclocking presets.
Cons:
Level of voltage drop when overclocking is disappointing.
MSI Command Center software can have a negative impact on benchmark performance.
KitGuru says: If you're in the market for a high-end Z170 motherboard to partner your Core i7-6700K CPU, MSI's well-balanced Z170A Gaming M7 will not be a disappointment.