Software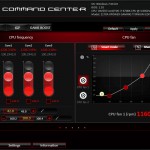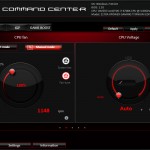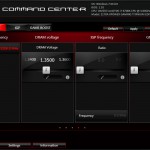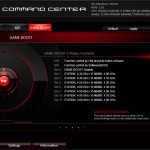 MSI's Command Center software suite provides users with ways of monitoring and controlling their system's operation.
There are sections for the CPU, fans, memory, iGPU, and overclocking presets.
It must be noted that MSI's Command Center software seems to be quite resource heavy and resulted in a noticeable reduction in Cinebench performance (of around 20 points). As such, Command Center should not be launched if you are performing tasks that require maximum systems resources.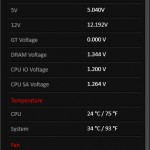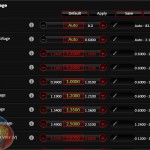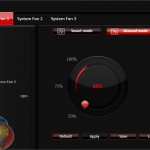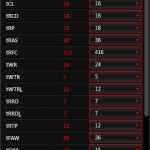 Command Center also has break-out windows for activities such as monitoring voltages and temperatures.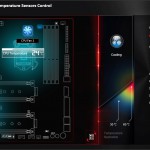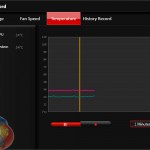 Two further break-out windows can be useful for monitoring temperatures in a visual manner, as well as tracking operating statistics.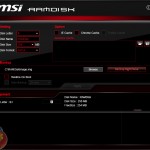 MSI includes a tool to create a RAMDisk. This is convenient for users who may have an excess of system memory for their everyday needs and want fast access to certain files. Importantly, there are options to backup the RAMDisk to a permanent storage drive and restore it upon system boot.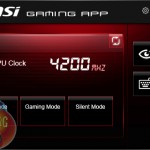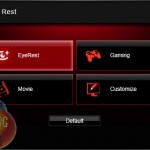 The Gaming App is another piece of software that provides numerous useful functions. The primary page allows clock speed control, and one of the options can optimise a monitor's display configuration towards certain tasks.
MSI's On-Screen Display (OSD) is a cool feature that allows system information to be displayed in the corner of one's screen while gaming. It is a useful piece of software that serves as a more basic implementation of tools such as MSI's own Afterburner.
The Gaming App has functionality for applying hotkeys and mouse optimisations.
The Nahimic software tool allows specific audio presets to be set and adjusted based on user preference. One of the options is for a HD audio recorded which can be used alongside streaming applications such as XSplit offerings and OBS.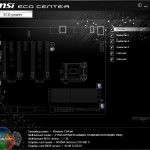 MSI's Eco Center allows a variety of system components, such as the add-on USB controllers and system fans, to be manually disabled in order to save power.
The Live Update tool can be used to schedule driver and utility updates.
Software Comments
The variety of software that MSI provides with its Gaming series motherboard is superb. There are applications to keep gamers, general enthusiasts, and even power-conscious users pleased. And those who aren't fond of Killer's Network Manager software suite can install the basic NIC driver instead.