Intel's Skylake processors are just the latest Intel CPU architecture to see many of the critical system operations handled by the processor. As such, benchmarking a motherboard becomes more of a test to certify that the part operates correctly and meets the anticipated performance levels.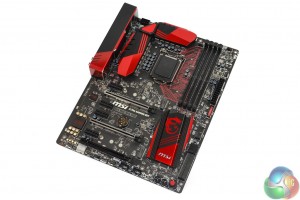 We will be outlining the MSI Z170A Gaming M7 motherboard's performance with the Core i7-6700K CPU at its stock frequency (4.2GHz due to forced turbo). Overclocked performance will be outlined later in the review.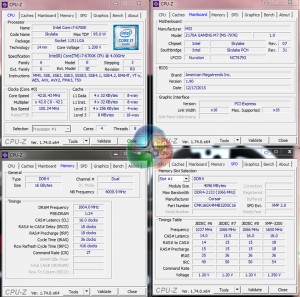 The MSI Z170A Gaming M7 motherboard automatically applies multi-core turbo (MCT) and forces the 6700K to a constant 4.2GHz when XMP is enabled. This will be displayed as the 'stock' setting.
Despite listing the CPU Cache frequency as 4100MHz in the UEFI, CPU-Z reported an operating frequency of 4000MHz. This may have a slight negative effect on the performance of MSI's board in comparison to other stock-clocked competitors.
MSI applies a MCT voltage of around 1.208V under load. This level is sensible and stable and results in an easy cooling task for even moderate air heatsinks.
Z170 Motherboard Test System:
Compared Z170 Motherboards:
Software:
MSI Z170A Gaming M7 BIOS v1.90.
GeForce 353.30 VGA drivers.
Tests:

Cinebench R15 – All-core CPU benchmark (System)
HandBrake 0.10.2 – Convert 1.23GB 1080P game recording using the High Profile setting and MP4 container (System)
7-Zip 15.05 beta – Manual video archival (System)
3DMark 1.5.915 – Fire Strike Ultra (Gaming)
Grand Theft Auto V – 1920 x 1080, near-maximum quality (Gaming)
Middle Earth: Shadow of Mordor – 1920 x 1080, ultra quality (Gaming)
ATTO – SATA 6Gbps and USB 3.0 transfer rates (Motherboard)
RightMark Audio Analyzer – General audio performance test (Motherboard)