Automatic CPU Overclocking: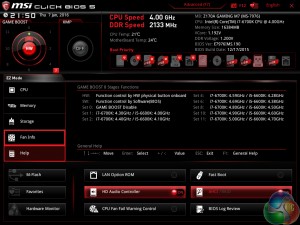 A convenient list of the board's overclocking presets is found in the UEFI's opening page. The placement of the overclocking options allows less-experienced users to view the Game Boost frequencies without diving into the complicated UEFI sections.
I don't quite understand MSI's counting method for the Game Boost settings, but the numbers are easy to tie in with physical dial positions, nevertheless. And the variety of settings is superb – those who want to push their hardware are covered, as are those who want more minor speed boosts. All but the fastest – 5GHz – option retain XMP functionality.
There is also the option to select any of the overclocking presets via the UEFI, without direct access to the physical dial (ideal for those who have already installed their board inside a chassis).
While the inclusion of overclocking presets which are forced to apply 'safe' (higher than the majority of CPUs will require) voltages is a good, simple method, it isn't as fancy as some of the overclocking tuning options that competitors offer. Asus and Gigabyte, for example, have good systems which allow a chip's operating performance to be analysed and better tuned with relevant settings.
We opted for the 4.69GHz i7-6700K setting as we think this is the best balanced preset. Opting for the three settings above 4.69GHz results in a significant voltage boost towards the 1.4V level. While 1.4V seems to be stable for Skylake users with high-end cooling hardware, we would assume that such buyers will instead rely on manual overclocking.
Despite setting 1.35V via the UEFI, around 1.32V is delivered to the 4.69GHz CPU under heavy load. MSI achieves the 4.69GHz processor frequency by a combination of a BCLK increase to 102MHz and a CPU ratio of 46x.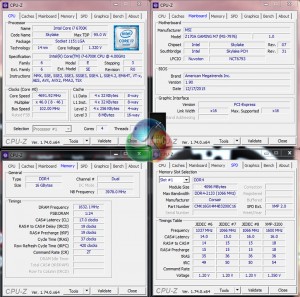 The increased BCLK results in overclocked memory, which may present stability concerns for high-speed XMP sticks operating to their limit. Memory timings are loosened compared to the XMP settings to compensate for potential instabilities.
CPU Cache frequency is reduced to less than 4GHz, which is more than 100MHz lower than we typically see when using 3200MHz XMP memory sticks on some competing vendors' boards. That said, such a small reduction is likely to cause a very minor drop in performance for most heavy workloads, and will barely affect gaming frame rates.
Under heavy Prime95 load, this 4.69GHz overclocking preset resulted in CPU temperatures in the mid-60s with a Noctua NH-D14 cooler. Lower-priced, mid-range CPU coolers should be perfectly capable of cooling this configuration.
Manual CPU Overclocking:
To test the MSI Z170A Gaming M7 motherboard's CPU overclocking potential, we first increased the CPU VCore to 1.40V and set the PCH voltage to 1.10V. We selected 'Auto' load-line calibration (LLC) after trial and error showed that it delivered a practically identical voltage drop under load to the Mode 1 alternative setting. The CPU Cache ratio was set to 45x.
MSI's UEFI is very easy to use for simple overclocking gains. While the OC section's rather large list of options may seem a little untidy, it doesn't force users to search for the settings that are required. The only time that a separate section is required is to reach the CPU LLC settings.
MSI should definitely be including a colour system to show when selected voltage levels are getting high. Given that buyers of gaming motherboards may not be the most knowledgeable of overclockers, a simple system that switches between white/green, yellow, and red to indicate safe, moderate, and high voltages, respectively, would be very helpful.
The colour warning system is something that Asus does very well in its UEFI, and it is beneficial in educating gamers who want to learn more about safe overclocking. It is also beneficial to those who may know about overclocking on older platforms, but are not so familiar with safe voltages and settings for Skylake CPUs.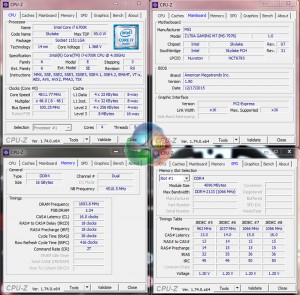 A CPU voltage of 1.368V was recorded under full load. This is a 32mV drop compared to the 1.40V that we selected in the UEFI and that was delivered whilst under low load. We saw similar performance from Gigabyte's Z170X-Gaming 7 motherboard, which uses the same Intersil ISL95856 PWM controller as the Z170A Gaming M7.
A 32mV drop is a disappointing level for a gaming motherboard that is targeting a high-end market segment. Both of the two LLC settings displayed the same results, giving an indication that they are practically pointless with our applied settings.
While this voltage drop did not result in instability for our configuration, I would advise conducting some testing and accounting for the voltage drop in your UEFI-applied levels.
It seems that MSI has applied the 'manually compensate for it' logic for their overclocking presets; the Z170A Gaming M7 sees a UEFI-set 1.352V for the 4.69GHz preset, whereas the Z170A XPower Gaming Titanium Edition set 1.315V for the exact same frequency preset.