Supermicro's latest attempt to crack the consumer market is a bit hit and miss in my opinion. The Supermicro C7Z170-SQ uses high-quality components but a server heritage can only go so far to attract prospective buyers, most of which have likely never heard of the Supermicro brand.
The BIOS is amazingly comprehensive, yet has a logical layout. The amount of settings available to the user allows for a completely customisable experience to perfectly adjust to reap maximum performance. The processor was easiest to overclock using both manual and automatic methods; however, the automatic scenario utilised a much higher voltage of 1.53V, something that could potentially ruin a processor if not monitored and cooled effectively.
Memory overclocking was more difficult, XMP profiles were problematic on multiple sets used and achieving the rated XMP speed was impossible with four modules installed. That being said, an overclock of 2800MHz was easily attained with much lower voltage than typically required at just 1.2v.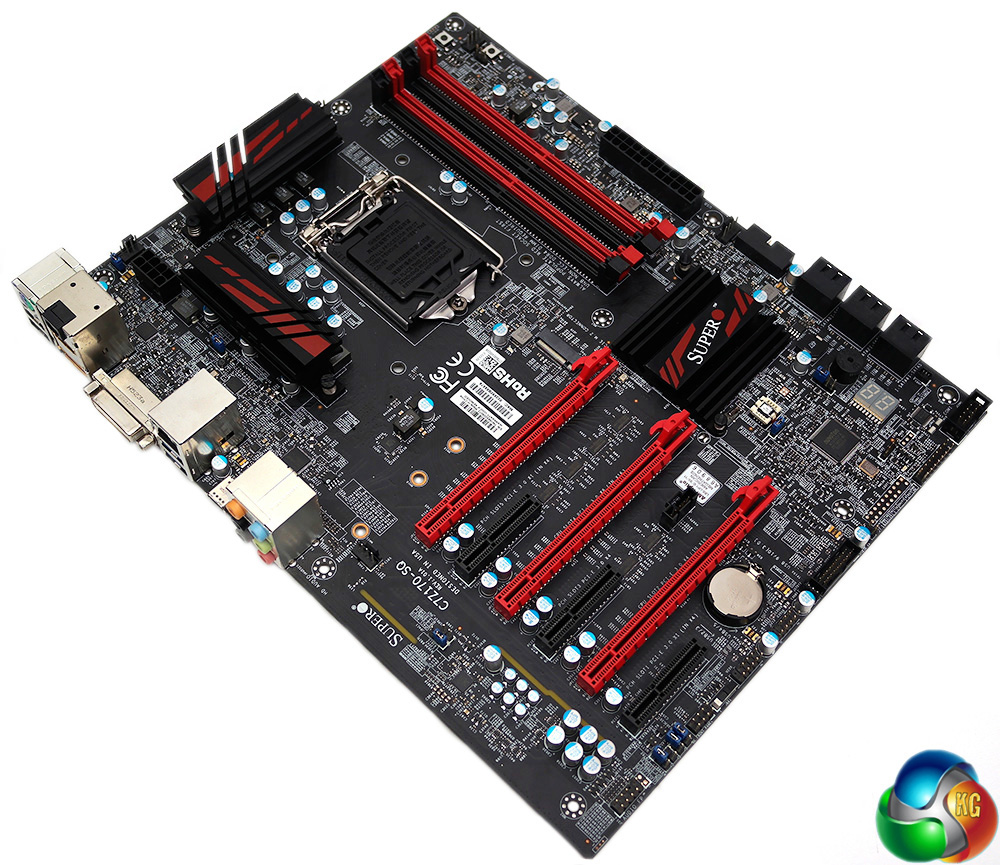 As expected from a mid-high end motherboard, the performance is exactly where it was expected for the Z170 chipset. The Z170 platform has matured to the point where performance is hardly distinguishable across all of the tested motherboards. The high standard of components used really shines through in the USB and SATA testing with a strong lead of 14MB/s read in the SATA test in particular.
Gaming orientated motherboards have been associated with the red and black colour theme for a few generations now and the adoption of this design is welcomed when compared to previous Supermicro motherboards such as the OEM looking C7Z87-OCE. There is still some way to go on the overall design of the board, though, labeling almost every component on the front face makes for a very cluttered viewing surface.
It was a pleasant surprise to find this unit features an onboard speaker, something that is peculiarly satisfying to have during early troubleshooting stages of setup and hardware configuration. The motherboard as a whole works well, the underlying features and performance are present but the package overall needs refinement to compete effectively in the saturated marketplace.
Attaining a price for this motherboard was difficult, but internet searches revealed the current retail price to be just under £210. At this price point, the Supermicro C7Z170-SQ faces very tough competition from the likes of MSI's Z170A XPower Gaming Titanium and ASUS' Sabertooth Z170 Mark 1; both of which offer far more attractive designs and feature sets.
Discuss on our Facebook page, over HERE.
Pros:
Server grade components
Strong USB and SATA performance
USB-C 3.1 included
Functional onboard buttons and DEBUG options
Comprehensive BIOS for overclocking
Cons:
Value is poor compared to the competition
Layout could be refined
BIOS could be simplified to be more user (novice) friendly
Difficult to find correct drivers
Limited to just 5x rear IO USB ports
Lack of SLI
KitGuru says: A well-rounded motherboard with strong server ties, the Supermicro C7Z170-SQ is well worth a look if the quality is what you crave.