On the face, this motherboard has a very simplistic theme with only the red PCIe and DIMM slots bringing some much-needed colour. However, a closer look reveals a much more technical side. Examine the PCB and you will notice that every single component is labelled, this is all well and good for placing the components but it isn't aesthetically pleasing; especially at a time when looks are a prominent consideration for buyers.
Simple heatsinks surround the CPU socket and make for the only stand out points of the board.
Supermicro positions the M.2 slot above the primary PCIe expansion location. This helps to mitigate thermal throttling issues that may arise with a loaded SSD sat beneath a hot graphics card. The positioning does, however, mean that an ugly green SSD PCB would be perfectly visible inside a build.
Such is the tendency of Supermicro's design team to bypass sharing of expansion lanes from the Z170 chipset, the M.2 connector only supports PCIe devices and is capable of PCIe 3.0 x4 (32Gbps) bandwidth. Don't expect to install an M.2 SATA SSD in this slot, as it won't work. However you are free to install M.2 devices up to 110mm in length.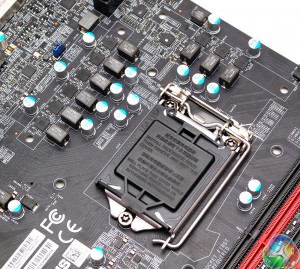 Six power phases drive the CPU, with a further three being deployed for iGPU duties. Two additional phases provide power to the system voltages.
It's evident that Supermicro brings server quality components by using well-regarded Vitec 59PR72-151 chokes that are rated for a maximum saturation current of 66A at 25°C.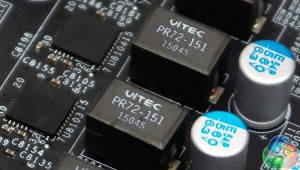 The processor VCore is a true six phase design while the iGPU receives a dedicated three phases. International Rectifier IR3556 50A PowIRstages MOSFET solutions are used for the VCore, VCCGT and VCCSA.
For a consumer grade motherboard, these components are powerful and add to the premium price tag so you can be safe in the knowledge that you are using some of the best components currently available.
The rear IO features 2x USB 3.0, 1x USB-C 3.1, 7.1 HD Audio Jacks, 1x Intel Gigabit LAN, 1x DisplayPort, 1x HDMI and 1x DVI-D. USB 2.0 ports and a PS/2 connector are useful for connecting peripherals.

The USB-C 3.1 is powered by an ASMedia ASM1142 which has proven stable high transfer speeds in previous reviews. The networking is being handled by Intel's I219V Gigabit chip and, despite Killer networking options becoming more common for gaming, the I219V is an excellent alternative with very similar performance.
Audio is being handled by the Realtek ALC 1150 codec and like the rest of the market, the audio circuitry is isolated via a separate sandwiched PCB. Rear mounted LEDs are used to signify the audio section of the motherboard, these are the perfect intensity to glow through the yellow opaque section without adding a rear glow.
In control of the PCIe lanes are six ASMedia ASM1480 switches for fuss-free operation regardless of single or multi-slot usage. Despite featuring three full-length PCIe x16 slots, only the upper two are able to run at x8 (or greater) bandwidth, with the other being limited to four PCIe lanes which are shared with the second slot.
Despite a perfect capacity for SLI support, Supermicro has chosen to ignore Nvidia's multi-GPU certification and omit SLI from this motherboard. The motherboard only supports CrossFire but does provide capacity for three of AMD's cards to share sixteen CPU-fed PCIe lanes in a 3-way configuration.

Expansion slot spacing is generally poor, with the highest-bandwidth full-length PCIe slots have a single gap between them and forcing GPU cooler breathing issues. And don't expect a full four chipset-fed PCIe lanes from those x4-length slots; only one of the black connectors actually operates at PCIe 3.0 x4 bandwidth, with the remaining two being fed a single lane each.
Motherboard manufacturers have been incorporating onboard Power buttons and debugging features onto the mainstream motherboards for a couple of years now. Supermicro has included these features in the form of Power, Clear CMOS and BIOS Reset buttons, a DEBUG LED and an onboard Speaker.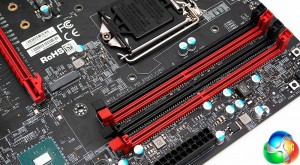 A possible manufacturing oversight has to be the DIMM slot orientation. The newer half fixed DIMM slot style has been utilised but it has left the open end directly in line with where a graphics card would be; unless an ITX graphics card was being used such as an AMD R9 Nano or R9 Fury X.
With that said, the orientation does prevent the latch being blocked by a large, roof-mounted watercooling unit such as Corsair's H100i.