There may be a new Intel chipset on the horizon for 8th Generation Core Series processors, rumoured to be called Intel Z390, but for here-and-now buyers Z370 is still the Intel platform of choice for cost-effective builds that support overclocking. Consumers not requiring overclocking would do well to consider H370, B360 and H310 options not to mention numerous AMD alternatives for all price points and for overclocking.
Products like this MSI Z370 PC Pro are less sensitive to new launches because they are more about price and less about cutting-edge technology or innovation. Therefore Z390 will not make this product irrelevant since its price is what makes it relevant.
Our technical analysis of MSI's Z370 PC Pro has revealed it to be a competent entry-level Z370 motherboard so prospective buyers need to be realistic about what can be had for their money as this motherboard certainly has its drawbacks as well as its strengths.

MSI has done well to provision core Z370-platform connectivity with dual M.2, USB 3.1 10Gbps, Intel Gigabit and a generally ample rear I/O. The overall aesthetics are pleasing too, with a neutral colour scheme that's enhanced by single-zone RGB lighting and an optional RGB header. Performance when not overclocking is excellent and easily competes with other more expensive Z370 options.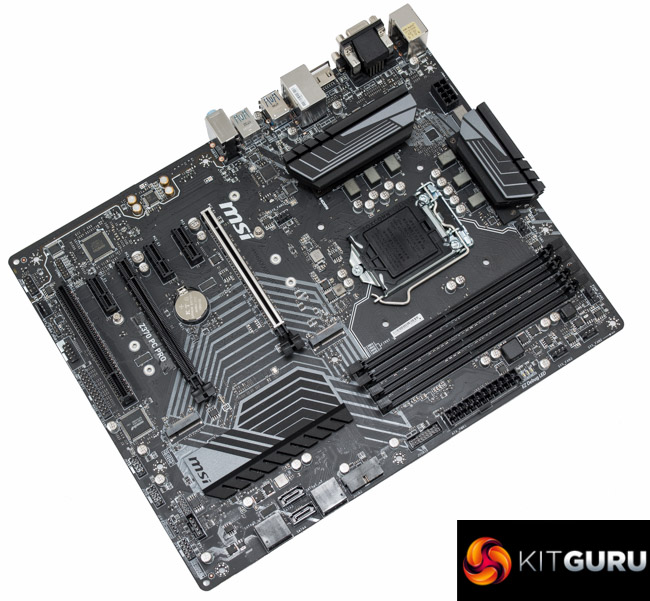 MSI's Z370 PC Pro has drawbacks, though, which prospective buyers need to be aware of. The primary issue is its overclocking behaviour. KitGuru's testing showed significant power-limit-based throttling that cancelled out almost all gains from overclocking. Only by manually editing the UEFI settings to remove all power limits, which are implemented by MSI for safety and longevity, was normal overclocking performance possible.
The above goes hand-in-hand with the entry-level CPU VRM that has just 4+2 phases with middling-quality components. The power-based throttling (95W CPU Power Limit, 200A CPU Current Limit) was a calculated decision by MSI to ensure the long-term longevity of the motherboard and its VRM components against excessive heat output. In any case owners of unlocked i5 processors or lower are much less likely to encounter these power limits – we've tested with the flagship i7 8700K which is the "worst case scenario" for power usage.
Even with the power-based overclocking limits, MSI's Z370 PC Pro stands up to the competition and has more features than cheaper or similarly priced rivals like the ASUS Prime Z370-P, ASRock Z370 Pro4 and Gigabyte Z370P D3 – including onboard RGB lighting, a better Gigabit controller, USB 3.1 10Gbps and dual M.2.
In the end prospective buyers need to identify which features are essential before making a purchase decision. For the primarily price-minded individuals MSI makes cheaper alternatives to the Z370 PC Pro including the Z370 Tomahawk and Z370A-PRO. However, anyone looking for a motherboard with a better quality VRM, better connectivity and more features will quite simply have to part with more cash, regardless of the motherboard vendor.

MSI's Z370 PC Pro has a retail price of £119.99 in the UK and is sold with a 3 year warranty as standard.
In the USA it can be had for $128 at Amazon with a post-purchase rebate of $20 available, bringing the price down to $108, and a 1 year warranty.
Pros:
Dual M.2.
USB 3.1 10Gbps and USB Type-C.
Onboard RGB lighting with optional RGB header.
Competitive pricing.
Clean aesthetics.
Intel Gigabit.
Shielded PCIe slot.
Cons:
Entry-level VRM with power-limit throttling of CPU frequency under overclocked loads.
Decade-old ALC887 codec.
Cheaper Z370 motherboards are available if price is the primary purchasing criteria.
KitGuru says: MSI's Z370 PC Pro is a highly affordable Z370 motherboard with ample features and capable of casual overclocking. Serious overclockers, however, should consider looking higher up the MSI range.