Packaging
The box is small and at the front there is a photo of the product, with the semi-modular panel shown. The series description is highlighted in large fonts and below it we find the unit's capacity. The small 80 PLUS Gold badge is near the top-left corner.

At the rear be quiet! gives information showing the length of both native and modular cables and the number of the respective connectors.
Another image highlights the unit's dimensions and here you will also find the power specifications table, the various certifications that the product has achieved. There are also a couple of stickers with one of them listing the serial number.
Contents
We cannot say that the protection inside the box is the best possible, since only a little bubble wrap is used. We would like to see packing foam used instead.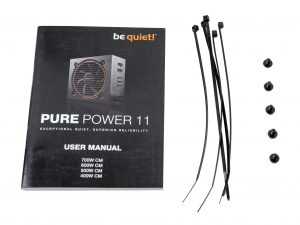 The bundle includes five screws, the user's manual and a set of zip ties.
Exterior
The front exhaust grille is not optimized for high airflow, since a major part of it doesn't feature any ventilation holes. The power switch is located right next to the AC receptacle.
On one of the two sides we find a stamped be quiet! logo along with the warranty sticker, while on the other side is the large power specifications label, which also depicts the product's serial number.
The modular panel only has five sockets, since two cables are fixed. Finally, there is a plastic grommet around the cable exit hole, to protect them from the chassis edges.
The dimensions are compact and the looks is distinctive, thanks to the orange accent around the fan and the minimalist-design fan grille.