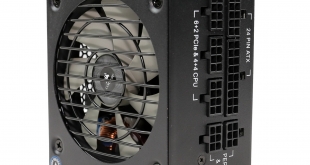 The Corsair SF450 Platinum offers higher efficiency than its Gold predecessor and it is also bundled with a SFX-to-ATX bracket. The question we will answer today is should you pay more to get the Platinum model or is it better to save some money and go for the Gold model instead?' 
Corsair wants to turn things around in the SFX form factor category with new SF Platinum units which are sold in 450W and 600W capacities with a 750W model on the way. We have already evaluated the SF600 Platinum which left a very good impression on us and the time has come for the SF450 Platinum to be laid bare in our test labs.

The Corsair SF450 Platinum shares the same cable configuration with the 600W model which is unusual, as the larger wattage models are normally equipped with additional cables and connectors. Both units are fully modular of course. They are cooled down by fans measuring 92mm in diameter – the largest that an SFX unit can accommodate. By using the largest possible fan, Corsair promises to bring the noise output down even under tough conditions. A quality 92mm fan is able to provide the same airflow as a 80mm fan but at lower speeds – which means less noise emissions.
The most important difference with the previous Gold SF line (which will remain in production), is the efficiency increase which was upgraded from 80 PLUS Gold to 80 PLUS Platinum. In the Cybenetics database both lines fall into the ETA-A efficiency category, however there are notable differences in the noise output, mostly for the 600W SF models.
Obviously the higher efficiency allows for a more relaxed fan profile. In the majority of cases SFX power supplies are noisier compared to ATX models, because of the overpopulated PCBs which don't allow for optimal airflow. Nonetheless, lately the major brands and manufacturers have worked hard to offer lower noise operation in compact platforms as well.
Given the increased interest of all major brands in this category lately, we are curious to see the first passive SFX unit to hit the market, especially since a while ago we had the chance to evaluate the first passive SFX-L model, the SilverStone Nightjar NJ450-SXL.
Read our How We Test Power Supplies HERE
Specifications
Manufacturer (OEM)
Great Wall
Max. DC Output

450W

Efficiency
80 PLUS Platinum, ETA-A (88-91%)
Noise
LAMBDA-A (20-25 dB[A])
Modular

✓

(Fully)
Intel C6/C7 Power State Support

✓

Operating Temperature (Continuous Full Load)
0 – 50°C
Over Voltage Protection

✓

Under Voltage Protection

✓

Over Power Protection

✓

Over Current (+12V) Protection

✓

Over Temperature Protection

✓

Short Circuit Protection

✓

Surge Protection

✓

Inrush Current Protection

✓

Fan Failure Protection

✗

No Load Operation

✓

Cooling
92mm Rifle Bearing Fan (NR092L)
Semi-Passive Operation

✓ (non selectable)

Dimensions (

W x H x D

)
127x 65 x 103mm
Weight
0.86 kg (1.9

lb

)
Form Factor
SFX, EPS 2.92
Warranty
7 Years
Corsair has strengthened its ties with OEM partner Great Wall in the last couple of years and this is welcomed, because due to this tight cooperation the performance bar in the SFX category has reached new levels – which a while ago seemed impossible for such small designs.
All popular protection features are present and the 92mm rifle bearing fan is supported by a semi-passive mode, which unfortunately cannot be deactivated. This means that you should not install this unit with its fan facing downwards as you will trap the hot air internally and this will put quite a strain on the platform's sensitive components (e.g. the electrolytic caps).
The compact dimensions classify this product in the SFX form factor, while it also meets the EPS 2.92 specification requirements. Finally, the provided warranty is seven years.
Power Specifications
Rail
3.3V
5V
12V
5VSB
-12V
Max. Power
Amps
15
20
37.5
2.5
0.3
Watts
100
450
12.5
3.6
Total Max. Power (W)
450
The minor rails have 100W max combined power, which is more than enough for any normal modern system. The +12V rail typically can deliver the unit's full power alone and the 5VSB rail has 2.5 Amps max current output.
Cables & Connectors
Modular Cables
Description
Cable Count
Connector Count (Total)
Gauge
In Cable Capacitors
ATX connector 20+4 pin (300mm)
1
1
16-18AWG
No
4+4 pin EPS12V (400mm)
1
1
16AWG
No
6+2 pin PCIe (700mm)
2
2
16AWG
No
SATA (100mm+105mm+105mm105mm)
1
4
18AWG
No
4 pin Molex (100mm+105mm+105mm)
1
3
18AWG
No
AC Power Cord (1400mm)
1
1
18AWG
–
As we already mentioned, the cable configuration is exactly the same as the SF600 Platinum, which is odd since a single EPS and two PCIe connectors might be enough for 450W but they definitely don't allow a 600W power supply to fully exploit its capacity.
The length of the ATX, EPS and peripheral cables is short since this unit will be most likely installed into a small chassis, although Corsair provides an ATX-to-SFX adapter in the bundle allowing you to use it in any ATX chassis. Strangely enough the pair of PCIe cables is very long at 700mm, clearly standing out from all the rest.
The distance between the peripheral connectors is small at 105mm, however this won't create any problems inside a small chassis where all components are close to each other. Finally, it is nice to see 16 AWG gauges in a 450W unit and the lack of in-cable caps is an asset as well, since most users hate seeing them in PSU cables, because they make those cables difficult to work with.