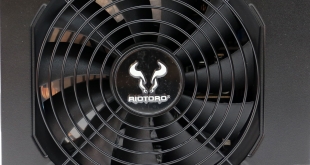 The Riotoro 1200W Builder Edition has been released for users who aren't bothered about RGB lighting, distinctive external design or other extras. It packs high power at a fair price – something that was the holy grail a few months ago, when mining with GPUs was still profitable. However, the situation has changed and with GPU mining seemingly in the past now, is this unit worth the £180 asking price?
Riotoro's Builder Edition series has so far consisted of mainstream PSUs, suitable for a run of the mill system. This makes the addition of a 1200W model look slightly odd, since the performance and wattage gap between the next tier down (a 600W unit) is huge. It seems Riotoro wanted to capitalise on the solid bang-for-buck rating its Builder series has been achieving, and thus created the 1200W model we have for review.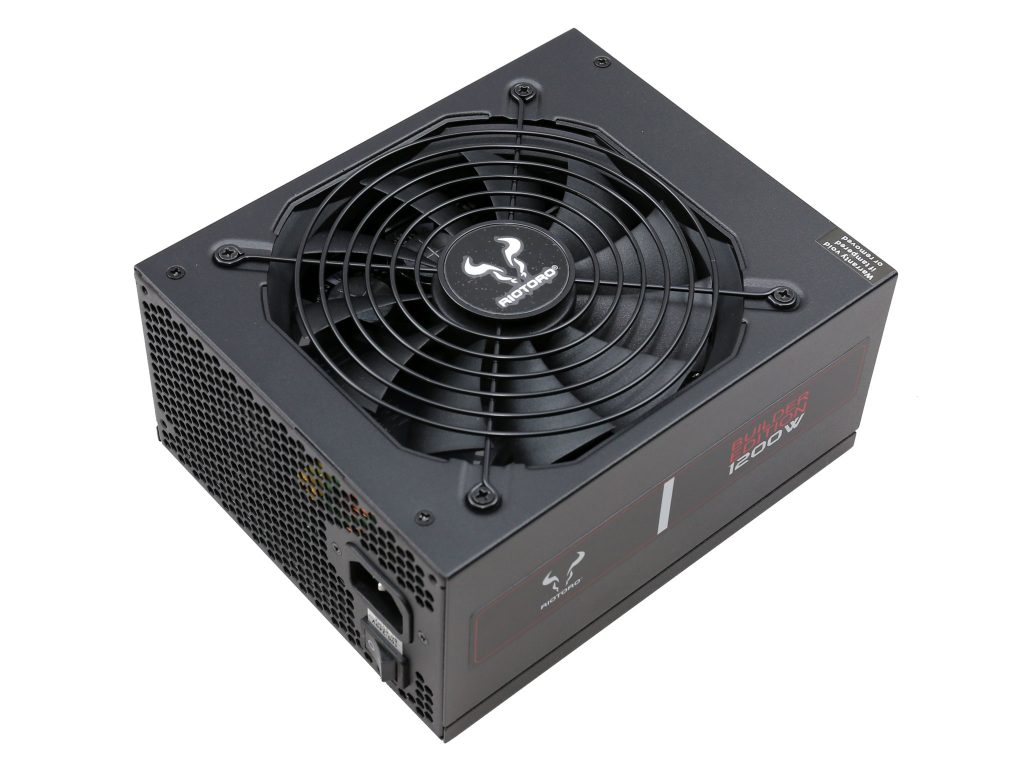 The impact of GPU mining was significant not only in the GPU market, but in power supplies as well, so naturally many brands wanted a piece of the pie and released high capacity PSUs, which were in high demand. The problem nowadays is that there is lots of stock of unsold PSUs with over 1kW capacity and the companies that invested money and resources into releasing similar models might never see a profit- or at least the expected one.
While that means it was understandable to go after the high capacity PSU market last year, this target market is not really a focus for the major brands anymore. There is still a market for super strong units, however this is still much more niche compared to the market for low and mid-capacity PSUs.
Read our How We Test Power Supplies HERE.
Specifications
Manufacturer (OEM)
High Power
Max. DC Output

1200W

Efficiency
80 PLUS Gold, ETA-A (88-91%)
Noise
LAMBDA-S+ (35-40 dB[A])
Modular

✓

(Fully)
Intel
C6/C7 Power State Support

✓

Operating Temperature (Continuous Full Load)
0 – 50°C
Over Voltage Protection

✓

Under Voltage Protection

✓

Over Power Protection

✓

Over Current (+12V) Protection

✓

Over Temperature Protection

✓

Short Circuit Protection

✓

Surge Protection

✓

Inrush Current Protection

✓

Fan Failure Protection

✗

No Load Operation

✓

Cooling
135mm Double Ball-Bearing Fan (RL4Z B1352512HH)
Semi-Passive Operation

✗

Dimensions (

W x H x D

)
152 x 87 x 182mm
Weight
1.95 kg (4.3

lb

)
Form Factor
ATX12V v2.4, EPS 2.92
Warranty
5 Years
Riotoro chose High Power as the OEM for its flagship PSU, mainly because this manufacturer is able to provide decent performing products at affordable prices. The registered efficiency is 80 PLUS Gold and ETA-A, while in the noise section Cybenetics awarded it with a LAMBDA-S+ badge.
All important protection features are provided, while the unit's cooling is handled by a 135mm double ball-bearing fan. Apparently Riotoro had tough conditions in mind, like mining, so it chose a DBB fan over a fluid dynamic bearing one, which can offer a quieter operation. Finally, there is no semi-passive mode available, which is a shame in such a high capacity PSU since it could help minimise the noise output under light loads.
The dimensions are normal for a 1.2kW power supply and the provided warranty is long enough at five years. More popular brands offer ten or even twelve years warranty, however we do believe that such long periods are unrealistic for PSUs.
Power Specifications
Rail
3.3V
5V
12V
5VSB
-12V
Max. Power
Amps
25
25
100
3
0.3
Watts
130
1200
15
3.6
Total Max. Power (W)
1200
The minor rails are quite strong for today's needs, while the +12V rail can deliver up to 100 Amps if/when needed. Finally, the 5VSB rail should be a bit stronger since this is a powerful PSU.
Cables & Connectors
Modular Cables
Description
Cable Count
Connector Count (Total)
Gauge
In Cable Capacitors
ATX connector 20+4 pin (550mm)
1
1
16-22AWG
No
4+4 pin EPS12V (650mm)
2
2
16AWG
No
6+2 pin PCIe (2x600mm)
2
4
16AWG
No
6+2 pin PCIe (600mm+150mm)
1
4
16-18AWG
No
SATA (500mm+100mm+100mm+100mm)
3
12
18AWG
No
4-pin Molex (500mm+100mm+100mm)
2
6
18AWG
No
FDD Adapter (+160mm)
1
1
22AWG
No
AC Power Cord (1400mm) – C13 coupler
1
1
16AWG
–
A large number of cables and connectors are provided, including two EPS and eight PCIe connectors along with twelve SATA cables. There are also six 4-pin Molex connectors spread across two cables.
Ideally the ATX and EPS cables should be a little longer, reaching 60cm and 70cm respectively, so as to ensure they are long enough for even the biggest of modern cases. Thankfully larger, 16AWG, gauges have been used in cables that have to deal with increased amperage to lower voltage drops, though the distance between the peripheral connectors is too short at only 10cm. It should be 14-15cm at least.
The PCIe cable that uses a single 12-pin socket from the PSU's modular board, and provides four 6+2pin connectors, does trouble us as well. This implementation can put too much stress on the socket and the corresponding connector.
Be sure to check out our sponsors store EKWB here