The Riotoro 1200W Builder Edition PSU has an MSRP of $220 in the US while in the UK market is sold for £180 (including VAT). A few months ago 220 dollars was a good price for a quality 1200W unit, but nowadays we can find better PSUs for the same amount of money, so Riotoro will have to push the price lower to stay competitive. This might not be possible, though.
The Builder Edition 1200W is clearly built for tough conditions, given the double ball-bearing fan and the tightly configured protection features (OPP and OCP at +12V). Most likely Riotoro had mining in its focus during the design phase of this product. There is no doubt though that the GPU mining era has finished, thankfully, and powerful PSUs are not so popular now.
Nonetheless, they are still necessary for high-end systems equipped with multiple GPUs and/or multi-core CPUs. For example, my colleague Leo measured 450W power consumption under load with the Powenetics system from an overclocked Threadripper 2990WX processor, with the system's overall power consumption reaching 830W. The test system was equipped with a single EVGA GTX 1080 Ti, so with an additional 1080 Ti the power consumption could easily exceed 1.1kW. This means that strong power supplies are still essential for the enthusiasts who want to build a highly capable system either for gaming or for multi-thread applications like video editing.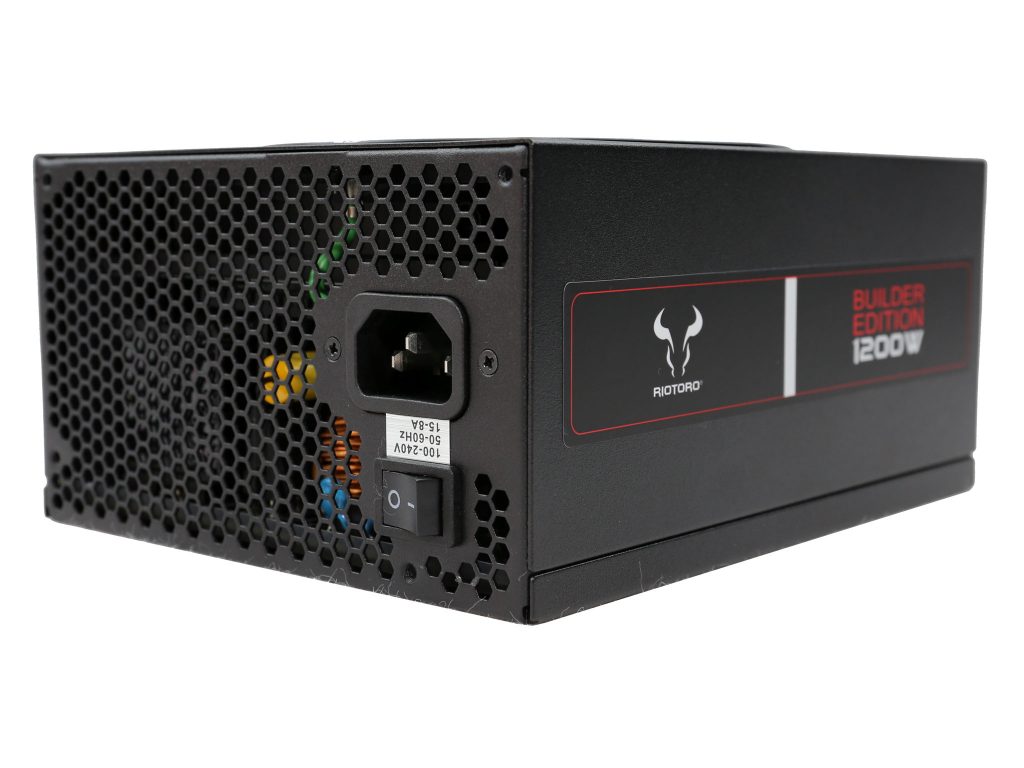 High Power provided a solid platform to Riotoro, but it is not flawless. Although its overall performance is pretty high, coming close to models like the HX1200 and the SSR-1200GD, I didn't like the very tight over power protection and the fact that the unit had a problem delivering its full power at +12V alone due to a wrongly configured OCP on this rail, something that should be trouble-free according to its official specifications.
Moreover, I am not so fond of the single PCIe cable which is split in two, with each cable hosting a pair of 6+2pin PCIe connectors. This means that a single 12pin socket on the modular panel has to handle the amperage of four PCIe connectors, so if you use a pair of power hungry GPUs things can easily go south and you might have to deal with melted connectors.
The low hold-up time is partially justified by the increased cost of the bulk caps, however I am not at all happy with the false power ok signal since it provides inaccurate voltage information to the system's mainboard, forcing sensitive components to have to deal with lower than expected input voltages.
It is good to see a double ball-bearing fan in a PSU which is meant for tough conditions, though, since this type of fan is able to deal with high temperatures much better than fluid/hydro dynamic bearing fans. The fan profile is not aggressive and this partially compensates for the lack of a semi-passive mode.
In general this product is worthy of consideration since it offers good performance and the platform's build quality is also very good. Nonetheless, because of the low interest in high capacity units at the moment, you can find a number of great offerings at the same price, including the Corsair HX1200 and the Seasonic Prime Gold 1200W. This means that the Riotoro 1200W Builder Edition PSU will need to drop the pricing to remain competitive.
You can buy the Riotoro 1200W Builder Edition PSU from CCL for £179.98 HERE.
Pros:
Great build quality.
Pretty high overall performance.
Tight load regulation.
Efficient.
Good ripple suppression (without using in-cable caps).
Good transient response on all rails but 3.3V.
Silent under normal operating conditions.
Plenty of connectors including 2x EPS and 8x PCIe.
Double ball-bearing fan, suitable for operation under high temperatures.
5-year warranty (however the competition provides 10-12 years)
Cons:
Many high wattage units are now available for the same price.
The OPP and OCP at +12V are not properly set.
A single 12-pin socket has to deal with four 6+2 pin PCIe connectors.
Low hold-up time.
Inaccurate power-ok signal.
3.3V rail transient response.
Lacks a semi-passive mode.
Short distance (100mm) between the peripheral connectors.
KitGuru says: This is a solid PSU, offered at a fair price tag, however the recent drop in demand of high-capacity PSUs had as a notable effect on their prices. This means that, while it was released at a competitive price, nowadays you can find better units for the same price.