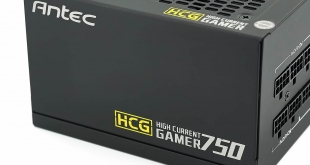 Platinum and Titanium power supplies are fun to analyse, but it is still the Gold rated units that sell the most within enthusiast circles. Today we take a look at the latest HCG Gold 750W from Antec – a fully modular 80 Plus certified power supply targeted at around the '£100 sweet spot'.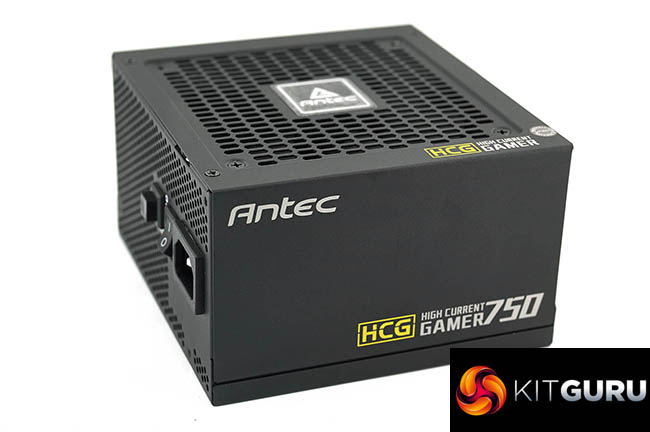 Antec say that the latest High Current Gamer power supplies are available in an 80 Plus Gold efficiency rating and fully incorporate Japanese Capacitors and Active PFC.

We know that Seasonic are the partner for this specific range so it seems likely to deliver high quality power in the way that Seasonic always do. The claims of quality are substantiated by the long term 10 year warranty supporting these units.
Features
– Single +12v rail with 62amp / 744watt
– Compact form – full size performance
– Zero RPM fan speed at low load
– Fully Modular
– 100% Japanese Caps
– AQ10 – 10 year warranty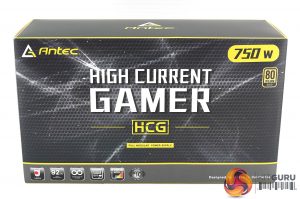 Nothing wrong with the Antec artwork, it makes sense from a marketing point of view to focus on the word 'GAMER', this alone will sell product. A row of Icons run along the bottom of the front of the box, some of which might not make much sense to a general punter in a retail store.
It says ' designed by Antec' in California. I don't see a 'built by Seasonic in Asia' on it though, but I will keep looking!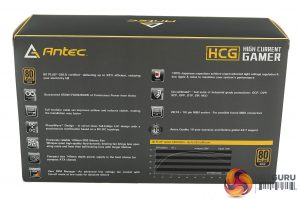 On the back, more details on some of those icons along with information on the 10 year warranty support and 80 Plus Gold efficiency rating. It is interesting how times change – there was a point a few years ago when GOLD efficiency felt state of the art – but with the proliferation of all the new Titanium and Platinum power supplies, Gold is definitely the new Bronze.
Inside the box, we are greeted with a bag containing the modular cables, a regional specific power cable, cable ties, and a user manual.
Connectors
– 1 x 20+4-Pin ATX12V/EPS12V
– 1 x 4+4-Pin ATX12V/EPS12V
– 4 x 6+2-Pin-PCIe
– 8 x SATA
– 3 x 4-Pin-Molex
– 1 x Floppy
– Warranty: 10yr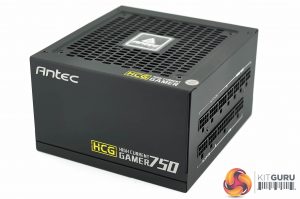 The Antec HCG 750W power supply is nicely finished, with quality paint work along with simple white accenting featured on the side panels.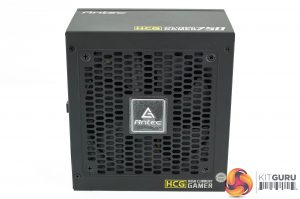 The fan is hidden behind the grill on the top of the power supply, with the ANTEC badge taking pride of place centerstage.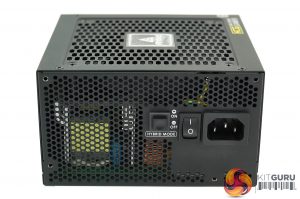 One side of the power supply is honeycomb vented with a power switch, connector and Hybrid mode switch. This offers semi fanless mode when enabled.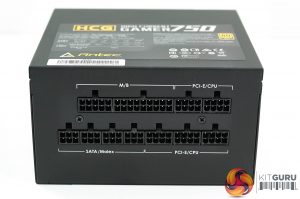 The modular bay is cleanly laid out and labelled for ease of install. Eagle eyed readers will notice this is identical in layout to the Seasonic FOCUS PLUS Gold (FX) supply that we reviewed back in August 2017 (HERE).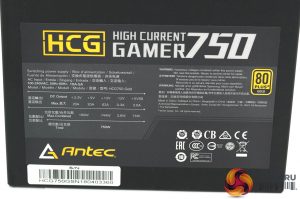 Antec HCG 750W Power Supply

DC Output

+3.3V

+5V

+12V

-12V

+5Vsb

Max Output

20A

20A

62A

0.3A

3A

Total Power
100W
744W
3.6W
15W
750 watts
Figures we have seen before, as they are identical to those tested on the Seasonic Focus Plus 750 Gold unit. This supply would be able to power two high drain graphics cards without a problem.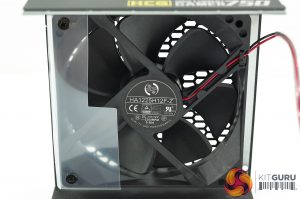 This Antec branded unit is using a high grade Hong Hua fan (Model: HA1225H12F-Z). This unit is built around a Fluid Dynamic Bearing for quiet operation and long life. It is rated 0.58A, at 12 VDC. Maximum speed is rated at 2,200rpm, producing 73.9CFM at 32.4dBa. You will notice the unusually cut plastic cover along the left side of the fan – this is to direct the air flow at specific parts of the power supply underneath.
Below - a High Resolution Gallery of the internal layout of the Power supply.
Please be aware if the gallery doesn't load you will need to disable your ad blocker as it interferes with the code.
As mentioned earlier in this review, Antec have paired up with SEASONIC for this power supply and as expected, the build quality is top notch, with stellar soldering throughout and quality components used in all key locations.
Inside are a fair few smallish heatsinks to aid with cooling key components. The power supply is using a full bridge LLC topology with synchronous rectification with DC-DC VRM's for +3.3V and +5V rails on secondary. Input filtering starts on a small PCB with Y and X capacitors in place – moving to the main PCB for completion.
This unit adopts a high quality 105C rated Japanese Nippon Chemi Con capacitor in the primary stage, from their KMR series. It is rated 400v 560uF. I still have an 850W Seasonic Focus Plus Gold unit in our labs and its the same primary capacitor inside, but with slightly higher output, rated at 650uF. Regular readers may remember that Seasonic use two primary capacitors in their higher cost PRIME units.
In the secondary stage are a mixture of solid and standard electrolytics from Nippon Chemi Con. A solid, well built overall design from Seasonic.
Correctly testing power supplies is a complex procedure and KitGuru have configured a test bench which can deliver up to a 2,000 watt DC load. Due to public requests we have changed our temperature settings recently – previously we rated with ambient temperatures at 25C, we have increased ambient temperatures by 10c (to 35c) in our environment to greater reflect warmer internal chassis conditions.
We use combinations of the following hardware:
• SunMoon SM-268
• CSI3710A Programmable DC load (+3.3V and +5V outputs)
• CSI3711A Programmable DC load (+12V1, +12V2, +12V3, and +12V4)
• Extech Power Analyzer
• Extech MultiMaster MM570 digital multimeter
• Extech digital sound level meter
• Digital oscilloscope (20M S/s with 12 Bit ADC)
• Variable Autotransformer, 1.4 KVA
DC Output Load Regulation

+3.3V

+5V

+12V

+5VSB

-12V

A

V

A

V

A

V

A

V

A
V

75W

0.95

3.33

0.93

5.02

5.13

12.05

0.50

0.20

-12.03

150W

1.65

3.33

1.66

5.01

10.61

12.04

1.00

0.20

-12.03

375W

3.00

3.32

3.02

5.00

28.11

12.03

1.50

0.30

-12.04

565W

4.05

3.32

4.07

5.00

42.94

11.98

2.00

5.00

0.30

-12.04

750W

4.90

3.32

5.24

5.00

57.48

11.96

2.50

0.50

-12.04
Load regulation is stellar with all rails exhibiting very minor fluctuation under load.
ANTEC HCG Gold 750W 80 Plus Gold

Maximum Load
815W
We managed to reach around 815W before the unit would shut down gracefully, after the protection kicked in. This is around 65 watts more than the rated output.
Next we want to try Cross Loading. This basically means loads which are not balanced. If a PC for instance needs 500W on the +12V outputs but something like 30W via the combined 3.3V and +5V outputs then the voltage regulation can fluctuate badly.
Cross Load Testing
+3.3V
+5V
+12V
-12V
+5VSB
A
V
A
V
A
V
A
V
A
V
734W
1.0
3.32
1.0
5.00
60.0
11.96
0.2
-12.03
0.50
5.01
154W
15.0
3.30
15.0
4.98
2.0
12.04
0.2
-12.03
0.50
5.01
The unit passes our Cross Load testing without any problems. When hit with 60 AMPS the +12V rail held at 11.96.
We then used an oscilloscope to measure AC ripple and noise present on the DC outputs. We set the oscilloscope time base to check for AC ripple at both high and low ends of the spectrum.
ATX12V V2.2 specification for DC output ripple and noise is defined in the ATX 12V power supply design guide.
ATX12V Ver 2.2 Noise/Ripple Tolerance

Output

Ripple (mV p-p)

+3.3V

50

+5V

50

+12V1

120

+12V2

120

-12V

120

+5VSB

50
Obviously when measuring AC noise and ripple on the DC outputs the cleaner (less recorded) means we have a better end result. We measured this AC signal amplitude to see how closely the unit complied with the ATX standard.
AC Ripple (mV p-p)
DC Load
+3.3V
+5V
+12V
5VSB
75W
5
5
10
5
150W
5
5
15
5
375W
5
5
20
5
565W
10
5
20
5
750W
10
5
25
5
Noise suppression results are extremely impressive, hitting 10mV and 5mV on +3.3V and +5V rails respectively. The +12V rail peaks at 25mV under full load conditions. Great results really overall.
Efficiency (%)

75W

88.2

150W

90.5

375W

92.4

565W

91.5

750W

90.5
Efficiency is very good, peaking at 92.4 percent at 50 percent load. This drops to around 90.5 percent at full load.
We take the issue of noise very seriously at KitGuru and this is why we have built a special home brew system as a reference point when we test noise levels of various components. Why do this? Well this means we can eliminate secondary noise pollution in the test room and concentrate on components we are testing. It also brings us slightly closer to industry standards, such as DIN 45635.
Today to test the power supply we have taken it into our acoustics room environment and have set our Digital Sound Level Noise Decibel Meter Style 2 one meter away from the unit. We have no other fans running so we can effectively measure just the noise from the unit itself.
As this can be a little confusing for people, here are various dBa ratings in with real world situations to help describe the various levels.
KitGuru noise guide
10dBA – Normal Breathing/Rustling Leaves
20-25dBA – Whisper
30dBA – High Quality Computer fan
40dBA – A Bubbling Brook, or a Refrigerator
50dBA – Normal Conversation
60dBA – Laughter
70dBA – Vacuum Cleaner or Hairdryer
80dBA – City Traffic or a Garbage Disposal
90dBA – Motorcycle or Lawnmower
100dBA – MP3 Player at maximum output
110dBA – Orchestra
120dBA – Front row rock concert/Jet Engine
130dBA – Threshold of Pain
140dBA – Military Jet takeoff/Gunshot (close range)
160dBA – Instant Perforation of eardrum
Noise (dBA)

75W

<28.0

150W

<28.0

375W

29.7

565W

31.9

750W
35.7
The large fan spins relatively slowly under low to modest load levels. Above 60% the fan spins up to counter rising heat. At full load the fan is clearly audible but never too intrusive.
Temperature (c)

Intake

Exhaust

75W

36

40

150W

38

43

375W

39

50

565W

45

54

750W

47

60
The large fan works well to expel heat out the rear of the chassis. The overall results are very good indeed.
| | |
| --- | --- |
| Maximum load | Efficiency |
| 815W | 89.9 |
At 815 watts, the efficiency level measures 89.9%. Not a practical situation to be running 24/7, but worth noting.
The ANTEC HCG Gold 750W is a fantastic power supply which will appeal to a very wide enthusiast audience. Antec clearly know that using Seasonic in any sector is going to ensure that the overall quality is best in the market.
Build quality is marvellous and there is no indication that Seasonic have cut corners in the component selection even though this is a relatively lower cost 80 Plus Gold unit — when compared against the influx of Titanium and Platinum units released in the last year. Paint work is high grade and the overall appearance is great.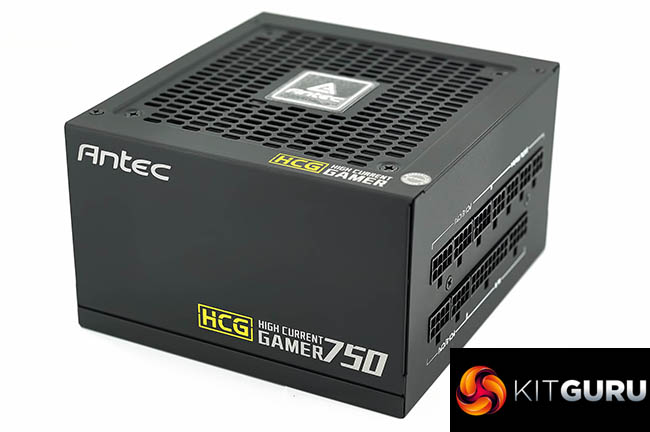 Technically the Antec HCG Gold 750W is solid as a rock. Noise suppression is top tier and the efficiency level is very high, easily achieving 80 Plus Gold certification. Voltage regulation is a strong point too and we recorded no hitches in the delivery either.
The modular cabling system is superb although I do wonder if Seasonic should start adopting the flatter ribbon style cables to help system builders with the ease of routing. Peripheral cables are ribbon style, but most are sleeved.
In operation, the power supply is quiet and this because Seasonic designs are using the latest Hong Hua Fluid Dynamic bearing fans. Its only really audible in the last 15% of load, and this is really not a realistic situation to be running long term. If you need close to 700 watts under load you are better opting for a 1000w+ unit. This will help put less strain on the capacitors, improve efficiency levels, which subsequently lower heat, fan speeds and overall noise.
Seasonic are renowned for their class leading warranty and the Antec unit is backed by a very substantial 10 year warranty. This gives the user peace of mind for some time into the future.

You can buy the ANTEC HCG Gold 750W 80 Plus Gold Modular Power Supply from Overclockers for £102.95 HERE. The only minor negative right now is that you can buy the Seasonic FOCUS Plus 750W 80 Plus Gold modular supply for £101.99 HERE. Antec could really do with getting the price down to £99.99 or even £94.99 as offering basically the same, rebranded Seasonic power supply for more money makes little sense to me.
Discuss on our Facebook page, over HERE
Pros:
Seasonic high grade built quality.
105 Japanese capacitors used throughout.
Load regulation.
Ripple suppression.
80 Plus Gold certification achieved in our tests.
Pure Modular.
quiet.
Cons:
KitGuru says: The ANTEC HCG Gold 750W 80 Plus Gold Modular Power Supply is available online for around the £100 mark. This Seasonic designed power supply should be on anyone's final shortlist. Its got a full 10 year warranty as well.