To anyone but the well-informed techie, MSI's X99 portfolio is extensive and potentially overwhelming, thus making sense of which board is most suitable can be tough. MSI's X99 range contains no less than 21 SKUs (!).
The MSI X99A Tomahawk fits somewhere in the middle of MSI's range and within the middle of the X99 market as a whole with its typical retail price of £230 / $270. In the UK MSI's offering is priced almost identically to the ASRock X99 Taichi (£225 / $225), though ASRock definitely wins the value for money battle in North America.

MSI's standard warranty duration for this product is 3 years from most reputable retailers.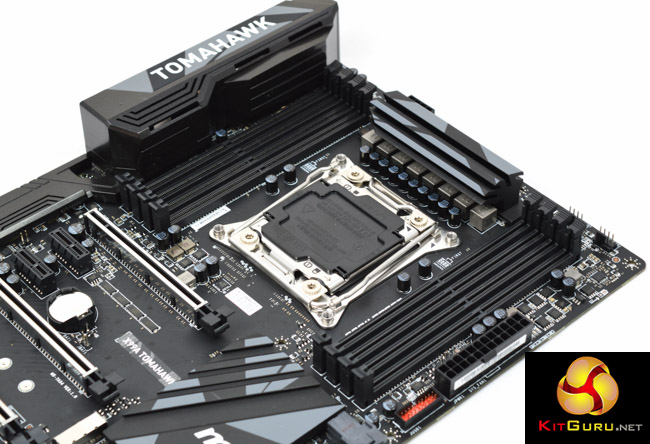 The distinction between "Gaming" and "non-Gaming" motherboards is becoming less useful as time goes on, particularly for X99 where the additional cost of the motherboards, CPUs and quad-channel memory kits normally dictate that the system is going to be built for more than just gaming.
Therefore, the X99A Tomahawk has a wider remit than just targeting PC gamers and thanks to MSI refining the styling to a neutral colour scheme and bolstering all-round connectivity, it's a motherboard suitable for all types of users.
It's hard to envision a user whose needs wouldn't be fulfilled by the X99A Tomahawk, unless 4 16X PCIe lanes, Thunderbolt or some other missing feature were an absolute necessity. The lack of WiFi is easily correctable with a PCIe or USB solution and the absence of RGB LEDs is simply fixed by making use of the 4 pin LED strip connection.
However, despite the MSI X99A Tomahawk being versatile enough to meet the needs of almost any X99 user, MSI will need to be wary that in the lower-mid range section of the X99 market, demand is price sensitive and can sometimes trump brand loyalty, styling or other considerations. As such the ASRock X99 Taichi is a serious rival.
Discuss on our Facebook page HERE.
Pros:
Clean aesthetics & neutral colour scheme
Excellent array of connectivity
Competitive pricing
Dual Intel Gigabit NICs
Armoured PCIe 16X slots
Onboard power/reset buttons, debug LEDs and dual BIOS switch
Cons:
No onboard RGB lighting or WiFi
KitGuru says: A highly-spec'd and versatile all-rounder for Intel's X99 platform, MSI's X99A Tomahawk is an excellent choice in its price segment.