I've reviewed a lot of gaming PCs for KitGuru – to the point where I've lost count. I have never seen a PC like the MSI Aegis 3 8th, however, as it is truly unique. I am of course talking about the aggressive, angular design of the machine – you will either love it or hate it. It does have some decent internal hardware, though, including an i7-8700, GTX 1070 Ti and support for Intel's Optane technology. Is it any good?
Watch via Vimeo (below) or over on YouTube at 2160p HERE
Note: if the above images are not displaying properly, you may need to disable your ad block software as they are known to interfere with our display code.

Specification
Operating System: Windows 10 Home
CPU: Intel® Core™ i7-8700 Processor
Chipset: Intel® B360
Storage: 1x 2TB HDD, 1x 256GB NVMe SSD, 1x 16GB Optane module
System Memory: 2 x SO-DIMMs DDR4 2400MHz 16GB
Graphics: MSI GeForce® GTX 1070 Ti 8GB GDDR5
Sound: 7.1 Channel HD Audio with Nahimic audio enhancer
Optical Drive: Slim Type(9.5mm) Tray-Load Super Multi
I/O (Front): 1 x USB 3.1 Gen 1 Type C, 2 x USB 2.0, 1 x Mic in / 1 x Headphone out
I/O (Rear): 2 x USB 2.0, 4 x USB 3.1 Gen 1 Type A, 1 x HDMI out, 5 x OFC Audio jacks, 1 x S/PDIF, 1 x RJ45 LAN
Wireless LAN: Intel® Dual Band Wireless-AC 9461 (M.2 2230), Bluetooth 5
LAN: Intel® WGI219V Gigabit LAN
AC Adapter / PSU: 450W 80 Plus Bronze (1U)
Cooling System: Exclusive Silent Storm Cooling 2
Volume: 19.6L/ 41.42pt
Dimension (WxDxH): 433.18 x 376.11 x 169.92mm
Weight (N.W./ G.W.): 9.69Kg/ 13.20Kg
If we put the appearance of the Aegis 3 to one side, it is actually an impressively diminutive chassis, measuring 37cm tall. Given the top of the case is sloped, too, most of the external chassis is actually shorter than that figure. 17cm wide is also pretty slender for a desktop PC.
Part of this is thanks to the fact that MSI has implemented what it calls Silent Storm Cooling, meaning the case is comprised of two main chambers – the CPU and GPU sit in the main body of the machine, while the PSU is actually tucked away in the large 'foot' of the case, so everything is not crammed into a single area within the case.
Opening the side panel reveals a GTX 1070 Ti that is not only mounted vertically, but is also upside-down, and at first you may think that's as far as you can go. Several screws (and several minutes of jiggling) later, you will eventually manage to remove the graphics card. With that out of the way, we get a look at the small laptop-style fan that cools the CPU's heatpipes, and that is actually part of the same plastic frame that houses a PCIe riser card for the GPU.
Removing that plastic frame is 'only' a case of taking out five more screws, and at last we can get a look at the ITX motherboard and the rather measly-looking cooling solution for the i7-8700. Underneath that, it is interesting to note a single 8GB DDR4 SODIMM module that runs at 2400MHz.
At the front and to the bottom we do find some rather untidy cabling, which would be almost unforgivable in a more traditional chassis with a window, but the Aegis 3 is very closed off to prying eyes, so it is less obvious. You will still know it is there, though. A solitary 3.5in 2TB HDD sits in a large drive cage at the front of the case.
Turning the Aegis round reveals the back of the motherboard. This houses another 8GB SODIMM memory module, as well as two M.2 drives – one is a 256GB Intel 760p SSD that is used as a boot drive, and the other is a 16GB Intel Optane module. We discuss Optane further later in the review.
Confirming what we already knew, CPU-Z tells us that the processor is the multiplier-locked Intel i7-8700, meaning we won't be doing any overclocking today. This chip has a base frequency of 3.2GHz and can boost up to 4.6GHz. The two 8GB memory SODIMMs gives us a total of 16GB DDR4 2400MHz, with timings of 17-17-17-39. Lastly, the graphics card is the GTX 1070 Ti which launched towards the end of last year.
This MSI model, which appears to be the ARMOR 8G card, is clocked at the default 1607MHz base, and 1683MHz boost clock – though it will boost higher than that if the thermal solution allows.
We do have to state that our model appears to be some kind of prototype as the models on sale in the UK only come with GTX 1060 or GTX 1070 graphics, not GTX 1070 Ti, so bear this in mind.
Performance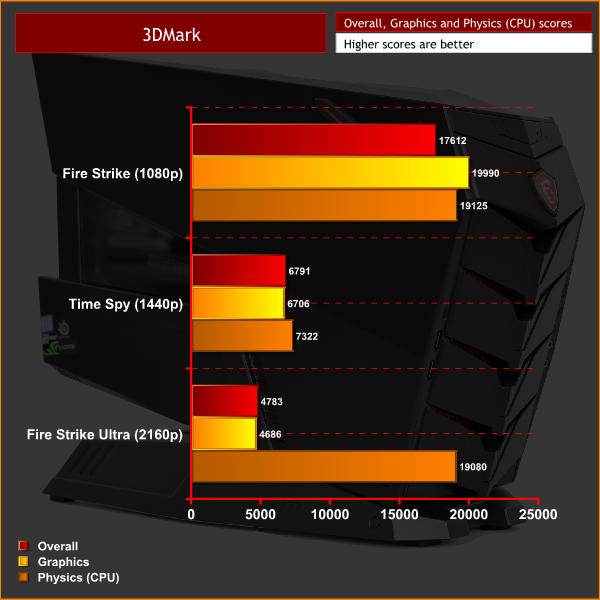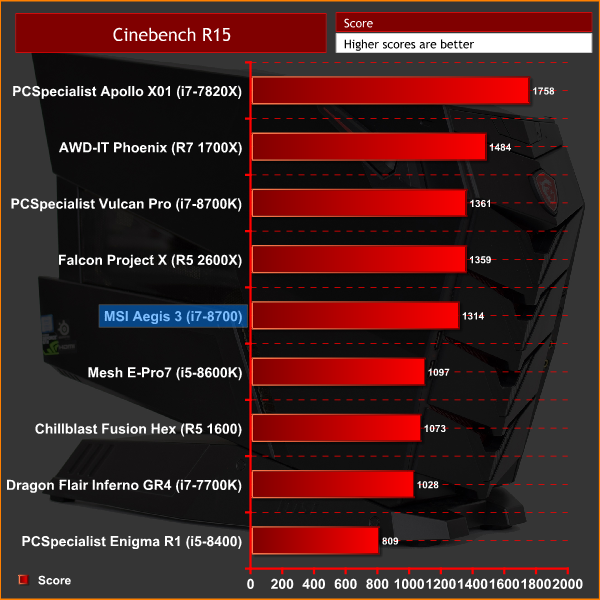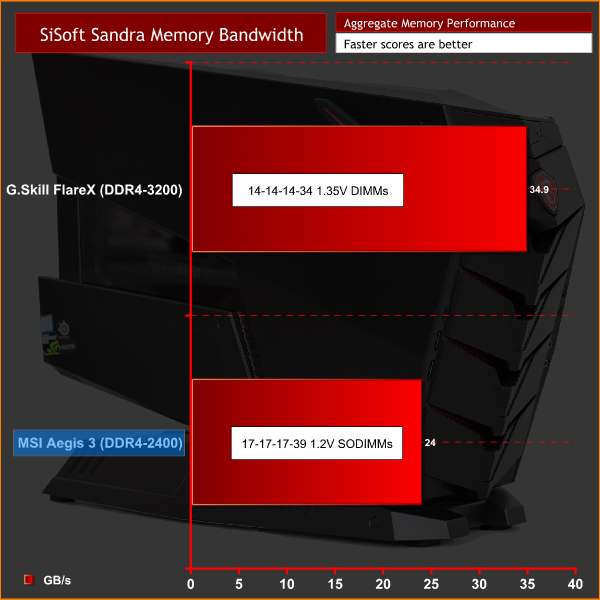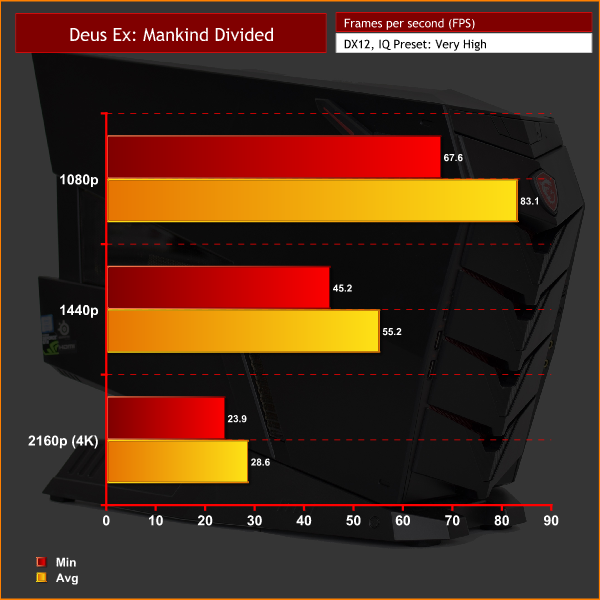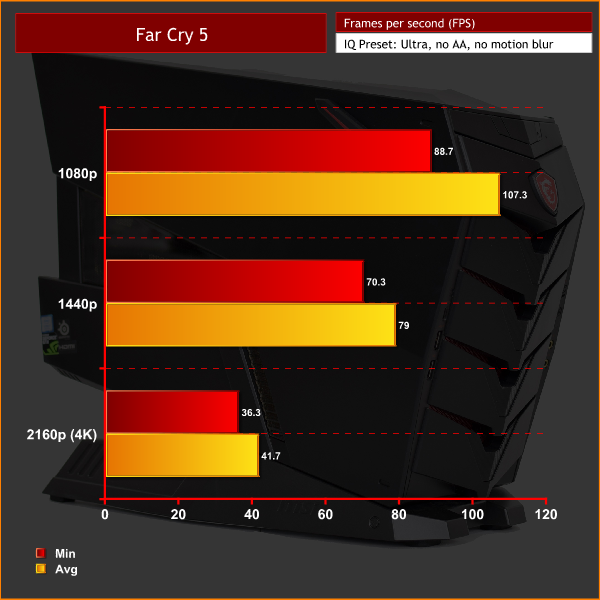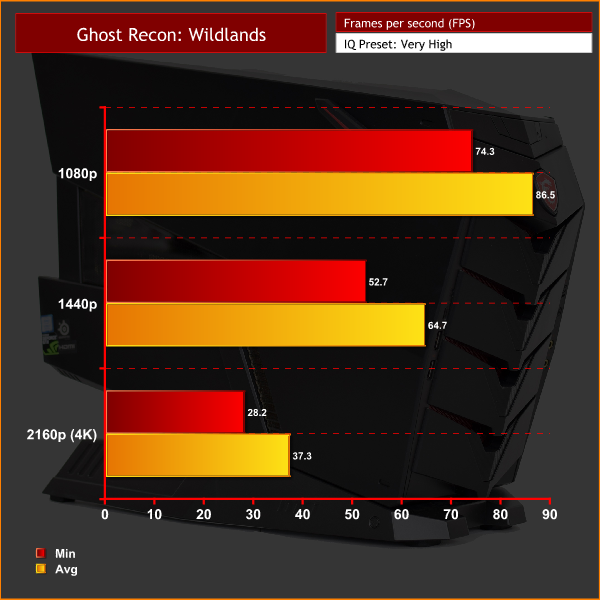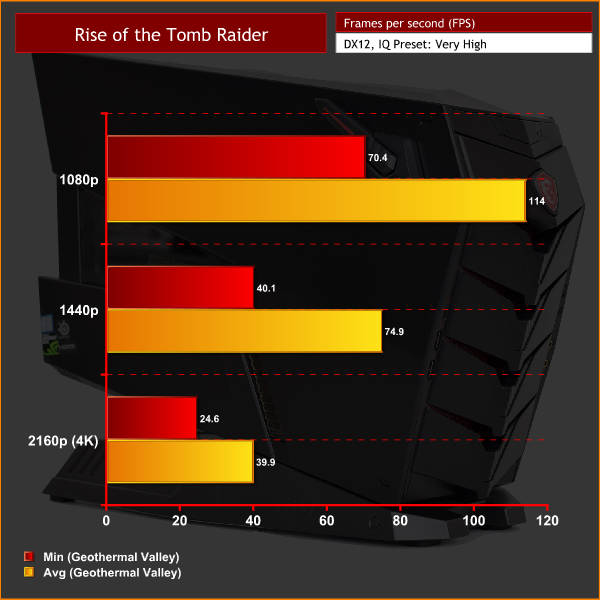 Performance Overview
Starting with synthetic performance, the i7-8700 puts in a decent shift in Cinebench R15, giving a score of 1314 – putting it just behind the i7-8700K we saw in the PCSpecialist Vulcan Pro. This is a good result considering the CPU is not capable of being overclocked.
Memory performance is definitely worth touching on, however, as the SODIMM memory modules only run at 2400MHz. Compared to proper desktop memory – like G.Skill's Flare X, which runs at 3200MHz – the difference is clear to see in SiSoft Sandra's Memory Bandwidth test.
Gaming performance is good, though, being pretty much what we would expect from a GTX 1070 Ti. That means it is pushing close to 100 FPS on average at 1080p, while you will still be looking at over 60FPS when the resolution is raised to 1440p. I wouldn't consider this a 4K card as the minimum frame rates do drop below 30 FPS in 3 of our 4 games, however.
Still, for a gaming PC, performance is certainly decent, and the Aegis 3 would pair nicely with a high refresh 1080p or 1440p monitor.Optane Testing
The Aegis 3 also comes with a 16GB Intel Optane module, which is used to accelerate the 2TB hard drive. Here, we look at the synthetic benefits of Optane, as well as its real-world application when loading games from that accelerated hard drive.
Using CrystalDiskMark 6.0.1, we can see Optane makes a big difference when it comes to synthetic drive speeds – the sequential read speed goes up from 206MB/s to 928.7MB/S, for instance.
We see the same story when running ATTO Disk Benchmark. Read speeds are significantly higher across the board, although write speeds seem to get worse with Optane enabled – around 50MB/s slower when you compare the two sets of results.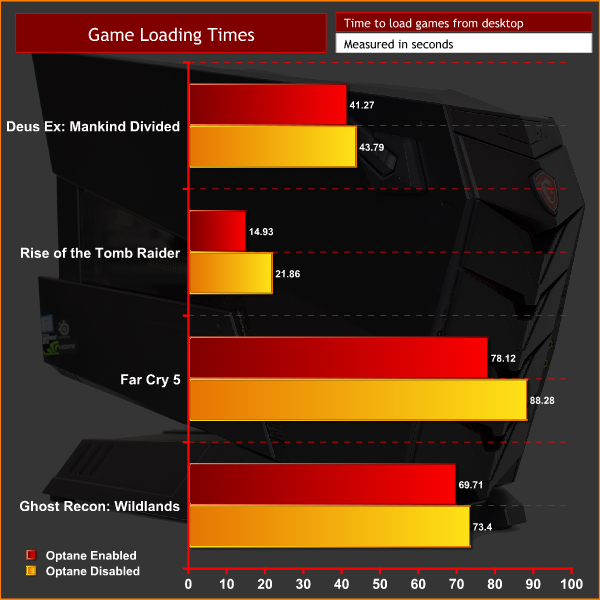 We then measured the loading times of the four games we benchmarked with the Aegis 3 – with Optane enabled, and then disabled.
Here, it seems to vary per game as to how much difference Optane makes. In some titles, you can see a noticeable decrease in loading times – Far Cry 5 loaded 10 seconds faster, for instance, while Rise of the Tomb Raider loaded almost 7 seconds faster. The other two titles, however, showed less difference, with Deus Ex: Mankind Divided loading barely two seconds quicker.
Still, given it's barely £30 for a 16GB module of Intel Optane, it is hard to begrudge its inclusion with the Aegis 3 – it's certainly better than using the 2TB hard drive on its own, and even if the real-world benefits aren't huge, they are still present.Cooling
To test the cooling capabilities of the Aegis 3, we ran AIDA64 to stress both the CPU and GPU. It is also important to note we tested using the 'extreme mode' that is set from within MSI's Gaming Center app.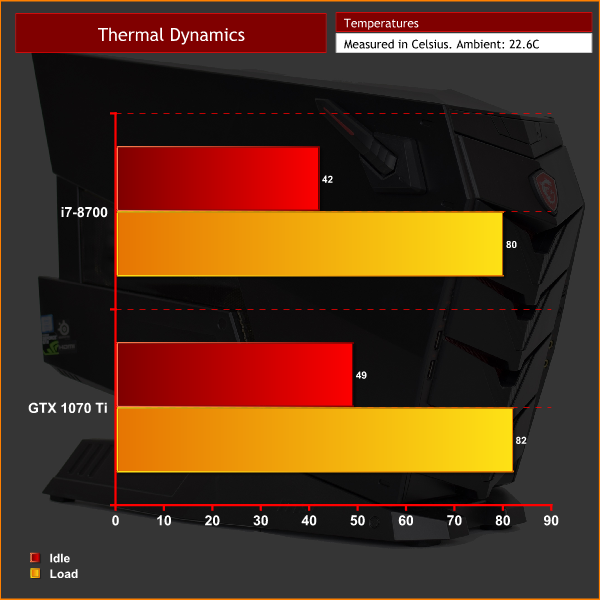 As you can see, thermal results are fine. Both CPU and GPU do idle relatively warm but it is nothing to be concerned about. The components peaked at 80C and 82C respectively, which is not super-cool, but we are still a long way from from the danger zone.
Thermal performance is only half the story, though – clock speed is the other half. We are happy to report the GTX 1070 Ti would run at a decent speed of around 1733MHz while gaming – it's not the fastest 1070 Ti we've ever seen, but it's not slow either and we know it is capable of solid gaming performance.
The CPU, however, is another matter. The multiplier-locked i7-8700 has a rated boost-clock of 4.6GHz, but under load its all-core turbo speed is 4.3GHz. Unfortunately, with the CPU pegged at 100%, the all-core speeds would slow to 3.7GHz – 600MHz less than we would hope for.
For gaming, this isn't a problem – in fact, we noticed speeds of between 4.3-4.5GHz across the six cores when gaming – but if you want to run CPU-intensive tasks for more than 5 minutes, you will notice things slowing down. That means how big of an issue this is very much depends on your planned use-case for the Aegis 3.
Power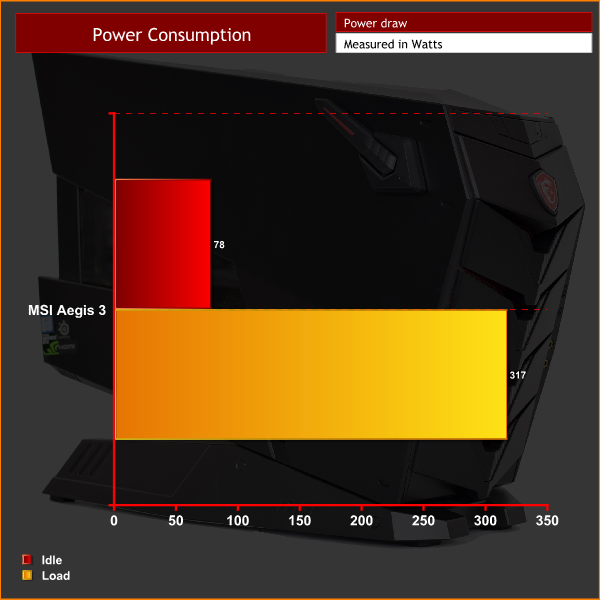 Powering the MSI Aegis 3 is a 450W 80+ Bronze unit. Unusually, this is actually a 1U power supply, the likes of which would usually be included in a rack-mount server system. It is cooled by a 40mm fan.
Actual power consumption is not high – 317W for the whole system under 100% load. This means the 450W unit is only working at around 70% load.
However, I do think it is very poor from MSI's side to only include an 80+ Bronze unit. We are in 2018, 80+ Gold should be the minimum for a system like this, and how much is MSI really saving by going for Bronze – it can't be more than £20 at the wholesale level, and considering this system will cost you at least £1699 (spec depending), we expect more.
Noise
We measured the noise levels of the Aegis 3 with our sound meter positioned 1 foot from the right side of the case.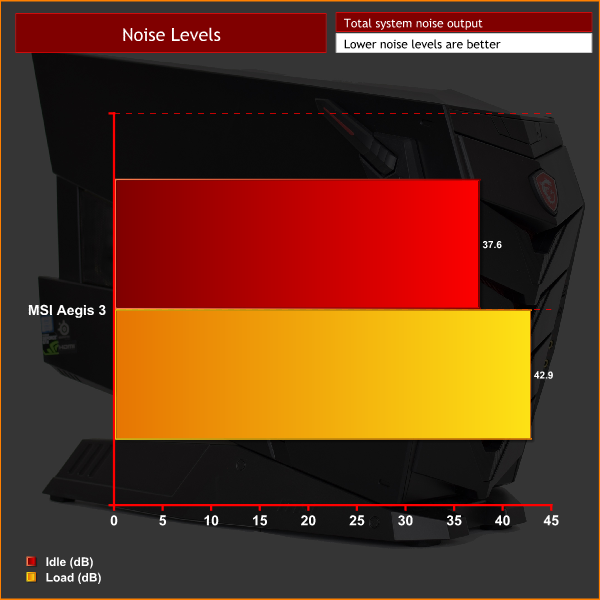 In terms of pure volume output, the Aegis 3 isn't actually that loud – 42.9 dB under load is certainly noticeable, but I have heard much louder systems in the past.
The problem I have with the noise output of the Aegis 3 is simple – the power supply fan is whiny. It's only 40mm in size, and it emits a high-pitch thrum that isn't loud, but it is certainly irritating. It may not sound like much, but when a system is set next to you all day, it does become quite annoying.The MSI Aegis 3 8th is a very distinctive system with some potential – however, it is not without its fair share of niggling issues.
We'll start with the design, though, and as I mentioned it is clearly going to be something you love or hate – it is bold, angular and aggressive. Personally, I prefer a more minimalistic look – something like the NZXT S340 Elite is more my cup of tea – but I don't doubt that some out there will find the Aegis 3 very appealing.
In terms of internal hardware, it's a decent spec but nothing crazy. We have an i7-8700 (non-K), GTX 1070 Ti and 16GB of DDR4, albeit in the SODIMM form-factor. This gives us solid gaming performance at 1080p and 1440p, and I would be happy to use the Aegis 3 with a high refresh monitor at those two resolutions. Do bear in mind, however, that UK customers can only buy the Aegis with GTX 1060 or 1070 graphics, as we seem to have been sent a higher specified prototype model.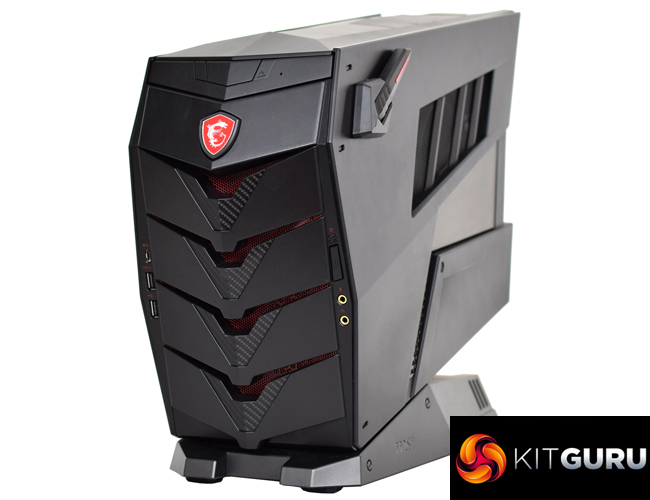 There are a few issues that get in the way, though. First of all, it is disappointing to see that the i7-8700 can't reach its all-core turbo speed of 4.3GHz – instead, it sits at 3.7GHz across all cores while under load. This doesn't affect gaming performance, but if you want to perform CPU-intensive tasks – like video editing or rendering – you will notice the slowdown.
Secondly, fan noise is a bit of a pain. This is simply because the 40mm PSU fan is so small, it sounds whiny. After having it on my desk all week, it got quite irritating.
On top of that, it is a crying shame that MSI has opted for an 80+ Bronze power supply for the Aegis 3. It is 2018, and when you consider the rest of the spec isn't exactly budget, we would certainly expect an 80+ Gold unit – at least! – in this machine.
Overall, the MSI Aegis 3 8th is a competent system, but it doesn't wow. Its USP is undoubtedly the aggressive design of the case, but other than that it doesn't stand out in any department.
Pricing is also not particularly competitive, as the models on sale start from £1699 for the GTX 1060 SKU, while the GTX 1070 model will set you back £1799. The latter machine is actually £50 more expensive than what you'd pay for the PCSpecialist Vulcan Pro with an i7-8700K and GTX 1080 Ti.
If you really want a PC that looks a bold as the Aegis does, then it will give you a decent gaming experience. For the rest of us, more bang-for-buck can be found elsewhere.
You can buy the Aegis 3 8th from PC World HERE.
Pros
Decent gaming performance at 1080p and 1440p.
Unique design will appeal to some.
Compact and portable.
Cons
Only available with GTX 1060 and GTX 1070 – not with a GTX 1070 Ti as reviewed.
Pricing is steep for what you get.
40mm PSU fan is a bit whiny.
Only 80+ Bronze PSU.
KitGuru says: The Aegis 3 8th performs well and doesn't make any catastrophic mistakes. You can, however, find more powerful systems available for less money if you don't mind going with a more conventional design.