You really can't go wrong with an Intel Core i7-8700K and Nvidia GeForce GTX 1080 Ti when it comes to a high-end gaming PC, and sure enough that's what PC Specialist has gone for here.
The company has also pre-overclocked the CPU to 4.8GHz. That's not quite as far as the 4.9GHz of the Overclockers Germanium but it's still an improvement over the CPU's default boost speed.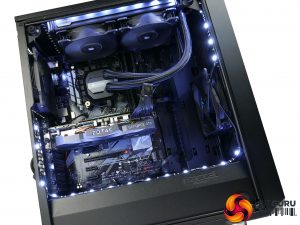 Performing those overclocking duties is a very basic Z370 motherboard, the Asus Z370-P. This is about as cheap a Z370 as you can get, with it costing around £105 on its own. So cheap is it that it doesn't even offer surround sound while it also lacks USB Type-C and only has six USB ports.
But, it gets the job done and it's easy enough to add a few upgrades. There are plenty of USB headers on the board, you can easily just use a headset or a separate sound card/adapter if you need surround sound.
Another area where PC Specialist has kept things to a minimum is in the choice of RAM. It runs at just 2133MHz, which is slow enough that it can impact performance a little. Bumping up to 2666MHz or 3000MHz RAM can be worth the extra outlay.
This general theme continues with the choice of graphics card, which is the Zotac GeForce GTX 1080 Ti Mini. This is one of the cheaper GTX 1080 Ti options out there, though in terms of build quality and performance you wouldn't guess it.  However, it does suffer from one major problem, which is that one of its fans never stops spinning and is quite noisy, which is something we'll touch on more in our noise test.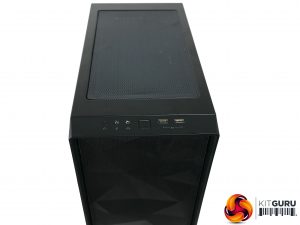 On the storage front, you get a very capable 256GB Samsung PM961 M.2 SSD for your boot drive and a 2TB Seagate drive for bulk data.
All told, while we've picked on some of the cheaper components here, in the end that's why this system costs so little. Aside from a slightly bigger SSD and hard drive, the Overclockers Germanium is essentially the same core system but costs over £700 more. That's what splashing out on all those little extras does when you total them all up.