Since the launch of Nvidia's GTX 1080 Ti back in February, we have seen plenty of aftermarket cards from the likes of ASUS, MSI and Gigabyte to name just three. Today we analyse the Zotac GTX 1080 Ti Mini, most notable for its diminutive size. In fact, the Mini is actually the smallest GTX 1080 Ti on the market right now – so how does its size affect its performance?
If you have been reading our graphics cards reviews for the last few months, you will have noticed a certain trend among many of the aftermarket GTX 1080 Ti cards – they are all big. I don't just mean big in terms of length – though many are approaching 30cm long – but also in terms of height. To demonstrate this, just look at the ASUS ROG Strix, MSI Lighting and Gigabyte Aorus models – all three are two-and-a-half slot cards, something which has definitely become the standard for third party GTX 1080 Ti cooling solutions.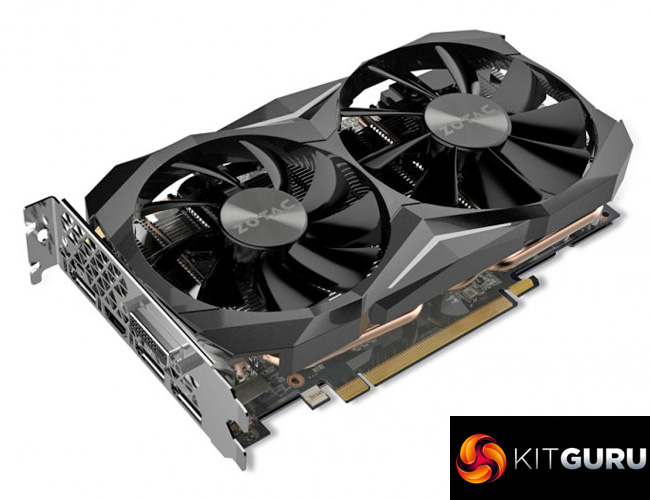 With that in mind, it becomes quite apparent what the Zotac GTX 1080 Ti Mini is up against. Not only is the Mini 'just' a 2-slot card, it is also incredibly short at 211mm, and this obviously limits the amount of space for its heatsink and fans. Cooling performance will thus be interesting to assess, particularly when compared to Nvidia's reference GTX 1080 Ti Founders Edition.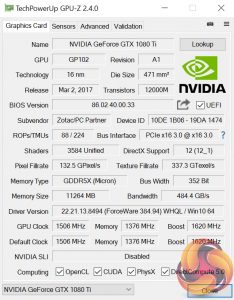 That being said, Zotac has still added +38MHz to the boost clock so, in theory at least, performance should be marginally better than a standard GTX 1080 Ti FE. For full clock speed comparison, check out this table below:
| | | |
| --- | --- | --- |
| GPU |  Nvidia GTX 1080 Ti Founders Edition | Zotac GTX 1080 Ti Mini |
| Base Clock |  1480 MHz |  1506 MHz |
| GPU Boost Clock |  1582 MHz |  1620 MHz |
| Memory Clock Effective |  11008MHz |  11010MHz |
| Memory Bandwidth |  484 GB/s |  484 GB/s |
| Price (£) |  £689 |  £699 |
Be sure to check out our sponsors store EKWB here