We take our noise level measurements with the decibel meter on the top and middle section of the case, overhanging the side panel (power supply side, not motherboard tray side) by exactly 1 inch to avoid any airflow pressure coming from the exhausting AIO cooler.
I measured the sound floor to be 34 dBA, thus anything above this level can be attributed to the graphics cards. The power supply is passive for the entire power output range we tested all graphics cards in, while all CPU and system fans were disabled.
Noise levels were measured after 5 minutes under three scenarios: desktop idle, Deus Ex: Mankind Divided at 4K, and the Fire Strike Ultra stress test.

Note: due to some logistics issues, we are unable to present data for the GTX 1070 and GTX 1080 cards in this test.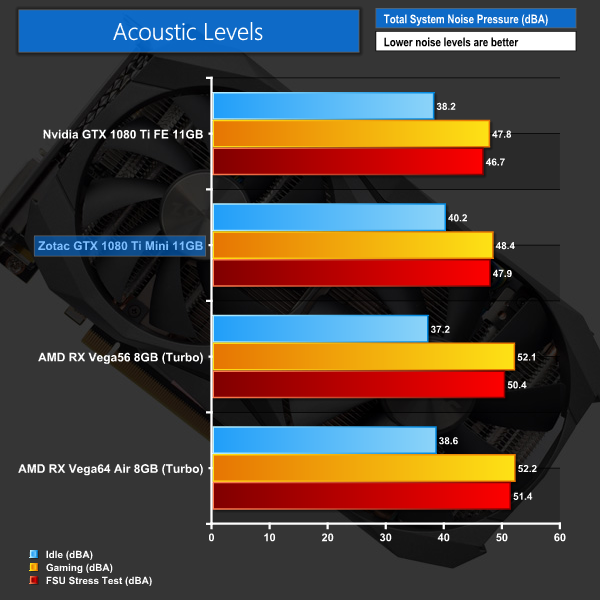 In truth, none of the four cards tested above are quiet cards. The Zotac Mini may not be louder than either of the new AMD Vega cards, but it is still not the most pleasant thing to listen to. Given that it is an aftermarket card, yet it is still louder than Nvidia's Founders Edition, probably tells you everything you need to know about the GTX 1080 Ti Mini.
I don't want to be too harsh here, as cramming such a powerful GPU into such a small physical design was always going to result in compromises. However, the Zotac Mini is particularly audible when idling – its fans would not spin below 45%, or around 1400 rpm, even when sat on the desktop for 15 minutes with 0% load on the card. Suffice to say, if you are looking for a quiet GTX 1080 Ti, you would be best served by one of the much larger partner cards.