We first measure GPU temperature while the card is sat idling at the Windows 10 desktop for 5 minutes. Gaming GPU temperature is recorded by running the Deus Ex benchmark at 4K. As a maximum stress test, Fire Strike Ultra Stress Test is run 5 consecutive times and the cards' GPU temperature levels are recorded.
Ambient room temperature was held at around 23°C.
Note: due to some logistics issues, we are unable to present data for the GTX 1070 and GTX 1080 cards in this test.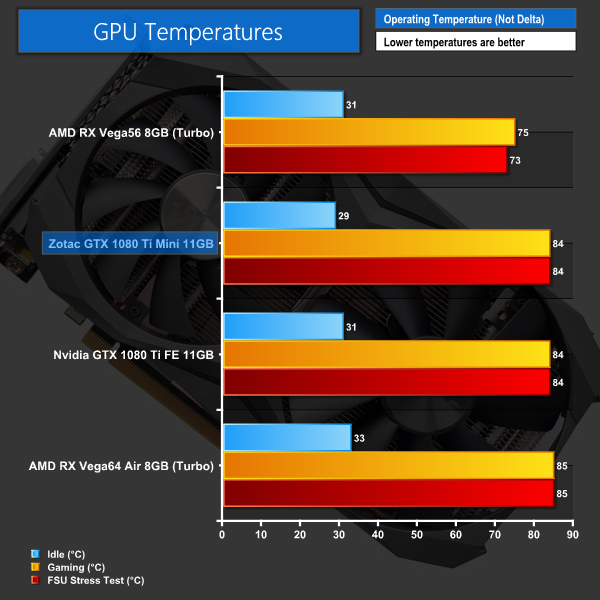 Not surprisingly, the Zotac Mini runs rather hot – 84C is actually the default thermal limit, and within a just few minutes of gaming the card will hit that limit and stay there. This causes GPU Boost 3.0 to lower the chip's core frequency over time, hence why we saw Nvidia's Founders Edition card out-performing the Mini in some titles.
The card's backplate and shroud remain quite cool, however, with a hotspot of 57C on the rear of the card. There are a couple of capacitors on the side of the card, just above the Zotac logo, and these reached up to 66C during our stress test – but that is still well within thermal limits.