The Chillblast Fusion Barbarian deploys an overclocked Core i5 4690K processor and the factory-overclocked Gigabyte G1 Gaming GTX 970 graphics card in order to deliver excellent gaming performance.
Intel's Core i5 4690K and the Nvidia GTX 970 graphics card are, as far as price-to-performance ratio goes, the best combination of high-end gaming hardware currently available. Gigabyte's triple-fan cooler takes the GTX 970 GPU's potential one step further by boosting the core speed up to almost 1400MHz when gaming.

Samsung SSDs have received plenty of praise for their reliability, and the 850 EVO offers excellent performance alongside the brand's trusted reputation. At 120GB, the SSD is only large enough for a small collection of games, but thankfully the high-capacity Seagate 2TB HDD offers solid speed results. there's the option to switch to a 1TB SSHD for no additional cost.
Putting 16GB of memory into a gaming system is a move that will split gamers' opinions. Many people will say that 8GB is enough (and cheaper), while others will argue that 16GB is more 'future-proof'. While those points are both valid, additional memory capacity will undoubtedly help multi-tasking gamers, such as those who stream or edit their gameplay footage.
Thermal results prove that the overclocked system is adequately cooled, although the acoustic levels could be improved by using a PWM profile for the CPU fans. Gigabyte's triple-fan cooler on the GTX 970 does not operate under a 0rpm silent mode, although the set of fans deserve praise for their unobtrusive noise emissions.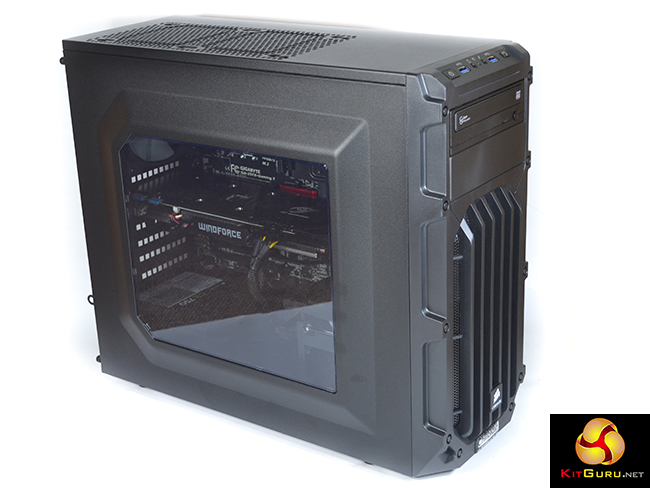 One of my biggest complaints comes via the power supply. While the Corsair unit is of trusted quality and 750W is sensible for future upgrades, I do not like the decision to opt for a non-modular unit. A plethora of unused cables are lumped behind the motherboard tray. This makes even simple upgrades less straightforward because the mess of cables has to be hidden and the side panel forced back into place.
While Corsair's Carbide SPEC-03 is a solid chassis in its own right, the £50 implementation feels a little out-of-place when partnered with more than a grand of hardware. Styling is subjective, but the case's cable management options are limited and Chillblast could at least provide an extra intake fan to create higher pressure (the one that has been removed from the rear mount).
That said, there aren't any complaints in regard to the case's sturdiness and expansion potential. And Chillblast gives plenty of cost-effective chassis choices (such as the NZXT Source 340 for £5 extra) through its system customising page.
The Fusion Barbarian is available starting at £1,099 directly from Chillblast. Upgrading to Gigabyte's factory-overclocked G1 Gaming GTX 970 costs £29 extra and is worth it for the higher clock speeds and excellent triple-fan Windforce cooler. There's also the value of a 5 year warranty for the system, with 2 years collect and return.
Buying the parts separately costs about £30 less than Chillblast's price, although the components do not necessarily have the same level of warranty coverage. Especially when the warranty-covered CPU overclock and good cable management efforts are factored in, the Chillblast Fusion Barbarian is a well-priced system for gamers who want it to be churning out pixels for a number of years.
Discuss on our Facebook page, over HERE.
Pros:
Core i5 4690K and factory-overclocked Gigabyte G1 Gaming GTX 970 are an excellent pair for gaming.
Smart choice for the core components – Gigabyte Z97X-Gaming 5 motherboard's gaming features are worthwhile.
Competitively priced, especially with the 5 year warranty.
Effective system-wide cooling, and unobtrusive noise levels.
Good balance between storage and speed from the SSD and (fast) HDD.
Plenty of capacity for upgrades (strong PSU, SLI-capable motherboard, additional drive mounts).
Cons:
Modular power supply would have been preferable.
Case has limited cable management capabilities – difficult to tidy cables if you add any hardware.
The 120mm fan removed from the case's rear mount should be installed in the front.
KitGuru says: In addition to the excellent Core i5 4690K and Gigabyte G1 Gaming GTX 970 pairing, a set of well-balanced partnering components combine to create a competitively-priced gaming machine with plenty of future potential.