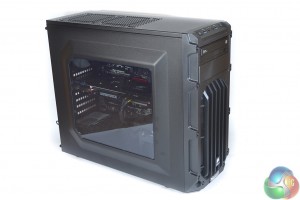 Corsair's Carbide series SPEC-03 mid-tower chassis is used to house the Chillblast Fusion Barbarian system. The SPEC-03 case's primarily steel construction gives it a feel of quality, while its retail price makes it a cost-effective solution.
The large side-panel window gives a look inside at the gaming hardware being utilised. Light from the red LED system seeps through the window to create an eye-catching, gaming-orientated glow.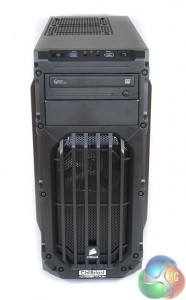 Around the front of the chassis, Chillblast applies its own "The Power to Play" company badge below the Corsair logo. The front filtered section can be used to house two fans, although Chillblast opts to use only the stock red LED 120mm fan.
Front panel connections consist of two USB 3.0 ports, headphone and microphone jacks, power and reset buttons, and an activity LED. Beneath the front IO is a 24x Samsung SH-224DB 24x DVD re-writer.
Many people will be quick to complain about the provision of an optical drive in 2015, although some users may see its value. Chillblast gives the option to remove the DVD drive for a £5 cost reduction.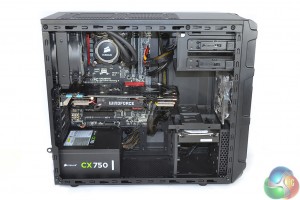 Removing the side panel gives a first look at the spacious interior of Corsair's SPEC-03 chassis. Clearance for Gigabyte's lengthy Windforce-cooled GTX 970 is not a concern, although adding an identical card for SLI will not be possible with the HDD cage.
Cable management efforts by Chillblast are solid, although they could be slightly better. The company charges an extra £24.99 for "Elite Chillblast Cable Management" but simple methods, such as routing the CPU power cable behind the motherboard tray should be included by default. That said, the case is not the easiest to work with, with limited space behind the motherboard tray.
The rear-mounted H75 All-In-One (AIO) liquid cooler is used to tame the 4.2GHz 4690K CPU's thermal load. Chillblast removed the included rear chassis fan to mount the CPU cooler, but did not install it elsewhere or provide it in the accessory bundle. Adding it to the intake configuration would have benefited the system's pressure profile with respect to dust build-up.
Two 8GB sticks of Crucial CT102464BA160B 1600MHz CL11 DDR3 memory were shipped in our system. I have no complaints about the use of cost-effective DDR3 memory, although I do question 16GB for a gaming machine when 8GB is currently deemed sufficient.
Clearly Chillblast is expecting users to stick with this set of RAM for an extended number of years, whereby 16GB of memory may be beneficial for gaming. Game streamers may also benefit from extra system memory for their multi-tasking exercises.
There is plenty of space around the Gigabyte G1 Gaming GTX 970 video card in order for it to stay sufficiently cooled. The graphics card is factory overclocked by Gigabyte, and features a base clock of 1178MHz, boost clock of 1329MHz (realistically 1392MHz throughout testing), and memory clock of 7Gbps (Nvidia reference is 1050MHz, 1178MHz, 7Gbps).
A future upgrade to two-card SLI is possible with this motherboard and power supply combo, although the chosen card will have to be physically shorter than the Gigabyte variant and its overhanging-cooler.
The front 120mm fan blows cool directly onto the GPU, without any interference from drives cages and storage devices. If another card is added, I would recommend also installing an additional fan in the lower front intake position (as Chillblast should have done by default with the supplementary chassis fan that was removed).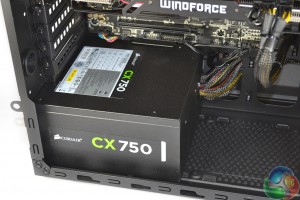 Feedback from our review of Chillblast's Fusion Raptor system indicated that the choice of a non-modular power supply was not welcomed. That wasn't such an issue with a 600W unit inside Phanteks' Enthoo Evolv chassis and its excellent cable management characteristics.
But a 750W non-modular PSU inside the Corsair SPEC-03 chassis seems like a questionable decision. Corsair's own semi-modular CX750M unit retails for about £5-10 more than the non-modular CX750, and should have been chosen. As we will see later, finding places inside the SPEC-03 chassis to hide the plethora of unused cables is a difficult task.
Criticism of the non-modular unit out of the way, it is good to see that Chillblast opts for a high-quality power supply unit from a reputable brand. The decision to go with a 750W unit leaves plenty of room for future upgrades on the GPU and CPU front – an extra GTX 970 in SLI should run fine in this system with the CX750.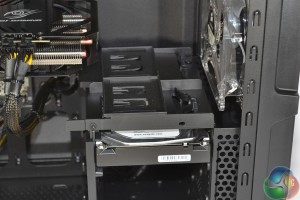 Samsung's 120GB 850 EVO SSD sits in one of the case's 2.5″ mounting spots, while the 2TB Seagate ST2000DM001 HDD is mounted in the three-drive 3.5″ bay. With this system being heavily weighted towards gaming, the argument for using a smaller HDD and investing the money that is saved into a bigger SSD is worthy of debate. A Seagate 1TB SSHD Hybrid drive can be selected for no additional cost.
The SSD is camouflaged against its mounting location and is very difficult to see. This is good for users who like to hide their SSD, although those who like to show it off may be less impressed.
Corsair's side-panel window extends as far as the drive area, so ensuring that cable management is neat in this location is important. Thankfully, Chillblast does a good job at stealthily routing cables to the two drives.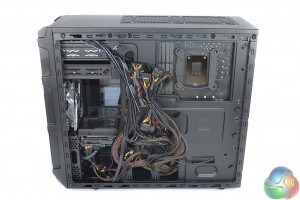 That point about the non-modular power supply rears its ugly head when the right side panel is removed. Chillblast has little option other than to bundle a large set of cables behind the motherboard tray.
They're just tied there. And their position cannot be changed due to the tight clearance in Corsair's chassis – it is allocated a slim cable management section apart from the central area where its side panel bulges.
Clear access to the drive bays and motherboard cut-out is maintained, but connecting power cables to additional components will require significant cable management efforts.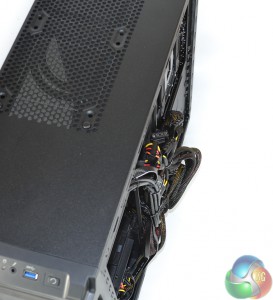 A top-down view emphasises the size of the cable bundle and its overhang.
Even with the extruding design, attaching the right side panel requires a great deal of pressure to squash the power cables into position.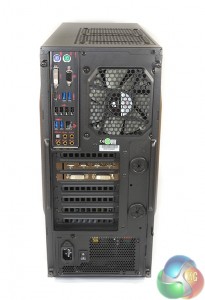 IO connectivity on the system's rear side is plentiful. The motherboard sports four USB 3.0 and four USB 2.0 ports, as well as gold-plated audio jacks driven by a dedicated operational amplifier. Gigabit Ethernet is provided by a Killer E2200 series NIC, while PS/2 keyboard and mouse ports are provided for legacy support.
There's no sticker covering the onboard video connections, although I'd like to think that users of a GTX 970 will know to connect video cables to the graphics card's ports.
Gigabyte's G1 Gaming GTX 970 features two DVI connections, three DisplayPort 1.2 links, and an HDMI 2.0 output. The card can be used to drive up to four monitors via a combination of the connections.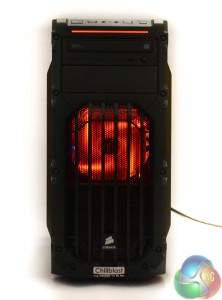 In addition to the front fan's LEDs, a red strip above the DVD drive is also illuminated.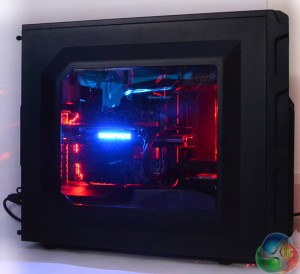 The deep red penetrates the entire chassis and is aided by a red PCB track for Gigabyte's Z97X-Gaming 5 motherboard. Personally, I like the subtle hint of contrast that the blue light from Gigabyte's graphics card gives the system.
Although very difficult to capture in a photograph, the lighting system is well-balanced and by no means overpowering or intrusive.