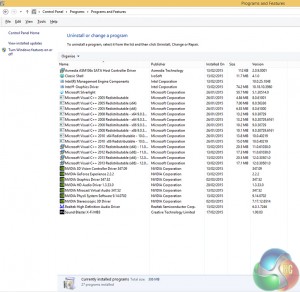 The Windows 8.1 install that Chillblast provides is almost fully bare. Other than motherboard-related software, the only addition is Classic Shell which provides an old-style Windows start bar.

Windows 7 Home Premium can be selected instead of Windows 8.1 for no additional cost.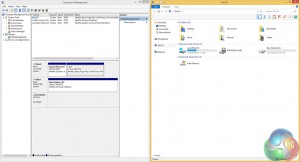 After installing Windows updates, there is around 75GB of free space on the SSD. The 2TB Seagate HDD is completely empty and formatted for instant use.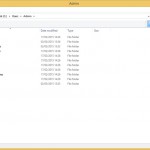 With the Seagate HDD being empty, that means that the default save locations are on the SSD. This is one of my pet hates for the majority of pre-built PCs – moving default save locations for items which do not require high speed storage is a five minute task (right click on the item, select properties, click location, and move to the desired path).
I would have preferred to see Chillblast position the default save directories for at least Videos, Music, and Downloads on the 2TB HDD. A user who doesn't notice the SSD save location is going to be disappointed when their drive storage runs out quickly, with the 2TB HDD being left untouched. Hopefully most PC gamers will be knowledgeable enough to spot the locations.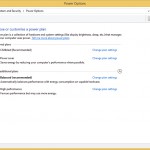 There are four power options on the system – the usual three from Windows, and one made by Chillblast.
We run the Chillblast profile throughout testing.
Chillblast applies a 1.225V CPU Core voltage in order to reach the 4.2GHz overclocked speed (300MHz increase over the 4690K's default boost frequency).
A voltage level of 1.225V is sensible for prolonged use and should be easily handled by the H75 CPU cooler.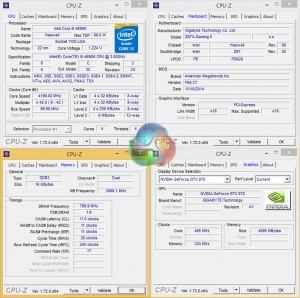 The 4.2GHz clock speed is applied to all cores when they are under heavy load. During times of lower load, the CPU automatically drops its clock speed and voltage in order to conserve power and reduce heat output.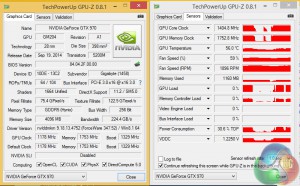 Gigabyte's factory-overclocked G1 Gaming GTX 970 is set to run at a core clock of 1178MHz with a boost speed of up to 1329MHz. We actually recorded an even higher boost clock throughout testing – 1392MHz was consistent, and 1405MHz was the absolute, short-period peak.
We will be outlining the Chillblast Fusion Barbarian against the similarly priced Fusion Raptor and our Z97 test system.
Chillblast Fusion Barbarian
Corsair SPEC-03 Case
Intel Core i5 4690K overclocked to 4.2GHz
H75 Water Cooler
Gigabyte G1 Gaming GTX 970 4GB Video Card
Gigabyte Z97X-Gaming 5  Motherboard
16GB 1600 DDR3 Memory
120GB Samsung 850 EVO SSD
2000 GB 7200rpm HDD
Corsair CX 750W PSU
24 x DVD RW
Windows 8.1 64 bit
Chillblast Fusion Raptor
Phanteks Enthoo Evolv Micro ATX Case.
Intel Core i7 4790K Processor overclocked to 4.4GHz.
Corsair H75 Liquid Cooler.
Asus Z97M-Plus Motherboard.
MSI Nvidia GeForce GTX 960 2GB Graphics Card.
16GB 1600MHz DDR3 Memory.
120GB Samsung EVO 850 Series Solid State Drive.
2000GB SATA 7200rpm Hard Disk.
Corsair CX600 Power supply.
Onboard High Definition Audio.
Windows 8.1 64-bit.
Z97 Comparison Test System:
Tests:

3DMark 1.3.708 – Fire Strike (System)
SiSoft Sandra 2014 SP2 – Processor arithmetic, memory bandwidth (System)
Cinebench R15 – All-core CPU benchmark (CPU)
HandBrake 0.9.9 – Convert 4.36GB 720P MKV to MP4 (CPU)
ATTO – SATA 6Gbps and USB 3.0 transfer rates (Motherboard)
Bioshock Infinite – 1920 x 1080, ultra quality (Gaming)
Metro: Last Light – 1920 x 1080, high quality (Gaming)
Tomb Raider – 1920 x 1080, ultimate quality (Gaming)