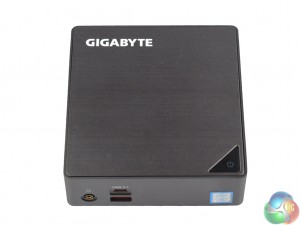 Here we get our first look at the BRIX itself. It is a minimalistic dark grey colour, with a lovely brushed aluminium finish. It certainly feels sturdy and looks very classy thanks to the brushed finish. We also get a feel for just how small the BRIX is, measuring just 34.4 mm x 112.6 mm x 119.4 mm.
The power button sits in the bottom-right corner on the top of the fascia, while a small Gigabyte logo features in the top left corner.

Taking a look at the front I/O, there is a single headset jack, as well as two USB 3.1 ports – one Type-A, one Type-C. These connections are powered by an Asmedia controller.
The sides of the chassis feature ventilated cut-out sections, which simply allow air in and out of the device.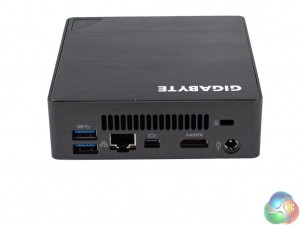 The rear I/O has plenty of connectivity options. We find 2x USB 3.0, an Ethernet port, mini-DisplayPort and HDMI display outputs, as well as the power-in connector and a Kensington lock.
Having the power, display and Ethernet ports at the back of the device is smart. It allows cabling to be hidden away out-of-sight, while the front I/O still provides quick-access ports to save you fiddling around at the rear of the BRIX. This configuration would allow the BRIX to sit under your TV, for example, and look very tidy.
The base of the BRIX is removed by four small screws, allowing easy access to the motherboard. There is also a small handle, allowing you a pain-free way of lifting the panel off.
On the underside of the panel, there is even a thermal pad which sits over your M.2 SSD. This is a great touch from Gigabyte – M.2. SSDs which operate at high speeds, such as the Samsung 950 Pro, can overheat and throttle, reducing your read and write speeds. This thermal pad should prevent that unfortunate event from occurring.
Lastly, we take a look at the innards of the BRIX. Out-of-the-box, 2x DDR4 SODIMM slots are unoccupied, along with 1x M.2 port. There is a second M.2 port which sits underneath the SSD slot, but this is occupied by the WiFi card.
We populated the empty memory slots with 2x8GB of 2400MHz G.Skill Ripjaws RAM, though the chipset limits the memory speed to 2133MHz. As for an M.2 SSD, we used the excellent Toshiba OCZ RD400 – review HERE. However, both PCIe or SATA SSDs are supported.