All-in-all, the Gigabyte BRIX i7A-7500 is a very impressive piece of kit.
For starters, it is well designed with a lovely brushed aluminium finish. It is also impressively small, measuring just 34.4 mm x 112.6 mm x 119.4 mm.
Gaining access to the innards of the chassis is also very easy – simply remove four small screws and pull off the base panel. Once inside, users need to supply memory and an M.2 SSD (be it PCIe or SATA).

Another great feature of the BRIX is related to the M.2 SSD – as the base panel has a thermal pad which makes direct contact with your M.2 drive. As many fast SSDs can get hot and throttle, this is a smart touch from Gigabyte to make sure that does not happen.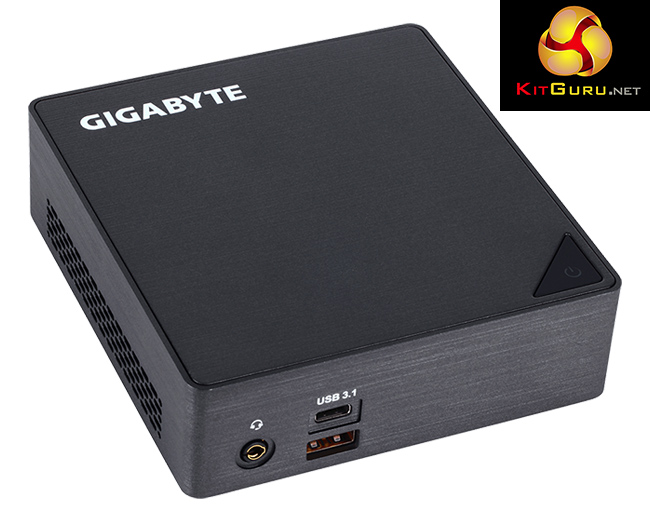 The star of the show, however, is the new Kaby Lake i7-7500U CPU. In all of our tests, it was consistently on-par with, or very close to, the desktop i3-4160. You may be wondering why I am comparing this mobile i7 chip with an i3 that is never going to blow anyone away. The simple fact is, this i7-7500U offers almost exactly the same level of performance as a proper desktop CPU, but in a vastly smaller package.
This enables the BRIX to be a true desktop replacement. Admittedly, it is not going to be for gamers – but it is not aimed at the gaming market. The BRIX is aimed at those who still want a PC, but do not want to deal with the hassle of a large tower on or beside their desk.
This is where the BRIX excels – it packs the same level of performance as a desktop Core i3 into a tiny chassis, while supporting the fastest NVMe SSDs on the market.
While we are unsure on an exact release date, you can pre-order the Gigabyte BRIX i7A-7500 from Scan for £529.99 HERE. I think this is a very fair price given the strong performance from the i7-7500U, the excellent build quality and the tiny nature of the BRIX itself.
Discuss on our Facebook page HERE.
Pros
Excellent build quality.
Thermal pad for M.2 SSDs.
Desktop-grade performance from the i7-7500U.
Supports the fastest PCIe drives on the market.
Truly tiny.
Cons
Unsure exactly when it will be available.
KitGuru says: If you do not use a desktop to its full potential, this BRIX i7A-7500 could be the perfect replacement. It offers great performance in a tiny form-factor, making it ideal for those who want a miniscule desktop replacement.