Thermal dynamics
To find the BRIX's idle temperature, I left Windows on the desktop for 30 minutes. The 'load' temperature reading comes from running Prime95.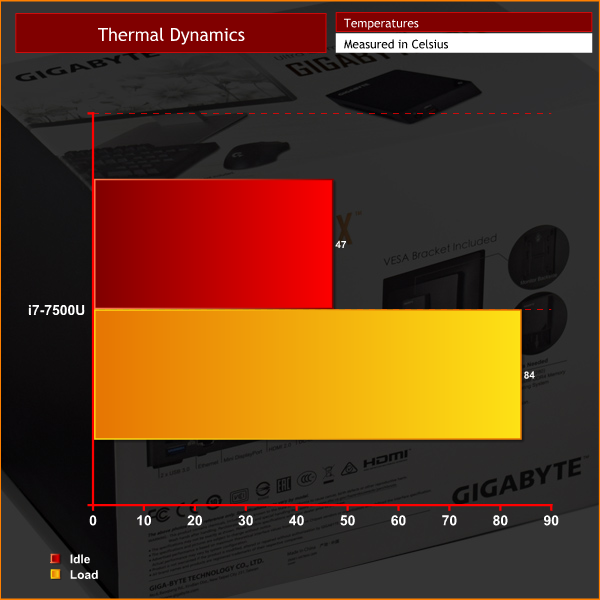 The i7-7500U's peak temperature of 84 degrees is fine – this is under 100% load, and it is very unlikely this CPU would be put under such stress in a real-world environment.
However, the idle reading of 47 degrees seems high to me. Not dangerously so, but it could be lower. My theory as to why this idle temperature is higher than usual is due to the CPU boost frequency. During my testing, I noticed the CPU always operates at its boost clock of 3.5GHz, even when idling on the desktop with 0.1% load. I checked the BIOS to ensure Intel SpeedStep was enabled – it was. Despite this, the CPU constantly ran at its boost clock, which I believe causes the high idle temperatures. Strange, but thankfully not dangerous.
Acoustics
At idle, the BRIX is silent – if the small fan which cools the CPU is spinning, I cannot hear it for the life of me. Under load, the fan does spin up – but it is still far from intrusive. In the vast majority of cases – media streaming, word processing, emailing etc – the BRIX will not be audible at all.
Power consumption
To get the 'idle' power draw for the BRIX, I left Windows on the desktop for 30 minutes. The 'load' power draw reading comes from running Prime 95 and Fire Strike Ultra simultaneously.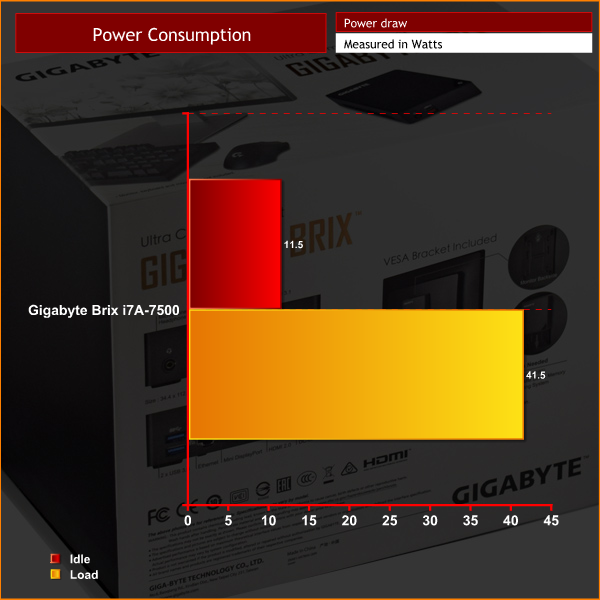 A peak power-draw of 41.5W is a great result. Clearly, the i7-7500U is an efficient CPU – as you would expect given its 15W TDP!