CINEBENCH 15 is a cross-platform testing suite that measures hardware performance and is the de facto standard benchmarking tool for leading companies and trade journals for conducting real-world hardware performance tests. With the new Release 15, systems with up to 256 threads can be tested.
CINEBENCH is available for both Windows and OS X and is used by almost all hardware manufacturers and trade journals for comparing CPUs and graphics cards.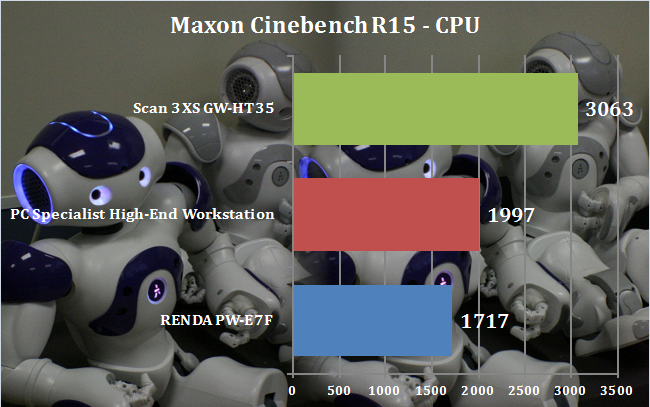 The CPU rendering portion of Maxon Cinebench R15 shows just how titanic the 40 threads from the two Xeon processors actually are. The result of 3,063 blows away our two reference systems, and shows that cores are king for rendering. The Scan 3XS GW-HTX35 will absolutely excel in this department.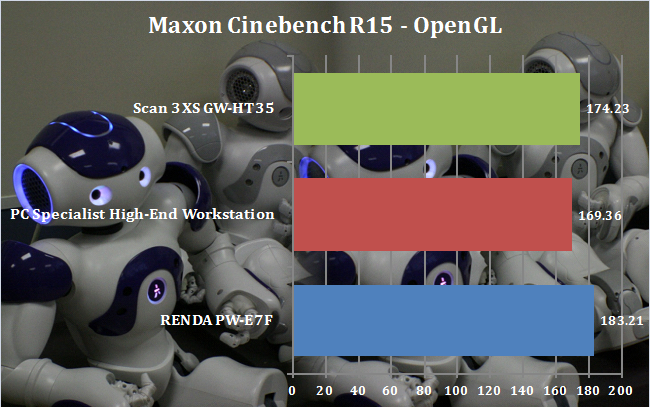 The Cinebench OpenGL results don't dominate so clearly, because clock speed has some influence over graphics, and Maxon Cinema 4D doesn't appear to benefit enormously from the huge number of CUDA cores on the M6000 graphics. So the Scan does beat the K5200-wielding PC Specialist system, but the RENDA system's 4.2GHz CPU clock pushes it mildly ahead.
In our workstation features, we found this was about the only graphics test that did gain significant benefit from CPU clock speed.