SPECapc for 3ds Max™ 2015 is performance evaluation software for systems running Autodesk 3DS Max 2015. The benchmark was introduced on August 13, 2014. The benchmark requires that users have a working version of 3ds Max 2015 with Service Pack 1 applied.
SPECapc for 3ds Max 2015 contains 48 tests for comprehensive measurement of modeling, interactive graphics, visual effects, CPU and GPU performance.
Features in the latest SPECapc benchmark are keyed to upgrades in 3ds Max 2015, including new DirectX 11 shaders and vector maps, Nitrous viewport enhancements, and new dynamics and visual effects. The benchmark also improves run-to-run consistency and results reporting.

Benchmark results are derived by taking the total number of seconds to run each test and nomalizing it based on a reference machine, in this case a Dell Precision 690 workstation with 2.0-GHz Intel Xeon 5130 processor, 4 x 4GB FB-DIMM DDR2 SDRAM (ECC) memory, NVIDIA Quadro Q600 graphics card, and Western Digital 500GB 7200 rpm hard drive. The normalization process ensures a scoring system where a bigger score is better. Composite scores are reported for CPU, GPU and large-model (city scene) performance.
The benchmark can be run at 4k and HD resolutions, and at different anti-aliasing levels: 0xAA (default), 2x, 4x, and 8x AA, although we performed all tests at the default setting.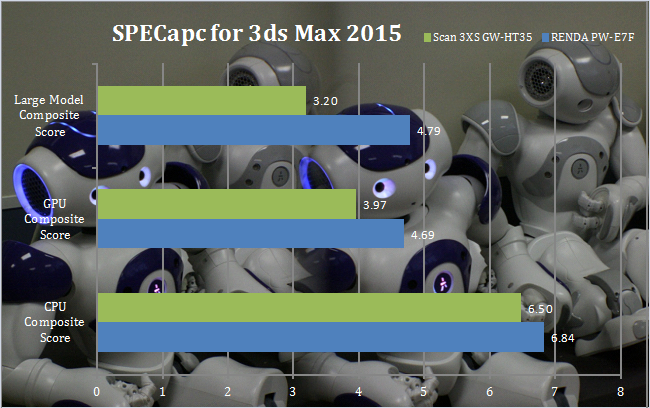 The Scan system didn't fare so well with 3ds Max 2015, which clearly benefits from both the clock speed of the RENDA and its AMD graphics, which we noted when we reviewed the latter machine do pay some dividends with this application.