Cadalyst Benchmark Test for AutoCAD 2015. The Cadalyst Systems Benchmark 2015 (C2015) is designed to test and compare the performance of systems running AutoCAD v2000-2015. The Total Index Score is calculated based on subindex scores for four areas of performance: 3D Graphics, 2D Graphics, Disk, and CPU. The 3D visualization portions of the benchmark are compatible with AutoCAD 2009 and later; the 2D portions of the test work with AutoCAD 2000 and later.
The benchmark compares the test times of your current system with a set of base times and computes an index number. An index score of 135, for example, means your test system is 135 times faster than the base system for the functions tested. The original Cadalyst Systems Benchmark was released in 1996. All versions have been developed by Art Liddle, a former editor of Cadalyst magazine and now a physics teacher at Springfield High School in Springfield, Oregon.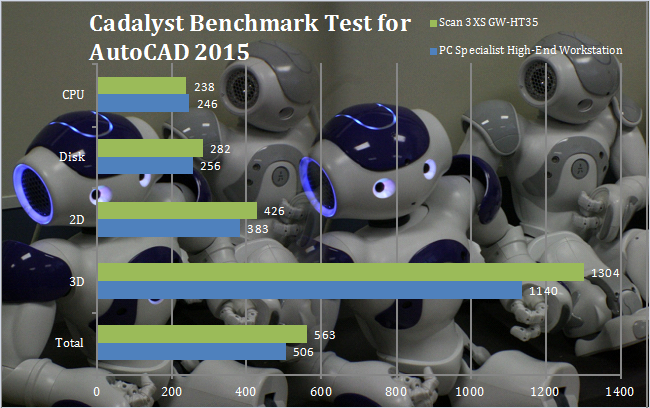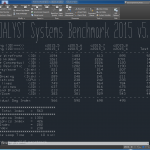 Although the Scan system didn't dominate in every aspect of the Cadalyst test, it was dominant over the PC Specialist comparison system in most areas. Clock speed is fundamental in this test, but these two systems are similar in this respect, with the PC Specialist's Xeon providing a 3.6GHz Turbo mode against the Scan's 3.5GHz. So the Quadro M6000 is providing the 11 per cent performance boost.