The FiercePC Imperial Stormer is a gaming PC that squeezes a custom-built water-cooling loop and some very nifty lighting effects into a rather svelte Corsair Chassis. This enables a mighty 4.7GHz overclock for the Intel Core i7-6700K, which coupled with a GeForce GTX 970 – delivers some very good performance results.
The Imperial Stormer sits in the middle of the lineup of gaming systems sold by independent British PC manufacturer FiercePC (website HERE). The company uses a well thought out and memorable naming convention for all its PCs – Ironwing for the entry-level models, Blackfire for mid range, and Dragon for the ultra-high end machines, which come loaded with overclocked processors, custom-built water-cooling loops and either dual GeForce GTX 980Ti cards in SLI mode or a GTX Titan.
The Dragon systems are quite pricey, as expected with such an array of graphics hardware, leaving the Imperial line one step below that – top-end performance but without quite the expensive configuration of the Dragon machines.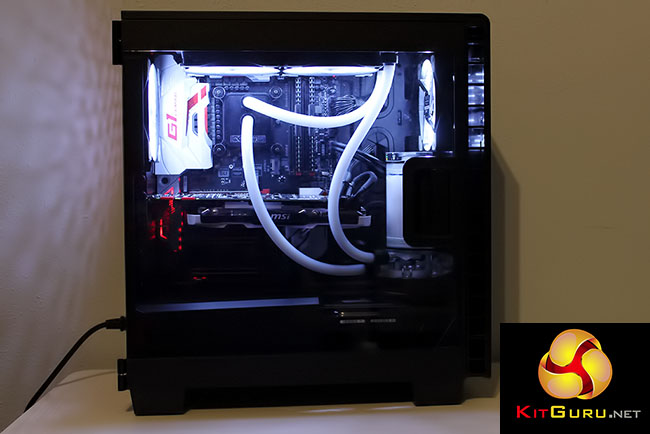 The Imperial Stormer comes at a considerable, but not unaffordable, £1,499 price tag. Perhaps the most interesting thing it offers is a custom-built water-cooling loop, as found in many other machines in the FiercePC catalogue.
Many PC vendors now offer water-cooling, but more often than not, it's via a simple all-in-one unit such as Corsair's H100i GTX or Cooler Master's Nepton. But with the Imperial Stormer, FiercePC has gone the extra mile of building a water-cooling loop from scratch for every PC it offers this option with. The loop includes an Alphacool NexXos XP3 Light water block, NexXos ST3 radiator, Laing DDC310 pump and a a 150mm reservoir from Eisbecher, with pastel white coolant and tubing from Mayhem.
Generally, custom-built water cooling performs better than an all-in-one unit, but a second advantage is a far better appearance that absolutely makes a PC stand out from the crowd, as you can see from the picture of the PC above. In this case, it looks really impressive.
While most people shouldn't have a problem installing an AIO cooler, custom-built water cooling requires expertise and confidence, not to mention extra expenditure, leaving its inclusion to really high-end systems or custom-built machines. By managing this tricky aspect of the PC build themselves, FiercePC has something not all other vendors offer, at least on "mid-range" systems.
This water-cooling loop has been put to good use with a 4.7GHz overclock of an Intel Core i7-6700K Skylake quad-core processor. This might not be the very fastest overclock that can be achieved, but it's quite impressive to see it offered (and guaranteed) by FiercePC in a production machine.
Besides the overclock, you get an Nvidia GeForce GTX 970, 16GB of DDR4 memory, a 250GB Samsung 850 EVO SSD and a 2TB hard disk. It's a solid set-up for a gaming rig.
With many PCs we review, some of our readers rightly point out that money can be saved by building a machine from scratch. That's undoubtedly true, and while assembling a PC might seem like a complex task for someone who is new to PC building, putting components together isn't rocket science, especially if you've done it a dozen times before.
More often than not though, building a rig that looks as good as it performs is far harder, and custom-built water-cooling loops are something few people will end up with if they build their own machine. FiercePC is giving people that option, and by squeezing it all into a rather svelte Corsair Carbide 400C gaming case, you're getting a great looking PC with a lighting rig that squeezes a lot of power into a small space.
System Configuration:
Case: Corsair Carbide Series Clear 400C Gaming Case
CPU: Intel Core i7-6700K 4.7GHz (4 cores, 8 threads)
Cooler: Alphacool NexXos XP3 Light water block, NexXos ST3 radiator + more
Memory: 16GB 3000MHz Corsair Vengeance DDR4
Motherboard: Gigabyte Z170X-Gaming 7
GPU: MSI GeForce GTX 970 4GB
Storage 1: Samsung 250GB 850 Evo
Storage 2: 2TB hard disk
PSU: 750w Corsair RM750x Gold Modular
Operating System: Windows 10 Home 64-bit
Price: £1499 inc vat.