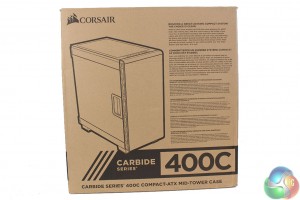 FiercePC has included all the packaging and manuals that are supplied with the components. Not in this shot are the additional accessories for the modular power supply.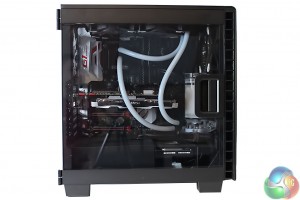 From the side, the Corsair Carbide 400C has a massive window, making it easy to see the components and the water-cooling loop that FiercePC has included.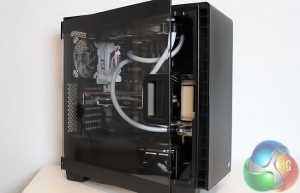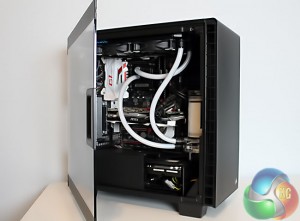 Opening up the PC is pretty easy, there's a handle on the side that allows it to open up completely, without needing to undo any thumb screws. Helpfully, this door opens all the way beyond 90 degrees, providing full access to the internals without getting in the way.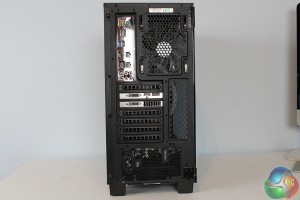 At the back the Gigabyte Z170X-Gaming 7 has 6 USB 3 ports, PS/2 for legacy mouse and keyboard support, dual "Killer" Ethernet ports, a DisplayPort connector for the on-board graphics, and audio output.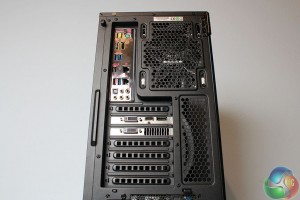 There's also a USB Type-C port which also supports USB 3.1 in addition to 40Gbps Thunderbolt 3 devices. An important point, given how this incredibly fast connector is not present on all motherboards, and the Alpine Ridge controller adds slightly to the cost of the board over the competition.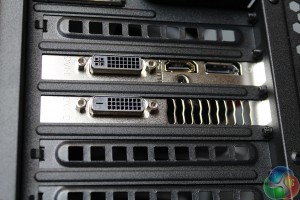 All GeForce GTX 970 cards have a standard array of outputs, so that means dual DVI, a single DisplayPort 1.2 output and HDMI. Given only one of these connectors is capable of 60Hz 4K video, it might make sense that a few more will show up with the mid-range Pascal cards, while DVI might be dropped.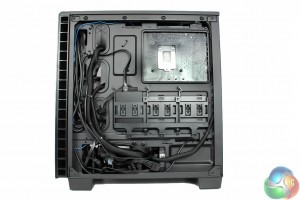 With the other side removed you can see the SSD installed in one of three bays.
Not to mention all the cabling tied neatly out of the way.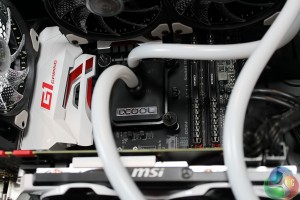 Inside the PC, here you can clearly see the Alphacool NexXos water block.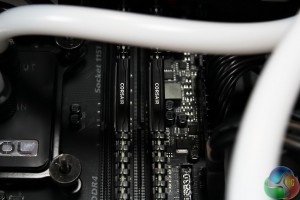 The two 8GB sticks of Corsair DDR4 memory occupying two of the four slots on the motherboard.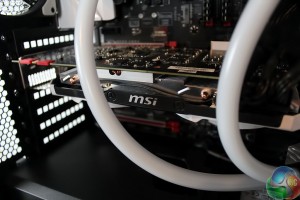 And the MSI GeForce GTX 970. Note, only the CPU is water cooled, with standard fans cooling the graphics card.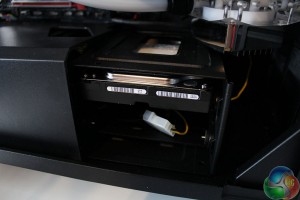 The hard disk is located in the lower part of the case, complementing the SSD located at the rear.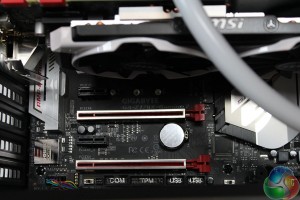 One of the features of the Gigabyte Z170X-Gaming G7, along with the company's other boards, is reinforced PCI slots. Just in case anyone pushes too hard on their video card when slotting it in.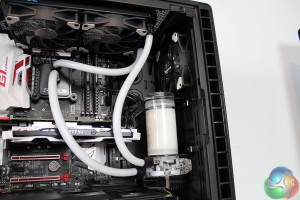 The white coolant compliments Gigabyte's white IO guard covering the motherboard.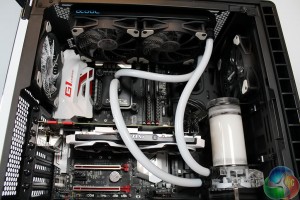 It results in a striking effect, and this is just when it's powered off.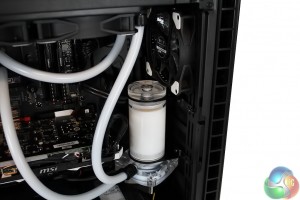 The 150mm Eisbecher radiator stands out in particular.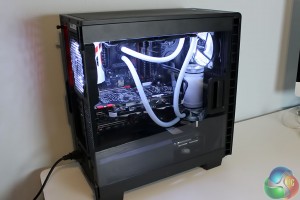 But when powered on, the white LEDS on the fans illuminate in the inside of the case and reflect off the white tubing.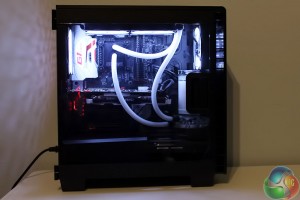 It looks pretty cool from the side.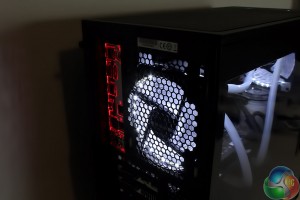 And the IO ports glow red, making them easier to see in the dark, as well as improving the overall look.