Although FiercePC is by no means the only company to offer a custom-built water-cooling loop, this feature is still far from common on pre-built PCs, and other vendors reserve it for their most high-end PCs.
Unfortunately, the cost of the loop and its components, along with the modular power supply, SSD and a few other extras, have restricted the choice of video card to a GeForce GTX 970 – in order to keep the total system cost below £1500. While the GTX 970 is no slouch at all, and it's up for debate whether it could be called a mid-range or high-end card, our results show it's not really cut out for 4K gaming. That's something you might expect from a £1499 PC.
You might want to consider an upgrade to the next tier of graphics card then. For example, swapping out the GTX 970 for a GeForce GTX 980 will deliver better gaming performance and adds £119.95 to the cost, bringing the total to £1619.95, or you could choose an equivalent AMD card.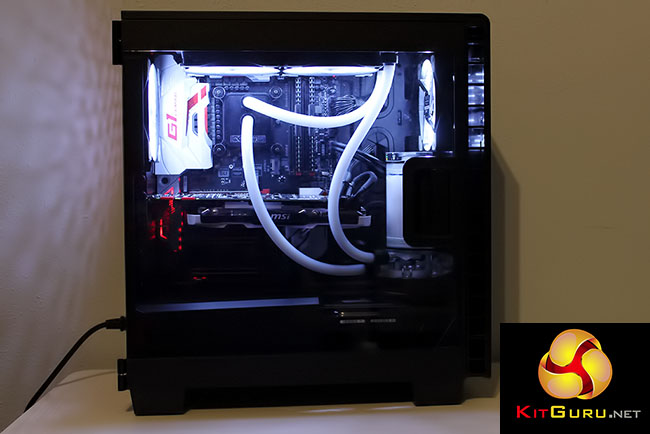 That's our main gripe, how about the good bits? Well, that CPU overclock offers some great number crunching capability. Our Cinebench results are at the top of the charts, equalling any top-end PC, with the Physics results in 3D Mark hitting another high note. Sandra's CPU arithmetic results are also higher than many PCs.
It offers all this while being very cool and quiet. Even under heavy load, the FiercePC Imperial Stormer is one of the quietest systems we've tested, with the fans hardly breaking into a sweat during any of the tests. Although it's not quite inaudible, with GTA V running, you only notice a faint hum from the fans. The biggest noise we noticed was a slight sloshing as the pump kicks in and starts to move the coolant around.
Looks good, runs quiet, well built, amazing CPU performance and good gaming performance that's much improved with a relatively affordable upgrade to a better graphics card. So is it worth buying?
Crucially, not everyone has the time to build their own water-cooling loop when putting a PC together, and it's a feature that not every PC vendor offers. You won't see anything like this from the big-name global brands such as Dell and even the smaller manufacturers shirk away from custom water-cooling loops on the more mid-range system. So FiercePC has done well in offering this feature.
Buy from FiercePC over HERE
Discuss on our Facebook page, over HERE.
Pros:
Great gaming performance for the money.
Good looking lighting effects.
Great case for a mid-range PC.
Cons:
Could use a more powerful GPU.
Perhaps a larger SSD is more useful these days.
Kitguru Says: A PC that offers very good gaming performance, looks great and delivers top-end CPU performance, with a custom water-cooling loop, something not all PC builders are comfortable putting together. Spend a bit extra to bump up the graphics card and it will be utterly superb all round.