Apparently the new year is a good time to be an app developer for the Apple ecosystem. Apple annoucned today, that the first week of 2015 has set new records in the App Store, with customers around the world spending nearly half a billion dollars on apps and in-app purchases. New years day itself was the biggest single day ever in App Store sales history.
In a press release today, Eddy Cue, Apple's senior vice president of Internet Software and Services said: "This year is off to a tremendous start after a record-breaking year for the App Store and our developer community, we're so proud of the creativity and innovation developers bring to the apps they create for iOS users and that the developer community has now earned over $25 billion." Of this $25 billion at least $10 billion was earned in just the last year, indicating that developer revenue is growing massively as well.
The App Store now contains 1.4 million apps for iPhone, iPad and iPod and with iOS 8 and more payment methods, including Apple Pay, recently being rolled out in several different countries, the reasons for the record breaking success become clear. Apple Pay in particular, seems to be doing very well as an App Store payment method with over 90% of of credit card purchases in the US now using Apple Pay. Apple also disclosed that with the help of it's customers, it has now donated $20 million this quarter, and over $100 million in total to the (RED) Global Fund to fight AIDS.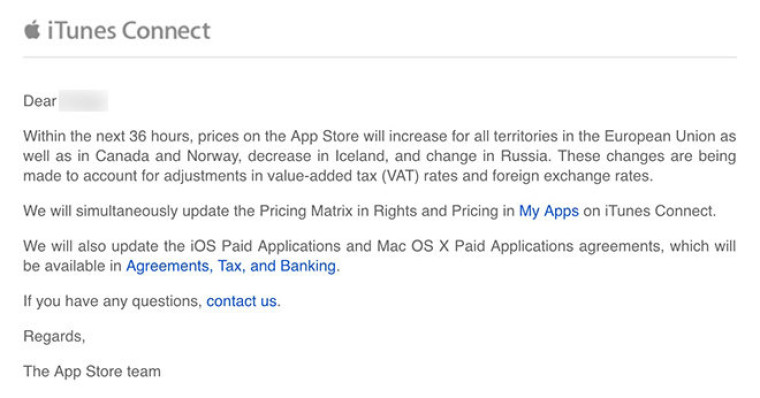 Apple has also sent out the email above to App Store developers to inform them of pricing changes, that will soon be applied across large parts of the world, something that it left out of their press release. The price rises in the EU are expected, with the new VAT laws that have already come into effect from the 1st of January, all providers of electronic services (software downloads, cloud business, online gaming, certain e-learning, online payment services, etc.) must charge VAT based on the customer country of residence, rather than a flat rate across the whole of the EU. Discuss on our Facebook page, HERE.
KitGuru Says: The Apple App store shows no signs of slowing down but until we get some number from Google to compare these to we really lack any kind of context. Either way this is a lot of money for both Apple and App Store developers worldwide.
Source: Apple Image Source: Neowin, Wikimedia